Is it time to give your business a professional update? Your commercial window treatments can turn an ordinary building into one with eye-catching appeal. From retail stores and restaurants, to offices – styling the perfect fit of blinds or shades will make sure customers feel welcomed while keeping you in control. And don't forget about protection from light damage! Learn our tips for selecting just the right type of covering and witness how quickly people's perceptions change when they step inside your space.
The first step in choosing the right style of window covering is understanding which types are available. There are many options ranging from traditional drapes to modern blinds and shades. Depending on the amount of sunlight entering through each window, you may need something more specialized such as motorized curtains or blackout shades. Additionally, consider if you would like sound insulation or climate control features as well.
Once you have determined what kind of commercial window treatment works best for your needs, it's time to focus on aesthetics. Think about adding drapery details like swags and cascades for a luxurious look. Or choose bold colors to draw attention to the windows and create contrast against neutral walls. Whatever color scheme and design elements you decide upon should reflect your company's branding objectives while also considering current trends in interior design. With so many choices at hand, picking out stylish commercial window treatments has never been easier!
Benefits Of Window Treatments
The benefits of customized blinds for commercial spaces are numerous. From improved office ambiance to increased privacy, these stylish additions provide a multitude of advantages. Not only do they reduce energy costs and improve safety, but they can also help reduce glare from the sun's rays which can cause eye strain and fatigue. The right type of window treatment will create an inviting atmosphere and ensure your business is looking its best.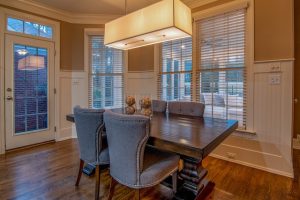 You can choose the right window treatments for your office space to reflect whatever style you desire and provide superior functionality. From traditional blinds, modern motorized shades or blackout fabrics – there are a range of options that both enhance professional image and optimize performance. Investing in quality products ensures an improved work environment with lasting results.
Types Of Window Treatments
When it comes to commercial window treatments, there are many options available. From blinds and shades to curtains and drapes, businesses have a wide range of choices when selecting the right coverings for their windows. Here is an overview of some popular window treatment types:
– Window Blinds/Shades: These versatile window coverings come in a variety of styles including roller shades, roman shades, cellular shades, pleated shades, vertical blinds, faux wood blinds, and more. They protect from harmful UV rays while also allowing natural light into the building.
– Curtains & Drapes: Draperies can be used as decorative accents or functional covers that create privacy within a space. Sheer fabrics let in plenty of natural light but still maintain privacy by blurring images from outside observers. Heavier materials such as velvet can block out sunlight completely and help insulate against cold temperatures during winter months.
– Commercial Shutters: Shutters offer an elegant look for any business setting and work well with both traditional and contemporary decorating schemes. When closed they allow complete control over how much light enters a room while providing maximum energy efficiency.
– Window Film: This type of coverage is ideal for those seeking increased safety measures without sacrificing visibility or aesthetics. Window film provides added security against forced entry while still maintaining transparency so customers can see inside your store or office space. It's also cost-effective compared to other forms of window treatments since no installation is required; simply apply the film directly onto existing glass surfaces with adhesive backing.
With this overview of different window treatments available on the market today, it's now time to discuss how to select appropriate ones that meet specific needs and requirements for any given space.
How To Select Appropriate Window Treatments
When selecting the right window treatments for a commercial space, style, and design should be considered. For example, if you're looking to enhance your professional image in an office setting or retail store, stylish commercial window treatments are key. With this in mind, it's important to consider how different types of window treatments can help create the desired aesthetic and complement the overall look and feel of the space.
The selection process begins with choosing window designs that fit into both the existing environment as well as any plans for remodeling or expansion. Window treatments should also meet safety requirements such as fire codes while maintaining functionality like light control and privacy protection. Furthermore, they must pair with other elements like furniture pieces and wall colors to create a cohesive atmosphere throughout the entire room.
It's essential to select materials based on their longevity, easy maintenance features, durability against temperature changes, and humidity levels – all things that can affect color saturation over time. There is no shortage of options when it comes to fabrics and textures; from sheer curtains to blackout shades – there's something for every budget. To ensure proper installation of these window treatments for a professional look that lasts season after season, it's important to seek advice from experts who specialize in indoor-outdoor décor projects. This next section will discuss tips for installing window treatments correctly so they last long term.
Tips For Installing Window Treatments
Installing window treatments is an important part of creating a professional appearance for your business. Professional installation ensures the best results and promotes safety in the workplace. To help you get started, here are some tips to consider when installing commercial window treatments:
When selecting window treatments, consider factors such as ease of use and warranty coverage. Also, make sure the product meets applicable building codes and local regulations. If possible, hire a professional installer who has experience with commercial installations. They can provide valuable advice on design options that will enhance your desired look while also providing optimal function.
Be mindful of measuring correctly so that your new window treatment fits perfectly. Measure each window twice before ordering or cutting fabric to ensure accuracy. Additionally, be aware of any obstacles like electrical outlets near windows which may affect how high curtains should hang or where rods can go without obstructing other items in the room. Taking these steps during installation helps create a polished finish to complete the overall look of your workspace.
With careful selection and precise measurements, you can install stylish window treatments that improve energy efficiency and upgrade the look of any commercial space – all within budget! By following these tips, you'll have beautiful windows worthy of showcasing your company's professionalism in no time at all!
Conclusion
In conclusion, window treatments can be an excellent way to enhance your professional image. Not only do they offer a stylish aesthetic that will draw the eye of potential customers and clients; but they also provide practical benefits such as temperature control and light filtering. When selecting appropriate window treatments for commercial spaces, it is important to consider size, material, color scheme, budget, and maintenance requirements.
Make a lasting impression for your business by selecting the perfect window treatments. With careful installation and maintenance, you can ensure your space looks its best no matter what elements come into contact with it – allowing years of serviceability!