Proper layering of curtains with sheers will give you more options to customize brightness level and privacy in your room. Here's a comprehensive guide on how to layer curtains with sheers.
What is the Most Popular Method to Layer Curtains with Sheers?
The most popular method to layer curtains with sheers is to use sheers and drapes. Drapes are usually made up of a heavier material than sheers, but they still look great layered. You will need double curtain rods and double brackets to layer a sheer curtain under a blackout drape.
Meanwhile, you can use decorative elements, like tiebacks and finials. Tiebacks are fabric strips or cords to hold an open curtain back from the window and add a decorative touch. Finials are decorative items, but they can also be used to prevent the curtain from slipping off the rod's end. Finials are typically used to hold valances and solid curtains in place, but they can also be used for sheers.
8 Things You Need to Layer Curtains with Sheers
Following are the things you need to layer curtains with sheers or sheer shades.
Sheers or sheer curtains
Drapes
Double curtain rods
Double brackets
Finials
Tiebacks
Cornice or Valance
Installation Equipment
Layering Curtains with Sheers and Drapes – A Practical Approach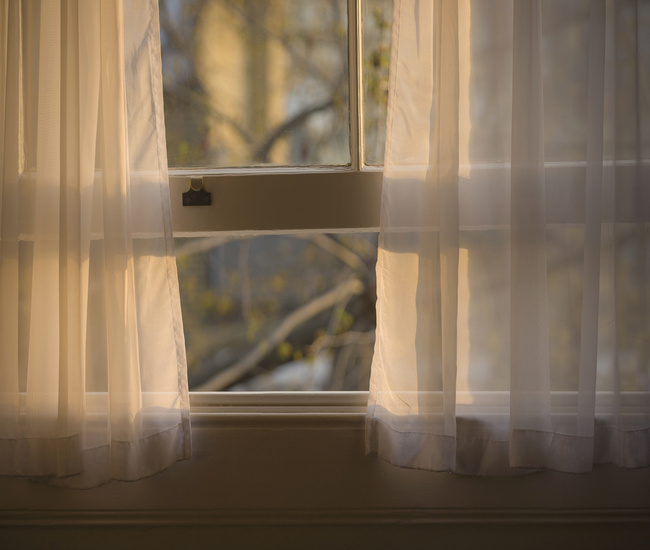 Sheers and drapes are the most common types of curtains that are layered. Drapes are usually heavier than sheers. Both can be lined or unlined.
You can install both types on the same double curtain rod and double brackets, or you can attach two drapes with a single pole.
The double-layered drapes would be stationary, while sheers would hang straight downward. You might also consider purchasing a sheer scarf to attach to sheers.
The main benefit of combining two types of curtains is that they give the windows a double layer of privacy. The sheers and drapes can be opened to let in natural sunlight, while the opaque or blackout curtains can block out all light.
You can layer and hang both types of curtains together or separately, depending on your purpose. A sheer panel hanging behind a drape will give your window a sophisticated look.
Sheers and drapes are also suitable for multi-layer curtains. Sheers are lightweight fabrics that allow incoming light to filter through but provide little privacy.
They are also often used to create a transitional piece between indoor and outdoor living. Sheers can soften the atmosphere in a room, diffuse incoming sunlight, and create an illusion of more height.
Double brackets and double curtain rods are the most common method of layering curtains and other window treatments.
Sheers and drapes are basically fabric panels that hang from a rod. They are sold in pairs. These drapes are usually lined with a light or heavy fabric and hang from the top to the floor.
Some drapes have extra-long arms to create a puddling effect. Drapes can be tailored to fit any size window. Sheers and drapes are generally heavier than traditional window treatments.
Although heavy drapes and sheers offer more privacy and light, they are much more expensive than sheer curtains. Depending on the material and drapes' weight, the width of sheers can be adjusted. You can keep the width of sheers 2.5 times that of the drapes.
Consider your budget and personal preferences when choosing curtains and sheers as combination blinds to treat your windows. If you are on a tight budget, use lighter fabrics and choose sheers that are double or triple the width of the window.
How to Layer Curtains with Sheers
While curtains and sheers are lighter, they serve different purposes. You can combine sheers and drapes with other window treatments, for example.
In addition to being more formal, sheers and curtains can soften the look of a room and balance its design. If you have a large, open space, consider using sheer curtains.
Be sure to measure the width of your windows before you decide which curtain is best to layer with a sheer for your space.
Hanging Curtain and Sheers with Double Sided Hooks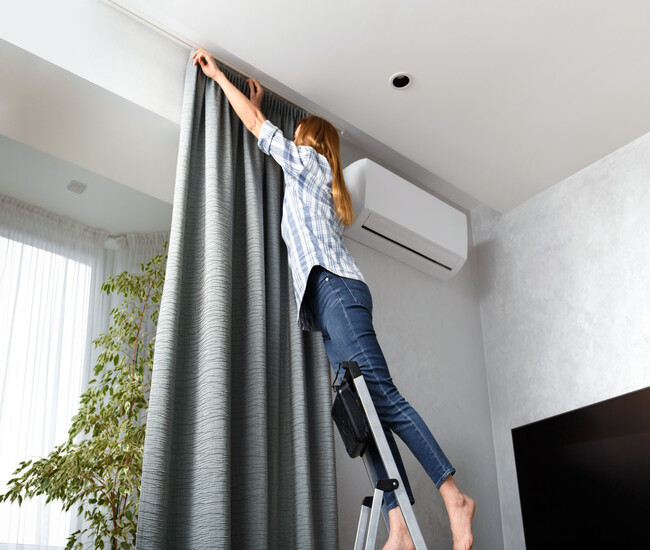 Double-sided hooks are used to hold curtains and sheers at the same time.
These hooks are mostly used in bathrooms for hanging shower curtains. They can hold two different types of curtain fabrics because they are double-sided.
While double-sided hooks are convenient, they may not be suitable for all rooms.
How to Attach Panels to Rods while Layering Curtains with Sheers
You should prepare the sheers and curtain panels before attaching them to the double curtain rods.
Place them on a flat surface to align them. Place the curtain panel face-up first. Then, place the sheer face down over the first.
Next, draw a line on the top panel using a washable fabric marker. Mark a half-inch seam allowance between the top panel's header and the bottom hem.
Once the curtain panel and sheer are lined up, use a fabric stapler to affix the overlapping curtains to the rod and double brackets.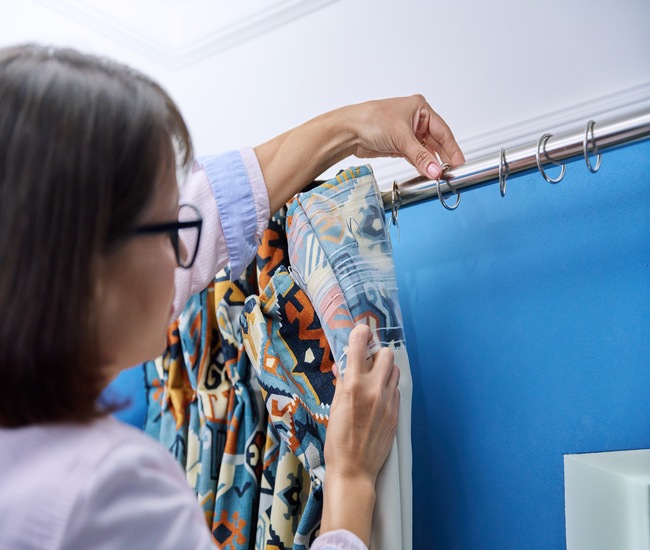 If you are looking to hang curtains and sheers at the same time, you can also use coat hooks. However, you will need to use double-sided mounting tape to attach them to the wall. You should also make sure that the bottom of the curtain and sheer touches the floor.
Remember to consider both the purpose and style of curtains and sheers when hanging them.
Using Cornice or Valance on Curtains and Sheers
When layering a curtain with a sheer or other window treatment, use a cornice or valance.
A valance or cornice is a simple and elegant window treatment while layering curtains with sheers. It beautifies the outer layer and adds dimension to your space.
These structures are usually made from wood and are covered with a panel or fabric. While they are both useful for adding decorative accents to a room, the difference between a valance and a cornice is significant.
Valances are often used in double layered window treatments. This means they can be used with shades, curtains, blinds, and drapes.
They are an excellent way to soften the top of a window without sacrificing privacy, while still giving the room an elegant, layered look.
Although valances can be used in combinations, they are more effective when they stand alone.
A cornice is a window treatment that is layered above the drapery. It adds depth and layers to the window and can also hide the shade beneath.
Wood cornices are a great way to add decorative elements to a room. They are especially suitable for first-floor windows that can also be viewed from open spaces. A single cornice at the top unites multiple shades creating a striking effect.
A swag valance is another option, which has dips beneath the curtain rod. Some swags also include jabots – layers of fabric that are kept hanging on either side of the window.
These valances can have many layers and can be patterned. A valance or cornice can also be layered with a swag, which softens the drapery and adds a touch of romance to a window.
Tiebacks Add a Decorative Element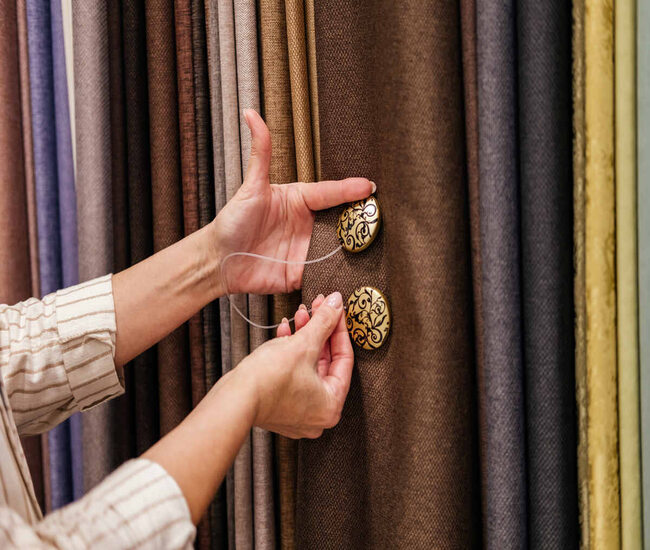 Tiebacks can be used to add a decorative element to your curtain and sheer set. Tiebacks can be made from plastic or other homemade embellishments.
Choose patterns or shapes that complement the theme of your window, double brackets, and double curtain rods. Adding tiebacks to layer curtains is a great way to add design interest.
Such a combination creates a contrast between the two layers. Tiebacks are not only useful for tying up your curtain set, but they can be used to add style and flair to any room.
For a modern look, use rope ties or wooden hearts in place of velcro. Use a tieback with a heavier fabric on the outer layer for sheer curtains with heavier curtains.
You can also tie back the curtain with a ribbon or a silver rope, forming a flower shape. DIY silver rope tiebacks are fun and casual, while knotted rope tiebacks are elegant and classy.
You can combine different lengths and pleating styles on the outer layer if you have multiple sheer curtains. Using decorative tiebacks will help enhance the feel of the interior, while also letting more light into the room.
Using sashes and tiebacks is another way to enhance the look of layer curtains on the double curtain rods and double brackets. Make sure to take inspiration from interior design experts to get an idea of how to layer sheer curtains.
Using Finials to Prevent Curtains and Sheers from Sliding off the End of the Rod
Layering curtains and sheers of vibrant colors on double curtain rods is a great way to add beauty to your abode. Meanwhile, finials prevent your panels from slipping off the rods.
Curtain rod finials are decorative accents that can be used to prevent curtains from slipping off the rod's end.
These finials are available in a wide variety of colors, materials, and designs to match your room's decor. They seamlessly add style and flair to your curtains without spending a lot of money.
How to Install Double Curtain Rods
To install curtain rods, you can follow these steps.
First, measure the length of the curtains from floor to rod. Usually, there are four popular curtain rod sizes: 63″, 84″,108″, and 120″.
Also, while layering curtains, you must accurately measure the length and width of your window.
Having the drapes hang at a height of half an inch above the floor gives your room a crisp aesthetic. You can also hang them higher to allow for water puddling.
Second, choose the style of double curtain rod. Matching colors are best. White rods match with light and pastel-colored curtains, while light and dark wood double curtain rods go well with a neutral color scheme.
Choose a style that matches the hardware of your window treatments and other accents. Curtains can be given a rustic, informal look with finials.