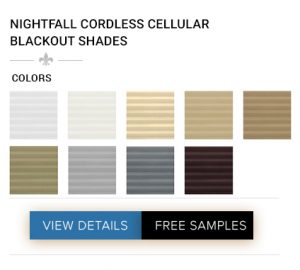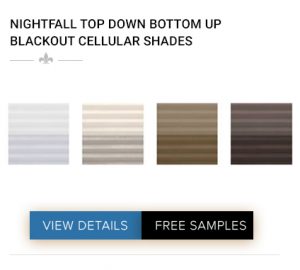 Features of Honeycomb Blinds
The splendor of honeycomb shades, also referred to as cellular shades, goes beyond what meets the eye. Honeycomb shades offer a soft look without losing the function of blinds and are among the most energy-efficient window treatments for your home, keeping the cold out in the colder months and the heat out in the hotter months.
Versatile and attractive, honeycomb shades consist of options like power operation systems, vertical (perfect for sliding glass doors), continuous cord loop, cordless (ideal for children safety), and Top-down Bottom-up Cellular Shades. Honeycomb Shades are available in different constructions from triple, double and single thickness. There is even a honeycomb-within-a-honeycomb design affording the industry's highest level of energy efficiency. Besides, these shades are so energy efficient they can decrease energy loss up to fifty percent.
Custom blinds can be made with materials like Blackout, Room Darkening, Light Filtering, and Semi-Sheer, to match any specification. Honeycomb Shades are also available in different textures and colors.
For the best in window insulation, cellular blinds blackout come with a combined sidetrack system that covers up the gaps between windows and cellular shades to create a solid insulating barrier to drafts. There is also a sidetrack system to get rid of any light leakage. This is perfect for daytime sleepers and media rooms.
For folks who would rather not cover their window, but are forced to because of insulating issues, light control or privacy, honeycomb shades can be fully raised so that they only block a small portion of your view.
From arches to standard windows, skylights, special shapes, angles, Honeycomb Shades can cover any window in your home.
The Function and Style of Honeycomb Shades
Most individuals have their preferences in decorating their homes and treating their windows. At times, they are even willing to spend a small fortune simply to achieve the look that they desire. However, with recent designs and alternatives to typical window treatments, you can certainly give your windows a look that is not only beautiful but one that is also affordable.
With honeycomb window shades, you can achieve the decor that you desire, and you will also be able to bring shade into your room efficiently. These shades, also commonly referred to as cellular shades, are also a great alternative to other types of blinds such as the wooden ones which can cost a great deal more.
Honeycomb shades are made of high-quality materials and are efficient in providing the softness that your room needs to be warm and inviting. Rather than investing in costly blinds and curtains, you can simply pick blinds as an alternative. They're easy to manipulate, easy to install and are readily available in the market. Even if they are exposed to direct sunlight for long hours, you can rest assured that they are hard-wearing enough to last a long time. Moreover, you can use them to block out the sun if you so desire.
Honeycomb cordless blinds are available in a variety of designs, some of which should fit your windows. This means that even if you have an arched window, you will no doubt still be able to find shades that will fit it. Moreover, some styles even come with a cordless design which can increase their efficiency.
Honeycomb shades can also be found in a variety of different colors and sizes. You can choose the one that matches your window best as well as the overall design of your entire room. This way, they will certainly add to the elegance and style of your house. Moreover, since they are very efficient, not only can you use them indoors but you can also install them outdoors. With durable materials and efficient functionality, you are sure that they are going to last a long time in your home.
You can also find honeycomb shades online in online stores like https://affordableblinds.com, and you will not find it difficult to choose a style that best suits your home. Furthermore, since they can be easily installed, you will find it simple to add them to your home.
Why Everyone Needs Honeycomb Blinds in Their Home
Window shades honeycomb have got their name due to their hexagonal shape when lowered. They bear much resemblance to the cellular structure of the honeycomb. These hexagonal cells act as air pockets and do the job of insulators. They reduce the noise caused by traffic outside and also act as a barrier to reduce the polluted air coming inside the house.
The air pockets in these blinds prevent hot air from coming inside as well as maintaining the coolness of the interior of the house by retaining the coolness inside. Mostly these blinds are translucent and act as good barrier to light, at the same time maintaining the brightness of the room. Some window cellular blinds are light-blocking models and provide total privacy to the owners. They are available in a variety of fabrics and are matched according to the interiors. If so, they present an elegant look to the room.
Honeycomb cordless cellular shades are available in different shades, texture, and the size of the cells also may vary according to the buyer's choice. They are flame-retardant and to avoid the risks of children choking, cordless models are available. Cleaning the blinds is easy. However, periodic wiping is necessary for proper maintenance.
There are various options available like continuous cord loops, top/down, or bottom/up options. The continuous cord loops are easier to handle; the other option can be used to lower the upper portion of the shade to modify the amount of light entering the room and maintain the privacy of the owners. These are mostly suitable for those living in apartments who can bask in sunlight at the same time avoiding the attention of the neighbors.
Other slender models are also available for windows that are narrow. Models operated by remote control are also available for the easier handling of blinds used for windows that are out of reach. These blinds add a touch of glamor and luxury to any room in the house.
People working with computers find blinds a good option as it avoids glare on the screens of the computer and at the same time providing the necessary light and ventilation.
What Are They Made Of?
Honeycomb blinds are made of a distinctive cellular fabric that provides a beautiful modern look thanks to its horizontal, crisp pleats. Apart from its modish look, it is also a good room insulator. Most honeycomb fabrics are duo-tone with only the white side visible from the outside (from the perspective of someone out of the house). A uniform outside appearance can be easily achieved no matter what shade you choose your blinds to be since the outer part of the blinds are colored white.
Variety and Availability
These blinds are available in almost any color or shade imaginable. The fabrics are available as metalized black-out or semi-transparent. There are also blinds that are manufactured in "specialty" shapes for special and uniquely shaped windows. Some blinds only provide minimal or partial light remittance while some offer absolute black-out. Make sure to know what kind of blinds you need so that you won't waste a lot of time choosing among the different designs, types, and mechanisms of window blinds.
If you want blinds that can be rebated right up to the window glass, ultra-slim window blinds would be perfect for you. Just make sure that the brand you choose offers great quality and durability since ultra-slim blinds are prone to easy damage with improper use or accidents.
Consumer Tips
When purchasing blinds, make sure to check if all seams, holes, and cords can be hidden once it is installed to ensure the maximum aesthetic beauty of the blinds. It will decrease the aesthetic factor of the blinds if cords and seams are sticking out messily.
When you go shopping for window blinds, it won't hurt if you tell the sales clerk right up front about your preferences and standards so that he or she won't have to go on offering you items which are not actually significant or related to your needs and wants.
Emphasize that you want an affordable yet high-quality product, one that would not easily be frayed or damaged. Try choosing window blinds that are dust-resistant, washable and durable. It is always recommended to go for low maintenance blinds, especially if your lifestyle is too hectic and busy.
Lastly, do not forget to inquire about warranty terms and conditions so that you can be sure that you get the most out of your money when you purchase your very own blinds.
Effective Tips for Cleaning Honeycomb Blinds
If you want to maintain a pleasant temperature inside your room and if you want to improve the appearance of your house, it is advisable that you should install blinds on the windows without any delay. If you install these Affordable Blinds to improve the appearance of your house and if you want to maintain a pleasant temperature inside your house, it is advisable that you should take the initiative to clean them on a regular basis. Here are a few essential tips that you should follow to clean blinds in the best possible way.
First, create a mixture of high-quality soap and water and to apply this mixture to remove stain, grease, and dust from these items in the best possible way. It is advisable that you should not prepare a mixture of ingredients that would cause damage to these items within a short period.
Always wash them before they get into the inner parts of these items and they are dried up there. Before you clean the blinds with the help of mixture that you've just prepared, it's prudent that you first apply a little bit of the mixture in another different spot for testing purposes. You should then get rid of it from that spot with a soft towel, and see if the mixture leaves any stain.
An alternative way to get rid of dirt and dust from the blinds is to use a vacuum cleaner as fast as possible. It's important that you should rub them softly with the help of this type of machine and it's crucial that you keep them in the closed position before you start this process. This process lets you to wash them and also helps to improve their functionality in the best possible way.
You can also keep these items in water to remove dust and dirt from them in an effective way. If you keep them in water for a long period, then there is a possibility that you will be able to clean them within a short period. After you clean them correctly, the next step should be to to hang them from the yard and allow them to dry up as quickly as possible. To dry them correctly, use a high-quality dryer and make sure you close the windows till they are completely dry.
If you don't wash them correctly, there is a chance that these items might develop yellowish tint and may also appear to be quite old. Whether you use a vacuum cleaning device or you use a thin sponge or cloth to wash away the dust in the best possible way, it is advisable that you should seek the help of an experienced blind cleaning service provider.
There you go, everything you wanted to know about Honeycomb shades! honeycomb cordless blinds options look great on any kind window. Aside from that, this blind offers a lot of benefits starting from being able to save more money to have an insulated room. This is a must-have investment for your home. In the first place, why do you have to purchase blinds that offer less insulation and gets damaged easily? Be a smart shopper.
Whatever style of blind you eventually choose, keep in mind maintenance. Your blind will only look good if well maintained and cared for. Make sure they are fitted exactly to the window for the most visually pleasing appearance and to ensure the best shading.