Decorating a kid's room is one of the most exciting experiences for parents. You want to create a space that your child will love and feel comfortable in, but you also want it to be fun! Window treatments are an important part of any room's décor, so why not make them kid-friendly too? Whether you're looking for something colorful or unique, there are plenty of window treatment ideas out there that both you and your children can enjoy.
From classic curtains to whimsical shades and everything in between, finding the perfect window treatment idea for your kid's room doesn't have to be difficult. With these tips and tricks, you'll find something special for every style. From playful prints to bold colors, you'll discover how easy it is to create a look that your little ones will love! Let's take a closer look at some of the best kid-friendly window treatment ideas on the market today.
No matter what type of design plan you have in mind, there are plenty of options available when it comes to creating a cozy atmosphere in your kids' bedroom. From patterned drapes to creative blinds, this article has all the inspiration needed to turn their bedroom into an oasis they won't ever want to leave! Keep reading to learn more about fun and kid-friendly customized blinds ideas for every kid's room.
Easy Install Window Treatment Ideas
When it comes to window treatments for kids' rooms, easy installation is key. Not only does this save time and headaches, but it also allows the child to have more involvement in the process – a bonus! To that end, there are a few simple options available when choosing window treatments. Roller shades provide a clean look while still offering some privacy, or consider Roman shades if you want something with texture. Both of these can be found in ready-made sizes and colors or custom-made to fit any type of window.
But don't stop at just functional window treatments; let's get creative! There are lots of fun options for adding personality to your kid's room – from bold patterns to whimsical designs. Hang colorful curtains on either side of the windowsill and layer them with insulated roman shades for extra warmth during winter months. Add fabric wall decals around each window frame to create a unique design feature sure to make any child smile!
Creative Window Treatment Ideas That Kids Will Love
Window treatments can be so much more than just functional; they can be creative and fun too! The perfect window treatment for a kid's room adds an air of playfulness and whimsy, while also fitting the style of the room. So let's explore some ideas to get those creative juices flowing!
From DIY pom-poms to paper garlands made from colorful streamers or tissue paper flowers, there are countless ways to create unique custom window treatments without breaking the bank. Let your child's imagination run wild with bright colors, patterns, shapes, and textures – all in their favorite design. For a little extra color or texture, take advantage of removable adhesive wallpaper which allows you to change up the look regularly. Or attach ribbons around the top of each curtain panel for something truly special – it'll give them something pretty and personalize their space.
Whatever you choose, make sure it's something that will bring joy and vibrancy into the room – because when it comes to kids' rooms, no idea should be off limits!
Window Treatment Ideas That Fit Every Room Style
Did you know that the average child's bedroom has an estimated 11-15 windows? That makes choosing the perfect window treatment for a kid's room quite tricky! With so many options, it can be difficult to decide what treatments fit different rooms.
Fortunately, there are plenty of creative and kid-friendly window treatments out there. From curtains and blinds to decals and wallpaper, every style is catered for. For example, blackout curtains are great if your little one needs complete darkness to sleep soundly through the night. If a more playful approach is desired then why not hang some printed fabric or use colorful wall stickers?
No matter what type of room style you have – modern, traditional, etc – you'll find something that fits perfectly. There are plenty of designs available which will add personality while also providing practical functions such as privacy and light control. Have fun exploring all the possibilities!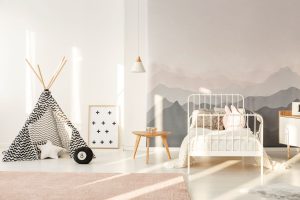 Frequently Asked Questions
What Type Of Window Treatments Are Best For Kids' Rooms?
Kids' rooms are a special place in the home where children can relax and express themselves. Statistics show that kids spend up to 6 hours per day playing, studying, or sleeping in their bedrooms. That makes it all the more important for parents to create an environment that is both safe and comfortable for their little ones.
Window treatments can be one of the most fun ways to dress up your child's room. From curtains with vibrant colors and textures to blackout shades that will help them get some much-needed rest, there are plenty of options available that provide privacy while also being kid-friendly. And when you factor in energy efficiency and UV protection, window treatments can add another layer of comfort too!
Whether you're looking for something stylish like Roman shades or modern roller blinds, or something whimsical such as cartoon characters or animal shapes, these unique designs can brighten up any bedroom space while making sure your kiddos stay secure at night. With so many different choices out there, it's easy to find the perfect window treatment option for every type of kids' room!
How Do I Measure My Windows To Ensure I Buy The Right Size Window Treatments?
Measuring windows for the perfect window treatment can be a daunting task. It seems like an impossible mission that only those with superhuman measuring skills can accomplish, especially when it comes to kids' rooms! After all, who wants to get their measurements wrong and end up with something that doesn't fit?
Well, fear not – this is easier than you think. All you need are some simple tools and a few helpful tips from the experts in window treatments. With these resources at your fingertips, you'll be able to measure your windows accurately every single time. Plus, you won't have to worry about wasting money on ill-fitting curtains or blinds ever again!
By following these steps, even the most novice of DIYers will find themselves confidently equipped to tackle any window-measuring challenge they face. So don't let measuring your windows scare you off – take charge and make sure you always get the right size treatments for your kid's room!
Are There Any Safety Considerations I Should Take Into Account When Selecting Window Treatments For A Child's Room?
Have you ever considered how the window treatments in a child's room could affect their safety? It is essential to think about this when selecting window coverings for your kid's space.
Many factors need to be taken into account when it comes to picking out window treatments for any kids' bedroom. Depending on their age and level of development, some styles may be more suitable than others as well as safer for them. For example, if you have a toddler in the house, corded blinds should probably be avoided since they can potentially become a strangulation hazard. Additionally, consider using blackout curtains or shades with light filtering capabilities so that your little one gets enough rest while blocking out most of the sunlight during nap time!
It might also be wise to select durable materials such as polyester or bamboo which will better withstand wear and tear from frequent use by children. Furthermore, there are several fun designs available featuring playful patterns and cartoon characters that could add an extra touch of personality to any kid-friendly space. So take all these considerations into account before making your final decision on the perfect window treatment for your child's room!
What Is The Most Cost-Effective Window Treatment Option For A Kids' Room?
When it comes to decorating a kid's room, window treatments can be a tricky conundrum – after all, you want something that looks great and will last for years, but at the same time doesn't break the bank. It's like finding the holy grail of decoration! Fortunately, there is an answer: cost-effective window treatment options are out there in abundance if you know where to look.
From stylish roman shades to budget-friendly roller blinds, there is no shortage of incredible ideas when it comes to dressing up your little one's windows. These days, kids' rooms have never looked so chic – and best of all? You won't have to take out a loan just to pay for them! Roller blinds come in thousands of colors and patterns; they are easy to install (even for the most DIY challenged!), and offer excellent light control without sacrificing style or comfort. Roman shades provide unbeatable insulation against heat loss during those cold winter months — plus, their unique folds make them perfect for creating interesting designs on any wall.
Whatever option you choose for your child's room, rest assured knowing that you're getting more than just beauty – you're also getting lasting quality without breaking the bank. With these amazing choices available today, why wouldn't you give your home some much-needed window flair?
Are There Any Window Treatments That Can Help With Noise Or Light Reduction?
Irony can be an effective tool to grab the attention of readers and make them think about a particular topic. So, let us use that technique here: what better way to make your kids' room safe, secure, and fun than by introducing window treatments? Sounds absurd, doesn't it? But here we are talking about noise or light reduction – two aspects that have been overlooked when considering kid-friendly window treatments.
Well, there are some great ways to reduce noise and light in kids' rooms through appropriate window treatment ideas. For instance, you could opt for blackout curtains which will block out most incoming daylight while also helping with sound insulation if they are thick enough. Similarly, installing cellular shades over windows is another cost-effective option as these offer good soundproofing qualities while providing versatile lighting control. Furthermore, adding a Roman shade on top of these can further enhance their ability to act as a barrier against outside noises and lights.
So, no matter how much noise or light you want to keep away from your kids' room – there is always something available that can help! And the best part is that all of these options come at reasonable prices too; so now you don't need to worry about breaking the bank for creating the perfect environment in your children's bedroom.
Conclusion
The right window treatment can make a world of difference in any kids' room. Just like the perfect pair of shoes completes an outfit, the right window treatments can complete your child's space and provide them with privacy, safety, and comfort.
When selecting a window treatment for your child's room, remember that this is their special place – one where they should feel safe, secure, and comfortable. Consider their needs carefully when choosing the best window treatment option for them. Remember to take into account factors such as size, safety concerns, cost-effectiveness, and light or noise reduction capabilities.
Finding the perfect window treatments for your child's room isn't always easy but it doesn't have to be difficult either. Think of it like finding just the right pair of shoes: try on different styles until you find something that fits perfectly! With some patience and creativity, you'll be able to create a kid-friendly environment that both you and your little one will love.