Custom drapery is a great way to upgrade your home decor and add a touch of elegance and sophistication to any space. There are many types of custom drapery available for every budget, style, and purpose. This blog post will explore the benefits of investing in custom drapery and how it can be used to elevate your home decor.
The first thing to consider when looking into custom drapery is the various types available. Popular choices include panels, sheers, swags, jabots, valances, cafe curtains, blackout drapes, and more. All of these different styles come in various fabrics including cotton, linen, velvet, and silk to name a few. Additionally, you can pick up pre-made options or invest in bespoke custom-made pieces for an even higher quality finish.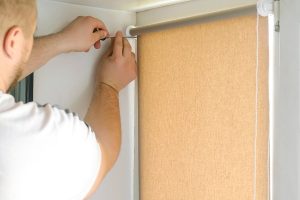 Custom drapery is beneficial for both decorative and functional purposes. Depending on the type you choose it can provide better insulation from the cold or heat outside by blocking sunlight and creating a seal. It can also be great for those who want more privacy in their home as certain designs completely block out light from outside while still allowing natural light into the room inside.
Not only will custom drapery help keep your home warmer or cooler depending on the season but they also look great! Certain types such as curtains can bring life back into a drab room with vibrant colors, intricate designs, or beautiful embellishments like tassels and trimming that add dimension to otherwise simple areas. In addition to this, they'll add value to your property if you decide to sell at some point in the future too!
Key Takeaways:
The key takeaway from this blog post is to remember that proper maintenance and care for custom drapery is essential for keeping it looking good for years to come. This includes regular vacuuming/dusting; gentle handling when opening/closing; careful spot cleaning; and regular dry cleaning. A little preventative maintenance can go a long way in getting the most out of your investment!
Benefits of Custom Drapery
Custom drapery is one of the best ways to elevate your home decor and give any room a touch of elegance. But it's not just about looks – custom drapery also offers some powerful benefits that make them great for almost any type of home or interior design project.
One major benefit of custom drapery is improved insulation. The right material can help to block out cold or hot air, depending on the season. This will keep your home warmer in the winter months and cooler during the summer, making it much more comfortable while reducing energy costs. Furthermore, some types of custom drapery can reduce outside noise significantly, creating an even more peaceful environment inside your home.
Custom draperies can also offer excellent light control options. Depending on the type you choose they can completely block out light from outside while still allowing natural light into the room inside. This makes them ideal for those wanting pitch-black bedrooms or who need the ability to adjust the level of daylight coming into their living rooms or other public spaces throughout the day for both aesthetic and practical reasons.
Finally, custom drapery provides a range of decorative options as well depending on your style preference and budget range. There are many different types available such as panels, sheers, swags, and jabots which come in various fabrics including cotton, linen, velvet, and silk to name a few – all with varying levels of quality available from pre-made store-bought drapes to bespoke pieces tailor-made for your windows specifically! With so many choices at hand, you'll find something to suit your style preference without breaking the bank either!
Types of Custom Drapery
Choosing the right type of shades and blinds for windows for your home can be a daunting task. There are so many types and fabrics available that it can be difficult to know where to start! In this blog post, we'll take a look at the different types of custom drapery available and how to choose the best fit for your home decor style and needs.
The most popular types of custom drapery include panels, sheers, swags, jabots, valances, cafe curtains, and blackout drapes. Panels are often used in bedrooms and living rooms as they come in various shades and materials like cotton, linen, or velvet which look great when paired with the right curtains rods, or finials. Sheers are usually made from light-weighted fabrics such as tulle or organza and create an airy atmosphere without blocking any natural light coming into a room – ideal for those wanting more privacy with an enchanted garden-style vibe inside their homes! Swags/jabots meanwhile add texture & fullness around windows which adds character to otherwise bland surroundings while valances help draw attention to particular design elements like patterned wallpaper by creating a dramatic effect of its backdrop. Cafe curtains are specifically designed for kitchens and other areas that need more natural ventilation while blackout drapes provide both insulation & complete darkness in short – they come in handy during certain times of the day!
When selecting custom drapery it's important to consider what style fits your taste & needs best. Generally speaking, it pays off to invest more money on higher quality pieces rather than buying something cheap that won't last too long because you get what you pay for when it comes down to materials & fabric used – but if budget is an issue then find out if store versions offer similar properties & pick one off their shelves instead! It also pays off measuring each window accurately before buying as this makes sure you get the perfect fit when installed as intended while avoiding gaps between them too!
Installation and Measurement Tips
Installing custom drapery can be a tricky task, but with some knowledge and proper measurements, it is easy to get the job done right. Getting accurate measurements for your custom drapery is key to achieving the desired fit and look. Additionally, having someone with experience help you through the installation process can make the whole project much easier.
When measuring for custom drapery, it's important to take into account several different factors. Firstly, measure from the floor to the ceiling to get an accurate measurement of the full height of the window space. Secondly, measure from wall-to-wall widthwise to have enough material to cover the entire window opening completely when hung up. Thirdly, consider what type of rod or hardware will be needed to support the fabric weight and distance between walls; this includes double rod systems if you are looking for both sheers & panels on the same window or multiple windows side-by-side, etc… Lastly, make sure that you leave at least 1 ½ inches in width dimensions when ordering curtains just in case any extra trimming needs to be done before hanging them up – this way you have more room for error when installing later on down line!
Once all measurements have been taken accurately it's time for installation – though if you don't feel comfortable doing this alone then it's best to leave it up to professionals who can guarantee perfect fit & finish every single time regardless of any complications arising along the way (e.g., different sizes/weights/loads, etc). If however you do want to tackle the project yourself then remember that there are two main methods available – either using rings/clips on a track system or a traditional rod & finials setup; rods are usually the preferable choice due to their stability yet tracks required less effort when re-positioning curtains along the way (which makes them the ideal choice if open plan style interiors need to be considered too!). As always make sure everything is perfectly level & secure before letting go of fabric onto these systems!
Maintenance Tips
Having custom drapery in your home is great for enhancing the look of any room, but it requires regular maintenance to keep it looking good. This article will provide you with some helpful tips on how to maintain and care for your custom drapery so that you can make sure they remain in its best condition for years to come.
The first tip to keep in mind is to routinely vacuum or dust your drapes. Over time dirt and dust can accumulate on them and cause them to lose their color or brilliance. Ensuring that you make a habit of vacuuming or dusting your drapes every few weeks will help prevent this from happening.
Second, if you spill something on the fabric, be sure to dab up as much as possible with a clean cloth before cleaning the entire area with a mild detergent. It's important to avoid rubbing the stain as this may cause it to spread further into the fabric and become more difficult to remove.
Thirdly, dry cleaning is also recommended every year or two depending on if you notice any discoloration or fading in your drapes. Dry cleaning agents are specially designed for delicate fabrics like velvet, satin, and other types of drapery material and can restore their original condition without causing any damage.
Finally, when opening or closing your curtains, make sure that you do so gently as tugging or pulling too hard can cause permanent creases which can ruin the appearance of any type of curtain material over time. Additionally, avoid using sharp objects such as scissors or knives when unraveling them from their packaging – always use your hands instead! These small gestures may seem insignificant but they can save you a lot of hassle in the future!
Following these maintenance tips will help ensure that your custom drapery remains fresh and vibrant for many years after installation. With periodic vacuuming/dusting; gentle handling when opening/closing; careful spot-cleaning; and regular dry-cleaning; your custom drapery will stay beautiful even after repeated use!