When it comes to choosing window treatments, standard sizes can often be a challenge. Odd-sized windows, in particular, can pose unique design dilemmas that require creative solutions. Whether you're dealing with an oddly shaped window or one that's smaller than the average size, finding the right treatment for your home can be a challenge.
Standard window treatments – such as curtains, shades, and blinds – may not fit the size or shape of an odd-shaped window. Even if you're able to find something that fits, it might not be the best option for your home. That's why it's important to consider other possibilities for these windows.
There are many creative solutions available for odd-sized windows. For example, roller shades and cellular shades can be custom fitted to any size or shape window. Roman shades have the same level of flexibility and can also be made in a range of colors and materials to suit your style. If you're looking for something more decorative, consider adding a valance or cornice. These are great options for adding color and texture to any window without blocking the light.
If you're looking for an even more unique solution, consider using a combination of different treatments. This might include a sheer curtain with blinds underneath or shutters combined with shades. You can also use layers of different fabrics or trims to add texture and depth.
Key Takeaways:
1. Consider using custom-fitted roller shades, cellular shades, or Roman shades for odd-sized windows.
2. Add a valance or cornice to add color and texture to any window without blocking the light.
3. Use a combination of different window treatments such as layered fabrics or trims for an even more unique solution.
4. Make a statement with bold designs or eye-catching patterns to camouflage odd shapes.
5. Utilize larger art pieces or decorations that draw attention away from the window shape for an aesthetically pleasing look.
Different Techniques to Consider
Finding the perfect blinds for windows for your home can be a difficult task, especially when you're dealing with an unusually shaped window. However, that doesn't mean you have to settle for something less than ideal. There are creative solutions out there that can help you make any window look beautiful and stylish.
If you're looking for options to cover an odd-shaped window, consider combining different treatments. You can use curtains and blinds together to create a layered effect or choose shutters and drapes that blend nicely into the frame of your window. This will help you achieve a unique look that fits with the overall decor of your space.
Blinds are an excellent choice when it comes to covering odd-shaped windows. Not only do they provide privacy, but they also help regulate light and air fl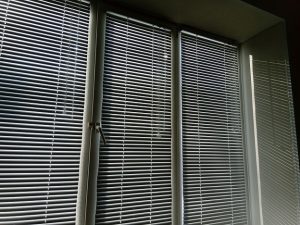 ow. Plus, they can be easily adjusted to fit any shape window. You can choose from vertical or horizontal blinds in various materials such as wood, metal, and vinyl.
If you're looking for a classic option, consider shutters as an alternative to blinds. This type of treatment comes in a variety of styles and can be customized to fit any window shape or size. Shutters also have the added benefit of providing additional insulation, which can help reduce your energy bills in the long run.
Other creative solutions for non-standard window treatments include valances, shades, and draperies. Valances are a great way to add softness and texture to an otherwise plain window frame. Shades come in a variety of light-blocking fabrics and give you the ability to adjust lighting levels easily. Draperies are elegant pieces that can be used to frame a window and add height, color, and pattern to any space.
No matter the shape of your windows, there are plenty of creative solutions that can help you find the perfect treatment. With a little bit of creativity and imagination, you can transform any window into something unique and beautiful. So don't be afraid to experiment and try different techniques to achieve the look you want. With a little bit of effort, you can make any window look amazing.
Tips and Tricks to Keep in Mind When Decorating Odd-Shaped Windows
Oddly shaped windows can make interior design a challenge, but with a little creativity, it is possible to come up with solutions that create aesthetically pleasing results. Here are some tips and tricks to keep in mind when decorating unusual windows.
Make a Statement with Bold Designs or Eye-Catching Patterns
When it comes to oddly sized windows, the key is making sure the window treatment stands out and grabs attention. Bold designs or patterns can be used to make an impact without taking away from the beauty of your window shape. Choose colors that will complement the room's existing color scheme while also making the most of the unique contour of your window.
Layer Fabrics, Textures & Other Materials
Styles like drapery panels, valances, cornices, roman shades, and other treatments look greatly layered together to create more dimension across your window. Mixing different fabrics and textures can also add visual interest while still maintaining a cohesive look. From sheer cotton drapes paired with velvet curtains to rustic burlap combined with embroidered details – there are endless ways you can layer different materials for an eye-catching effect.
Camouflage Your Window Shape
Sometimes playing up the shape of a window might be too much of a distraction from the overall design aesthetic you're working towards. In these cases, camouflaging an odd shaped window by selecting larger art pieces such as wall hangings or decorations may help draw attention away from its peculiarities. You could also opt for simple curtain rods rather than embellished ones that may draw too much attention toward your window area.
Final Thoughts
Finding creative solutions for oddly sized windows is important for achieving aesthetically pleasing interior design results. While standard window treatments may not be the best fit for these unique shapes, there are still plenty of ways to make them work. Combining different types of treatments, layering fabric and textures, or camouflaging odd shapes with art pieces are all techniques that can be used to help create a stunning look.
No matter what kind of aesthetic you're going for – bold designs or subtle touches – it's important to keep in mind that every window shape is unique and requires careful planning and creativity to make sure it works with the overall design of the room. With a little bit of ingenuity and imagination, even the most unusual-shaped windows can become a beautiful focal point in any home!