Are you looking for window treatments that can complement the interior décor style of your room? You can choose from top 5 modern window coverings 2023. They will provide you with excellent curb appeal and multiple functionalities. Here you'll learn about the five best choices for window treatments 2023.
Installing modern window treatments is a great way to add style, color, texture, and functionality to any room. Read on to learn more about the different types of modern window treatments and design ideas for incorporating them into your home, as well as tips for making the best choice.
With the right window treatments, you can update any space with a fresh new look that will breathe life into your interior decor. Let's get started!
Things in a Nutshell!
Top 5 window treatments can improve a home's look, feel, and functionality.
Top 5 modern window coverings include cellular blinds, solar roller shades, and cordless window treatments.
Modern window coverings are stylish, affordable, easy to install, safe to operate, and provide multipurpose functionality.
There are different design ideas for contemporary window treatments 2023.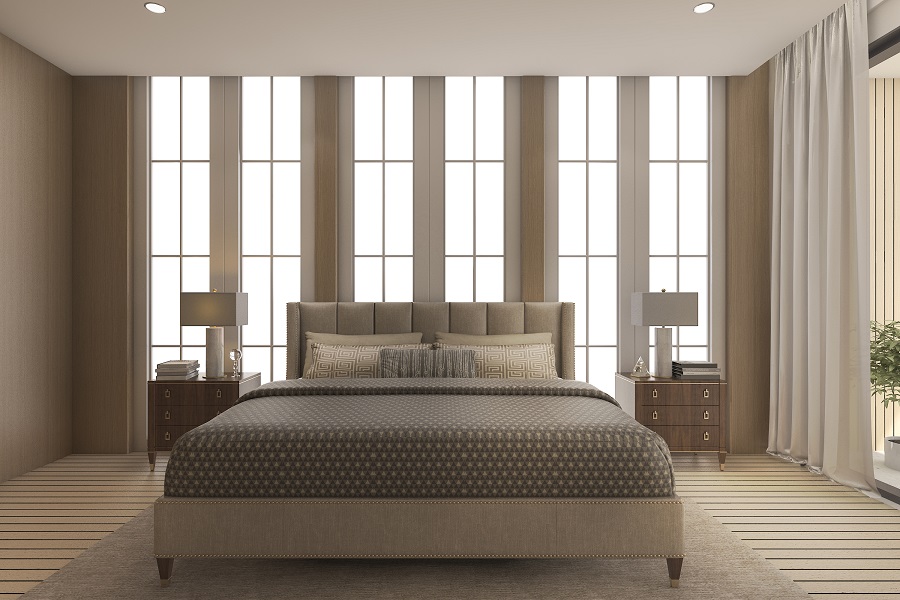 How Top 5 Modern Window Coverings Can Improve a Home's Look and Feel
Top 5 window treatments 2023 are a simple and effective way to improve the look and feel of any home.
By choosing the right style, material, and color, window treatments can help to create a cohesive design scheme while also providing essential functions like privacy and light control. 
In recent years, there has been a trend toward window treatments that blur the line between indoor and outdoor spaces. 
Contemporary options like cellular blinds, solar roller shades, cordless shades, and smart window treatments can let in natural light and fresh air while still providing privacy and protection from the elements.
As more homeowners seek to bring the outdoors in, these types of top 5 window treatments are becoming increasingly popular.
Top 5 Modern Window Coverings 2023
Modern window treatments are a necessary part of any home, both for practical purposes and aesthetic appeal. There are a wide variety of contemporary window blinds available on the market, each with its own unique benefits.
Plantation shutters are a popular choice for their classic look and ability to control light levels.
Roman shades are another popular option, thanks to their simple design and wide range of colors and patterns.
With so many options available, there is sure to be a window treatment that meets your needs.
Design Ideas for Top 5 Modern Window Treatments 2023
There are many factors to consider when choosing modern window treatments for your home. The right window treatment can help to highlight your interior décor style, provide privacy, and regulate light and temperature. As there are several design ideas for top 5 window covering 2023, you should keep a few key design principles in your mind when choosing the perfect window treatment for your home.
Color: First, think about the color of your modern window treatments 2023. Do you want them to blend in with your walls, or do you want them to stand out? If you want your modern window treatments 2023 to be a focal point, choose a bold color or pattern. If you prefer a more subtle look, select a neutral hue.
Material: Next, consider the materials you want to use. Modern window treatments can be made from a variety of materials, including fabric, wood, plastic, or metal. Each material has its own unique look and feel, so it's important to choose the one that best fits your style. For a natural look, opt for wooden blinds or bamboo shades. If you want something more modern for your window coverings 2023, try minimalistic roller shades or sleek metal curtains.
Patterns and Prints: Patterns and prints are another great way to add personality to your window treatments 2023. From geometric shapes to floral designs, there are endless possibilities when it comes to choosing patterns and prints for the top 5 modern window coverings 2023. For example, if you have a striped rug or wallpaper, pair it with striped curtains or blinds.
Paying Heed to Details: Finally, when choosing one of the top 5 modern window coverings 2023 don't forget the details! Window treatments 2023 can be simple or complex, depending on your preference. Add interest to your blinds or shades with tassels, fringe, or pompoms; incorporate texture with ruffles or pleats; or go for a dramatic look with floor-to-ceiling drapes.
Tips for Choosing and Installing Top 5 Modern Window Treatments 2023
There are a few things to keep in mind when installing modern window treatments 2023. 
Measuring Window Frame: First, it's important to measure the windows frame accurately. This will ensure that the treatments fit properly and look good.
Choose a Suitable Window Treatment: Second, consider the climate and home environment to choose a suitable window covering 2023. The type of window treatments you choose should be appropriate for the climate and the overall style of the home.
Room's Purpose: Third, choose window treatments based on the room's purpose. Consider how much light you want to let in, how private you want the room to be, and any other factors that are important to you.
Planning Out Installation: Finally, plan out installation process carefully. Make sure you have all the tools and materials you need before starting. Take your time to avoid making any mistakes. Following these tips will help you install contemporary window treatments that look great and function well.
Bottom Line on Top 5 Modern Window Coverings 2023
Top 5 modern window coverings 2023 are a necessary update for any home. Not only do they provide a finished look, but they can also be used to control light and privacy. There are many different types of window treatments available on the market, from cellular blinds to solar roller shades, and smart window treatments. 
Each type has its own advantages and disadvantages, so it is important to choose the right one for your needs. Installation is also an important consideration. Top 5 modern window treatments can be installed by a professional or do-it-yourself, depending on your preference. In either case, it is important to measure the window accurately to ensure a perfect fit. With a little bit of planning, you can easily update your home's interior décor with modern window coverings 2023.