Patio living is a growing trend in modern homes. It's a great way to enjoy your outdoor space, whether you're having friends over for dinner or just relaxing in your backyard. But one thing that many patio owners overlook is the importance of window coverings. Window treatments are not only aesthetically pleasing, but they can also provide functional benefits that can help you make the most of your outdoor space.
Window coverings, including blinds, curtains, shades, and shutters, are becoming increasingly popular in patio settings due to their ability to protect furniture and flooring from harsh weather conditions. They can block out harmful UV rays and reduce glare while still allowing in natural light. By shielding your outdoor space from the elements, window coverings can help ensure that you and your guests remain comfortable while enjoying the outdoors.
Key Takeaways:
• Window coverings, such as blinds, curtains, shades, and shutters, can be aesthetically pleasing while providing functional benefits to your patio space.
• Window treatments can help protect furniture and flooring from harsh weather conditions by blocking out harmful UV rays and reducing glare.
• Installing window coverings on your patio allows you to enjoy the outdoors while remaining comfortable and shielded from the elements.
• Window coverings are especially important in hot climates where glare reduction near windows or bright lights is critical for comfortable outdoor living.
Privacy and Light Control
When it comes to outdoor living spaces, patios are an excellent addition to any home. Patios provide an opportunity for homeowners to enjoy the outdoors while still being able to relax within the confines of their own homes. Unfortunately, patios can be susceptible to providing less privacy than other parts of your home due to the openness of the space. Fortunately, there are a variety of window coverings available to ensure that your patio is always in privacy mode.
Window coverings can offer homeowners the ability to customize their outdoor living space and create an area of their own where they can relax and entertain guests without worrying about prying eyes. Window coverings come in many styles ranging from traditional curtains to modern shades and blinds. They can be hung from the frame of your patio, or you can opt for a window covering that is mounted directly onto the wall of your home. Depending on your personal preference, you may want to keep the windows covered all year round or take them down during peak hours when more natural sunlight is needed.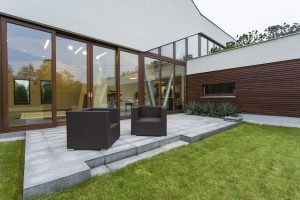 In addition to providing privacy, window coverings can also be used to control the amount of light entering your patio. Some people may prefer a bright and airy atmosphere while others may find that too much sunlight is overwhelming. Window coverings make it easy to adjust the level of brightness on your patio, depending on what you're looking for. You can also use window coverings to reduce glare, which is especially helpful if you have a lot of direct sunlight beaming through your windows.
Aesthetic Appeal
Window coverings are a great addition to your patio space, no matter what kind of décor or style you have. They can provide shade and privacy while also adding aesthetic appeal to the space. Here are some ways that window coverings can make your patio look more visually interesting.
Visual Interest Through Color
The first way to add visual interest to your patio with blinds online is through the use of color. Depending on what type of window covering you choose, there are many different colors and styles available that can match the look and feel of your patio or serve to contrast with it. Whether you opt for a light and airy white shade or a bolder navy blue tone, window coverings that have been properly selected will help to enhance the overall atmosphere of your patio space.
Visual Interest Through Texture
In addition to color, texture can also be used to add visual interest to your patio through window coverings. There are a variety of different materials available such as fabric, wood, and metal that can all be used to create an interesting texture. This can add a unique touch to the overall aesthetic of your patio, whether it's a sleek and modern look or something more natural and rustic.
Visual Interest Through Pattern
The pattern is another great way to add visual interest to your patio space with window coverings. If you opt for a patterned window covering such as striped curtains or a chevron print, it can give your patio space an extra layer of visual interest. Patterned window coverings are great for adding some pizzazz to a neutral palette and creating a vibrant, inviting atmosphere.
No matter which type of window covering you decide to use on your patio space, it's important to make sure that it fits with the overall aesthetic. With a little bit of thought and consideration, you can create a patio space that looks great and adds visual interest to your outdoor living area. From selecting the right color and texture to choosing patterns that fit with your décor, window coverings can be an easy and effective way to give your patio a makeover.
Practical Advantages
As the temperatures in hot climates rise, it's important to make sure you are protected from the sun. One way to do this is by installing window coverings on your patio or outdoor space. Sun-blocking window treatments can offer several practical advantages that will help keep you and your family cool and comfortable during long summer days.
One of the most important benefits of having window coverings on your patio is that they provide shade from the sun's direct radiation. This helps keep the air temperature cooler and allows you to enjoy outdoor activity during peak hours without overheating. It also reduces glare, which can be problematic for patios near large windows or bright lights. The reduced glare helps to make the area more comfortable and inviting.
Window treatments can also protect furniture, fabrics, and other items from fading due to UV radiation. This is especially important if you have expensive upholstery or valuable artwork that could be damaged by prolonged exposure to sunlight. Keeping these items in the shade will help preserve their condition for longer.
Finally, window treatments can add to the aesthetic appeal of your patio or outdoor space. You can choose from a variety of styles, colors, and materials to match the existing décor in your home. This will help create a unified look that is both inviting and stylish.
In conclusion, window coverings are an excellent way to protect your family and belongings from the harsh effects of the sun in hot climates. They offer practical advantages such as reducing glare, maintaining cooler temperatures, protecting furniture and fabrics from fading, and adding aesthetic appeal to your patio or outdoor space. Consider installing window treatments on your patio today for a more comfortable and attractive outdoor living experience!