Imagine a home that's filled with harsh sunlight streaming through the windows. The bright light makes it difficult to concentrate, and you can hardly even enjoy your favorite activities in such an environment. It's like living in an oven! That's where window blinds come into play – they offer homeowners the perfect solution for controlling their indoor lighting and temperature levels. In this article, we'll explore the many benefits of installing window blinds in your home.
Window blinds not only provide maximum control over interior lighting, but also make a stylish statement as well. You can choose from a variety of materials, colors, designs, and sizes to fit any décor or style preference. Blinds are designed to block out harmful UV rays while still allowing natural light to filter into your rooms. This will help keep energy costs low by reducing reliance on artificial lighting during the day time hours. Additionally, window blinds protect furniture and flooring from fading due to exposure to direct sunlight.
Finally, window blinds add privacy and security to any room in your home. With adjustable slats, you can easily adjust how much light is allowed into each room without compromising your level of privacy or safety from prying eyes outside. So if you're looking for an easy way to give your home an upgrade while saving money on energy bills at the same time – look no further than window blinds!
Types Of Window Blinds
As we enter the 21st century, window blinds have come a long way. From wooden shutters to Venetian styles and now motorized ones – there's no shortage of choice when it comes to deciding which type of window blind best suits your home and lifestyle.
The most popular types are roller shades, honeycomb shades (also known as cellular shades), Roman shades and vertical blinds. Roller shades provide an elegant yet timeless look that is perfect for any room in the house, while honeycomb shades can help improve insulation and energy efficiency. Roman shades offer both function and style with their array of fabrics, texture and colors whilst vertical blinds are great for larger windows or patio doors due to their flexibility in being able to be opened from either side.
All these options give you control over privacy, light levels and temperature within your home – making them all excellent choices depending on what you're looking for.
Benefits Of Installing Window Blinds
The benefits of installing window blinds in your home are like a breath of fresh air. From light control to privacy, they offer homeowners much more than just an aesthetic upgrade. Let's dive into the advantages these window treatments bring that make them a great investment for any household.
First up: improved comfort and energy savings. With their ability to adjust temperature by blocking out sunlight, window blinds keep rooms cool in summer months and warm during wintertime. This helps reduce monthly utility bills while making living spaces much more pleasant. Additionally, certain materials can even provide sound insulation from outside noise or block UV rays from fading furniture and carpets over time – two factors that add to both convenience and cost-savings down the line.
Second is increased safety and privacy. Discounted blinds allow residents to maintain visual security without sacrificing natural lighting within their homes; this makes them ideal for second story windows or other hard-to-reach areas since you won't need to worry about opening/closing curtains every day after all! And when it comes to seclusion, many varieties come with cordless options that make them child-friendly as well as stylishly sophisticated at the same time.
In short, if you're looking for features such as climate regulation, space protection, and added security – then you'll find plenty of reasons why adding window blinds could be beneficial for your abode! From reducing electricity costs to increasing peace of mind within the home, there's no shortage of ways investing in this type of interior design can pay dividends in the long run. Now let's explore what kind of cost considerations one should look out for when shopping around for window blinds...
Cost Considerations For Window Blinds
The act of opening and closing window blinds is like an ever-changing dance, as the light shifts from bright to dark when you control it. Installing window blinds can be a great investment for your home; however, there are cost considerations that go along with this decision.
When it comes to pricing, you'll find that different materials come at various price points. Window treatments range in cost depending on size, material type, and brand name quality. For instance, wooden or faux wood blinds tend to cost more than vinyl ones while aluminum options fall somewhere between those two prices. Additionally, motorized versions will run up the bill due to their advanced technology components.
Installing window blinds doesn't have to break the bank either – there are ways to save money such as searching clearance sales online or opting for DIY installation kits instead of hiring a professional installer. No matter which option you choose, taking into account these costs before purchasing will help make sure you select something within budget yet still adds value to your home. As you consider the next step in setting up your new window coverings...
How To Install Window Blinds
Installing window blinds can be a great way to improve the look and feel of your home. According to one survey, over 50% of homeowners reported that their satisfaction with installing window blinds resulted in an improved quality of life.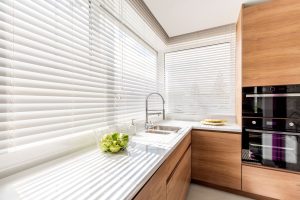 When it comes to installation, there are several options available depending on the type of window blind you choose for your home. If you have basic DIY skills, then it is possible to install most types of window blinds yourself. However, if you don't feel confident in your abilities or would rather leave it up to an expert, many stores offer professional installation services at reasonable prices.
Whatever method you decide upon, make sure that you take into account all necessary measurements and adjustments before beginning the process so that everything fits properly when finished. Once installed correctly, you will be able to enjoy having stylish new window treatments in no time! From here we move onto maintenance and care for our newly installed window blinds.
Maintenance & Care For Window Blinds
Maintaining and caring for window blinds is relatively easy. They require little more than occasional dusting with a duster or soft cloth to keep them looking their best. It's also important to adjust the slats frequently, as they can become bent if left in one position too long. If your window blinds have cords, be sure to check them periodically for signs of wear and tear so you can repair any damage before it becomes unsafe or unsightly.
When cleaning your window blinds, it's important to use mild detergent and warm water that won't cause discoloration or fading over time. Avoid using harsh chemicals such as bleach, which could damage the fabric of your blinds. Be sure to rinse the slats thoroughly after washing and then hang them up until completely dry – this will help prevent mold from forming on damp surfaces.
Regular maintenance of your window blinds is an essential part of keeping them in good condition and ensuring they last for years to come. Taking a few simple steps now can save you money down the line by preventing costly repairs or replacements due to neglect. So take care of those shades!
Conclusion
To conclude, installing window blinds in your home is an excellent way to improve the look and feel of a room. Not only do they provide privacy and energy efficiency, but also come at a cost that's quite affordable. With just a little bit of effort on your part, you can install them yourself or call in professional help for larger projects. To make sure your window blinds last for years, regular maintenance and proper care are key – although it's not much work!
In short: I think we can all agree that adding window blinds to our homes has its advantages – from aesthetics to practicality. But ironically enough, what really makes this investment worthwhile isn't necessarily the low cost nor easy installation; instead, it's actually the fact that these window treatments require so little when it comes to upkeep! So why not invest in some high-quality window blinds today? You won't regret it!