Roman shades are one of the oldest and most versatile types of window treatments around. However, you need to choose a suitable fabric to harvest the maximum potential of Roman window treatments. Here is a comprehensive user guide about how to choose best fabrics for your Roman shades.
Roman shades with multifunctional fabrics can help to provide you with everything from light and airy spaces to dark and warm spaces. Plus, they just look great. And there are several types of custom roman shades you should choose for your home.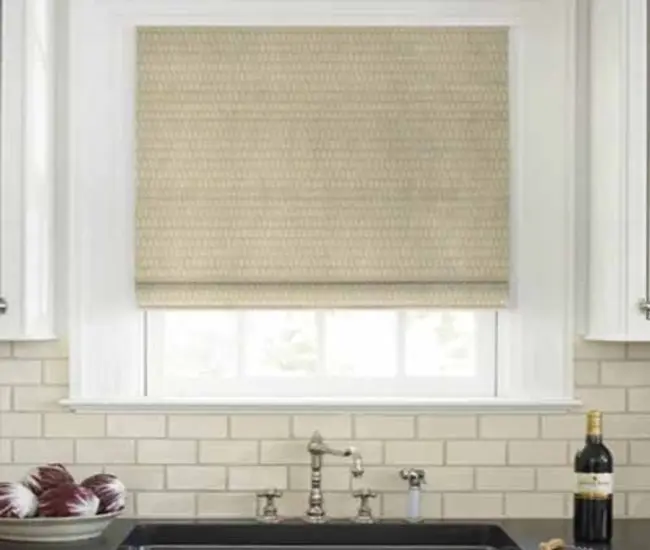 Things to Consider When Choosing Best Fabrics for Roman Shades
Choosing the best fabric material for your Roman shades depends on a few factors, such as the look you're going for, the amount of natural light you want to filter or block, and your budget.
Here are some DIY tips to help you choose the right fabric for your window's Roman shades:
Consider the Type and Décor of Room: The first thing to consider when choosing a suitable fabric for your Roman shades is the style of the room where they will be installed. Different types and interior decors of rooms have different requirements.
For example, you will need a thicker fabric for a bedroom to block out light and provide privacy. On the other hand, a lighter fabric will be more suitable for the windows of a living room or dining room to let in more natural light.
Define the Level of Light Filtration: Determine how much light you want your Roman shades to filter or block. If you want to completely block out the sun's light, choose a heavier, more opaque fabric. If you just want to filter the natural light, a lighter, more translucent fabric will be a more suitable choice.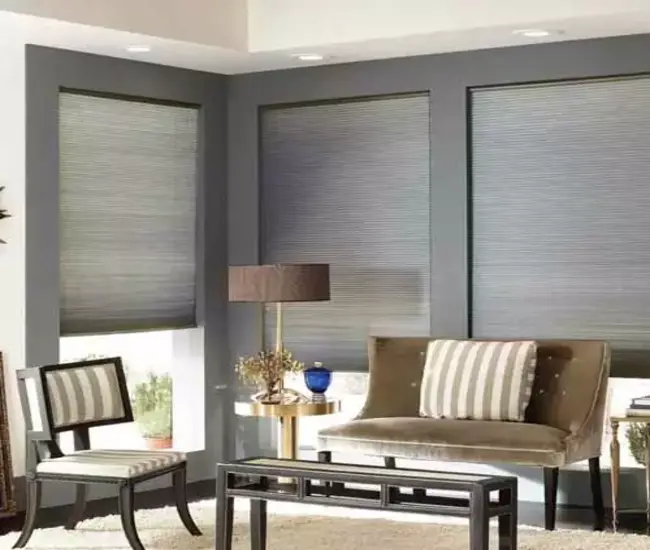 Choose Color: The color of your Roman shade fabric will affect the look and feel of your room. You can choose a neutral color that perfectly blends in with the walls or a more vibrant color that makes a statement.
Think about the Fabric Texture: The texture of your window's Roman shade fabric can also affect the appearance of the room. For example, a smooth fabric material will look more modern, while a textured fabric will look more traditional.
Consider your Budget: Finally, consider your budget and affordability when choosing a fabric for your Roman shades. High-quality, designer fabrics can be a bit expensive, while more affordable options will not be as durable or of the same quality.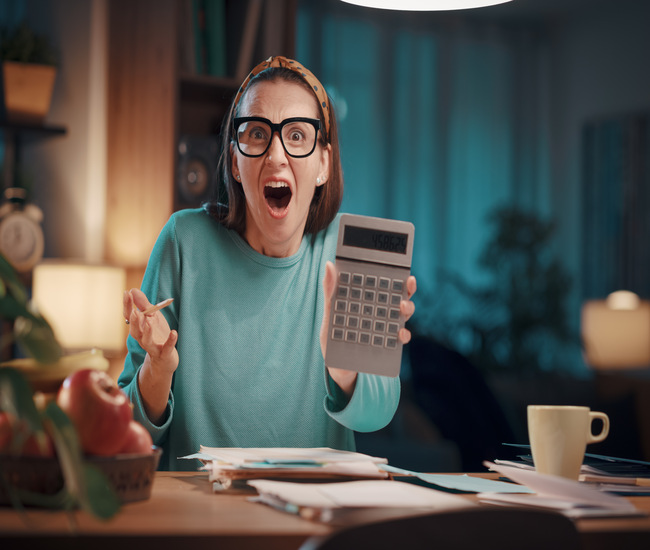 By considering these factors, you can choose the best fabrics for your Roman window shades that meet your aesthetic preferences, light filtration needs, and budget.
Different Types of Roman Shade Fabrics to Choose From
Roman window shades are available in lots of natural and synthetic fabrics. So, you can make a suitable fabric choice depending on your personal taste, needs of the interior décor, functional requirements, and affordability.
Natural Fabric Choices for Roman Shades
Natural fabrics for the Roman shades include cotton, linen, bamboo, jute, flax, and silk.
Cotton: Cotton is a popular fabric choice for Roman shades due to its versatility, breathability, and a wide range of colors and patterns. It can provide a soft and classic look to your room's window treatments.
Linen: Linen is a natural fabric material that has a textured and slightly rough look. It can add depth and interest to your Roman shades for windows. It's a good option for those looking for a more rustic or casual look.
Bamboo: Bamboo is a sustainable and eco-friendly fabric material that can be used to make Roman blinds and shades. It's lightweight and durable material that adds interest to a room. Bamboo or woven wood Roman shades can provide a modern and minimalist look to a space.
Jute: Jute is a natural fiber with a rustic and textured appearance. It's a good option for those looking for a casual or beachy feel. Jute roman shades can add a relaxed and natural vibe to a room.
Silk: Silk is a natural fabric that can be used for Roman shades for windows and doors to create a luxurious and elegant feel. It's lightweight and has a beautiful sheen that gives a touch of glamour to a space.
Wool: Wool is a natural fabric that provides excellent insulation functionality and can help keep your room warm in the winter months. Wool Roman shades can provide a cozy and inviting look to a space.
Flax: Flax is a natural fiber that can be used to make linen. It has a slightly rough texture and can provide a natural and organic look to any room.
Synthetic Fabric Choices for Roman Shades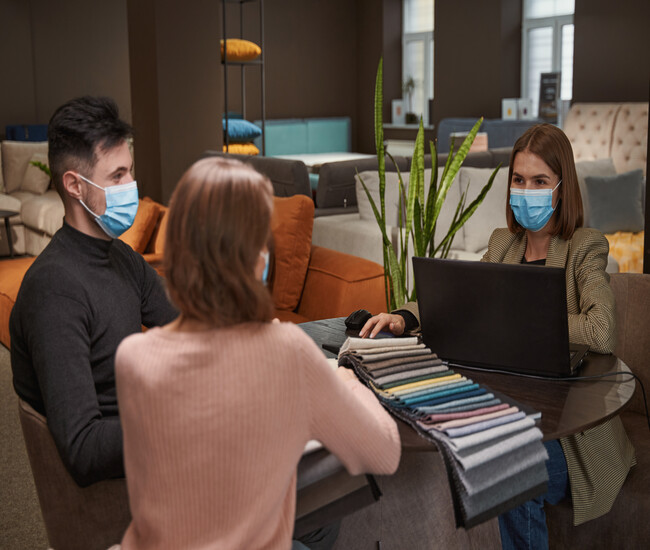 Synthetic fabrics can be a good option for Roman shades as they tend to be durable, affordable, and easy to care for. Here are some synthetic fabric materials that can work well for Roman shades:
Polyester: Polyester is a popular synthetic fabric that is often used for manufacturing Roman shades. It's durable, easy to care for, and comes in a variety of colors, designs, and patterns. Polyester Roman shades can provide a modern and sleek look to a room's interior.
Nylon: Nylon can be used for creating Roman shades. It's strong, lightweight, and can be easily cleaned with a soft, damp cloth. Nylon Roman shades for windows can provide a crisp and clean look to a space.
Rayon: Rayon is a semi-synthetic fabric material that is often used for Roman shades. It has a soft and silky texture and can be dyed in several colors. Rayon Roman shades can provide a cool, luxurious, and elegant look to your room's interior décor style.
Acrylic: Acrylic fabric is often used for outdoor Roman shades as it is resistant to the sun's UV rays and mildew. It's also lightweight and easy to care for synthetic fabric.
It is very important to make sure that you choose the best types of fabrics so that you can minimize the amount of dullness that occurs so your home can stay looking fresh from all sides.
Other Choices for Fabrics and Linings
If you're going for something that is a bit more lightweight, we recommend going for faux silk and taffeta. Either that or you could opt for a medium-weight fabric like cotton. These fabrics help to give your shades a crisper and sharper look.
For those of you who want something a bit more lush with more weight, we recommend going for chenille, velvet, or pure wool. These have professional-looking pleats and wonderful folds. Plus, if you live in a colder environment, these kinds of fabrics act as insulation thanks to the fact that they are so thick.
When it comes to linings, it is important to note that they are what support the structure. Linings also help to hide the tape channels and dowels to keep your shades looking more consistent. Lining acts as a bit of an extra barrier between the fabric on the face and the sunlight, helping to cut back on fading. Blackout linings are some of the most popular lining options, as they help to cut down fabric fading and increase insulation.
Getting Your Roman Shades with Best Fabrics
Here at Affordable Blinds, you can find hundreds of top-notch Roman shades with superior-quality, multifunctional fabrics, both pre-made and custom fit. Also, there are other benefits like free samples, free shipping, a worry-free fit guarantee, and a free lifetime warranty.