Want to figure out how cordless mini blinds go up and down? Answered!
Mini 1" slat window coverings use a tension system, top-down/bottom-up push/pull, or a motorized control system to open or close without pulling cords.
Some cord-free styles can also be lifted or lowered with a single touch, requiring only one hand. This is where great style meets modernity, child-safety, and ease of operation.
The cordless lift/lower mechanism is in either the headrail or bottom rail. 
In some products, there is a wand that you need to twist or rotate to tilt the slats for the required level of privacy, light regulation, insulation, blackout, and ventilation. 
If you have (cord-free) panel track blinds, they work by simply sliding left or right to adjust or readjust light exposure.
A high-quality cordless control system is durable and reliable, allowing you to evenly raise, lower, or adjust their slats.
When it comes to visual interest, the blinds without dangling cords give your window treatment a sleeker, clutter-free look.
So, home improvement professionals recommend them to homeowners to enhance the interior decor, and improve the quality of life (with convenience and security).
What Are Cordless Mini Blinds?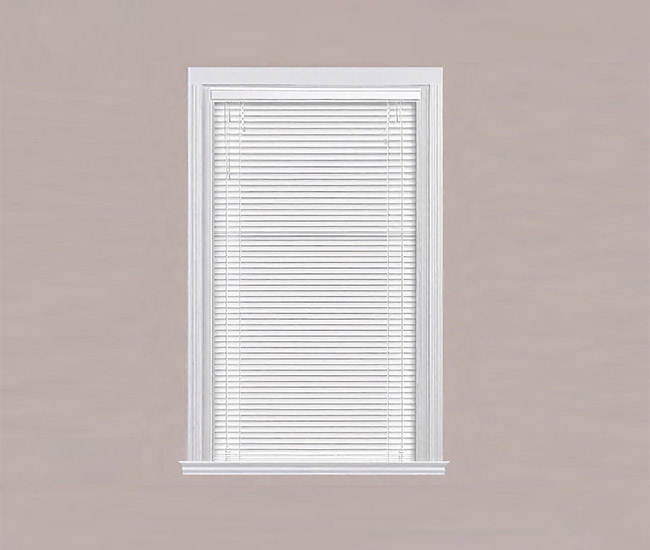 Cordless mini blinds are truly easier-to-operate and child-safe window coverings, made of 1" vinyl, PVC, or aluminum slats. They are one of the most popular window covers today for their function, style, and safety options.
Cordless window covers are not totally cord-free but have hidden strings going through the slats, behind the shade, or within the shade, to operate them. Modern "minis" are one of the most affordable blinds on the market today.
You can get an Essential 1 Inch Privacy Mini Blinds set for less than $20 for a 24 x 24" window! Similarly, an Elite 1 Inch Cordless One Touch Mini Blind is priced under $40! The latter are equipped with state-of-the-art cordless technology. You can watch a video to see how exactly they work.
How to Operate Classic Cordless Minis
Classic cordless mini-slat shades come with a top-down/bottom-up control style, which can be raised from the bottom up or lowered from the top down. 

To raise the blinds, just push up on the bottom rail. To lower them, simply pull down on the bottom rail. 

To fully or partially open or close slats, tilt the bottom rail back or forth. Tilting the headrail forward or backward only takes a couple of seconds.

Top bottom style is excellent for letting light in from the top, while still providing

privacy

in your

room

by blocking the lower part of the window opening. 

You can also partially open the blind from both top and bottom for two-way light exposure and ventilation.
How to Operate Modern Automatic Cordless Mini Blinds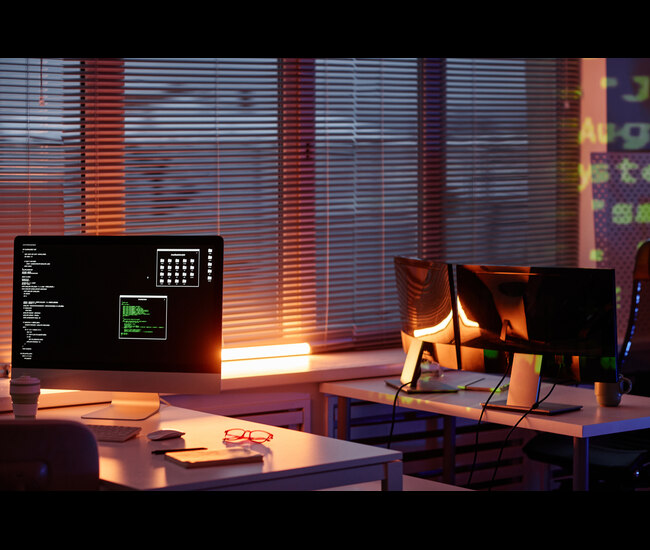 Modern automated cord-free blinds can be operated without standard strings. 

Cords may be used only to keep the slats hanging together. 

Motorized shades can be raised or lowered using a remote, your voice, and an app or smart device.

You can also program them for automatic raising or lowering based on the time of the day, and temperature or light requirements.
Are Cordless Blinds Safer to Operate in Homes with Kids?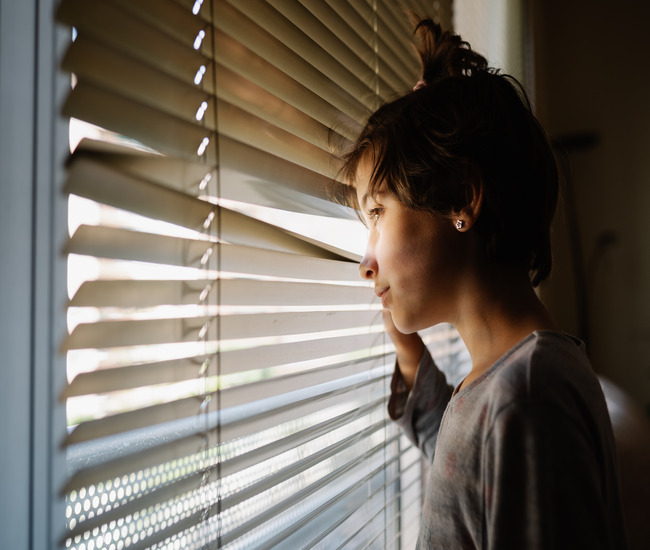 Definitely, they are! According to CPSC's (Consumer Product Safety Commission) New Federal Safety Standards for Custom Window Coverings, cordless blinds reduce the risk of strangulation for kids and pets.
Young children and pets are curious to play with hanging cords or strings, occasionally getting caught in them.
As cordless shades do not pose any such hazards, they are perfect for new parents.
They work with different cord-free options like a one-touch operation and use of a remote or a smartphone app. Safer blinds provide peace of mind by preventing any serious injuries.
When Cordless Mini Blinds Won't Go Up or Down?
Manufacturer's Error:

A manufacturer's error with the control system of the

blinds

may cause them to stop operating. If your shade comes with a (free lifetime) warranty, you can immediately order a replacement.

Getting Stuck:

Cordless mini shades may get stuck in the up or down position. This happens due to bent or warped slats. You can fix this issue by straightening or replacing the damaged or twisted slats.

Inactive Spring Mechanism:

Check if the spring mechanism of your cord-free mini blinds is active. If it isn't in proper working condition, contact the customer care department of your seller to get the issue fixed.

Dead or Low Battery:

If you have battery-operated cordless mini covers, check if the battery is fully charged. If it is dead or low, recharge it and your mini blinds will restart going up or down with the push of a button.

Effect of Heat and Humidity:

The effect of heat and humidity on the blind

fabric

or slats may cause them to swell or damage. It may prevent them from opening or closing altogether, requiring the installation of a fresh piece. Make sure to exactly

measure

your window for a perfect fit that, in turn, will ensure a smooth operation.

Non-Functional Friction Clips:

Friction clips help your blinds recoil in the headrail. If they aren't operating, your mini blinds won't go up or down. Remove non-functional clips and

install

new ones in their place to get your window covers moving again.
How to Keep Cordless Mini Blinds in Healthy Working Condition?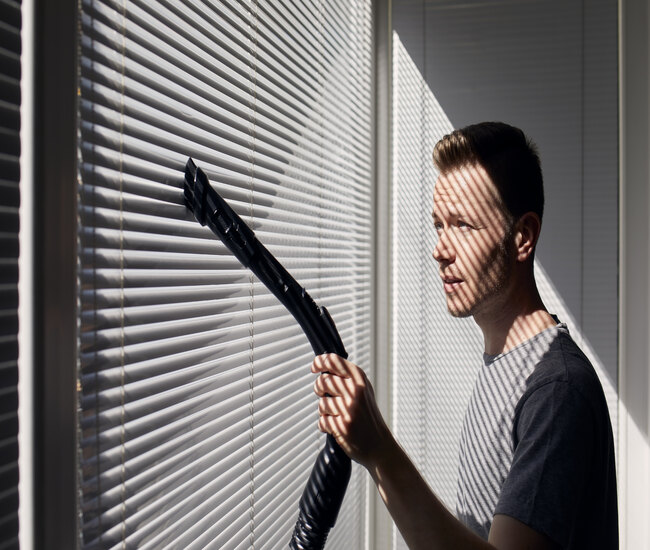 Here are some practical tips to ensure optimal performance of your cordless mini covers.
Regular Cleaning:

Dust, dirt, and debris can accumulate on the slats of your window treatments over time, causing them to malfunction. Keep them

clean

using a feather duster, soft cloth, or a vacuum cleaner with a brush attachment.

Avoid Excessive Force:

If your minis come with a panel track system or a top down option, you'll operate them with your hand. Avoid exerting excessive force when raising, lowering, or adjusting them. A gentle and even pull or push will ensure smooth working and prevent any damage to the operating mechanism of blinds.
What is the mechanism inside cordless blinds?
Tension Mechanism:

There is a tension mechanism inside the headrail or bottom rail of cordless blinds that holds them in place and allows you to open or close them. To easily lower or raise them to the desired height, you can pull or push the thick and sturdy base slat.

Spring-Loaded System:

It allows you to operate your blinds without the use of cords.

Continuous Loop:

A tension device holds tight a loop of chain or cloth. Pull one side to open the covering and pull the other side to close it.
Do cordless mini shades cost more?
No, not at all! Surprisingly, cordless mini blinds are much cheaper than traditional window coverings, like Romans or rollers. For example, while a classic Roman shade would cost around $100, you can get a cordless mini for as low as $18!
Is there a trick to cordless blinds?
Yes! Here's the trick to operate cordless blinds, when they don't work:
Try to reactivate springs by lowering the blind down as far as it will go.

Try lifting the bottom rail of the blind up while gently rocking it from side to side.

Again pull it down to see if the function is restored.

Use the twist wand (if there is one) to tilt the slats.

Repeat this process a couple of times to reset the control mechanism.
Need More Help?
Need expert advice on improving the working of your cordless mini blinds? Contact our professionals using 24/7 live chat or give us a ring at (800) 863-6109.