Custom Roman Shades Styles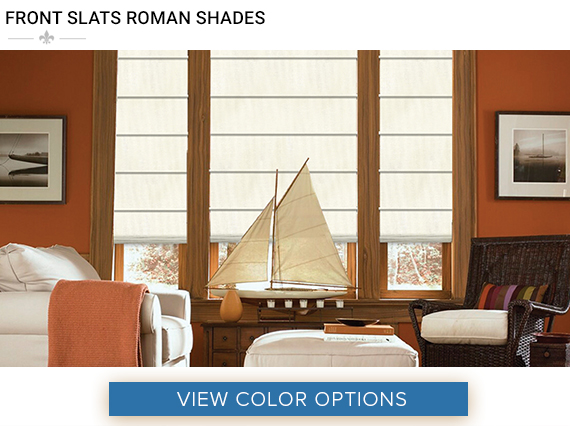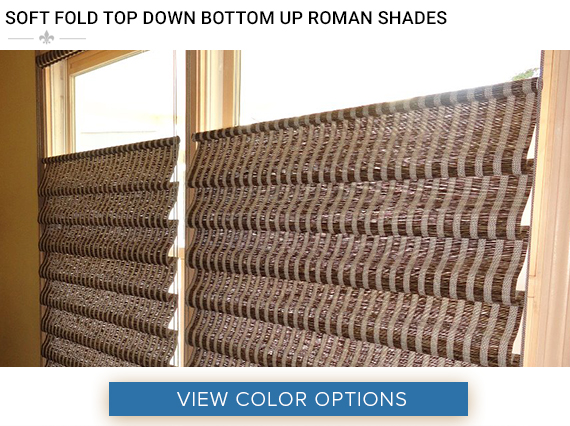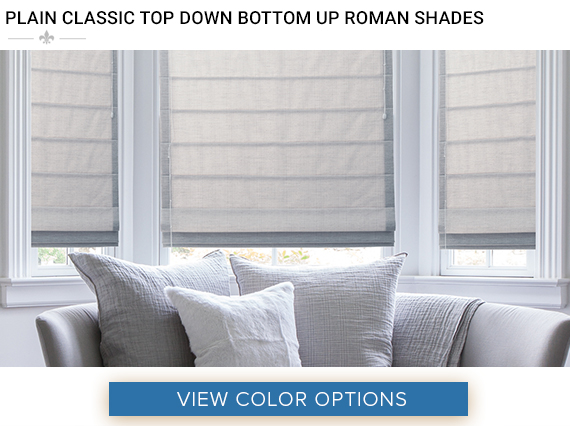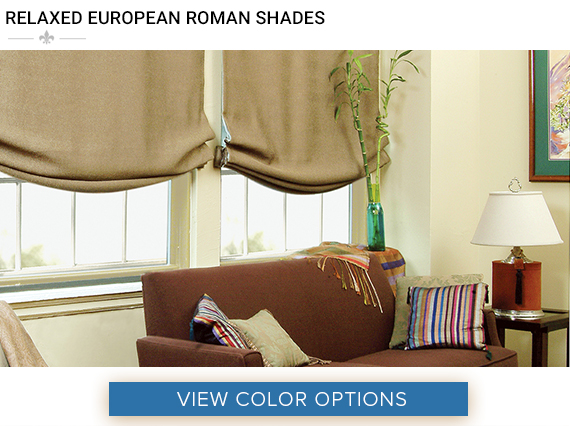 If you are among those for whom the drapes could be a bit fussy and blinds aren't really cool, roman shades come up as a practically classy alternative.
One of the many reasons that people, in general, have a greater preference for Roman Shades over most other alternatives is that they are amazingly versatile. In addition to the fact that roman shades blend in with almost any type of interior and décor- traditional or modern, they also serve better. Roman shades are available in a variety of patterns, including the classic front slat roman shade pattern.
The only problem from mostly everyone's perception is that roman shades are mostly expensive and there is just no way around it. We're sure, if you are reading this, you totally love roman shades, but would like to see if there are any cheaper alternatives that won't shake your budget and would beautifully spiff up the interior and looks of your home.
Affordable Modern Roman Shades
Certainly, as beautiful as roman shades are, they also come expensive. But gosh! That beauty of roman shades and the thought of how well it might fit into your house might leave you wondering – is there any way I can get the roman shades without hitting my budget? Well yeah. Looking for some budget-friendly roman shades? For all those who love roman shades but consider roman shades way too expensive, we have some solutions up our sleeves for you.
Ready-Made Roman Shades
A great way of not burning a big hole in your wallet and still making roman shades a part of your home is getting a pair of ready-made Roman shades. Roman shades come expensive due to the awfully lengthy and detail requiring process that is involved in manufacturing each unit of it. These ready-made alternatives of roman shades do not involve as much complications in its processing as the conventional roman shades do have, thus comes at a relatively lower price. Readymade roman blinds are good options- so far as you are getting your deal from a reliable shade manufacturer or dealer. What's more, chances are, you are going to somewhat love it.
A word of caution: Go safe
While you are in on buying ready-made roman shades or faux Roman shades, you need to be aware of the quality of the product you are purchasing. There are just many sellers and roman shade manufacturers out there with their exceptionally poor quality roman shades. These cheap, poorly manufactured shades may easily break away within a few days or weeks of use- thus, plainly robbing you.
Now, you need to get something straight- you get what you pay for; it is a basic and generally applicable principle, you know. So, if you expect the cheap ready-made roman shades to work exactly like the conventionally made roman shade, you might as well be disappointed. Moreover, if you choose to stick to unreliable manufacturers for cheap products, you will end up spending much more money in the long run.
When hunting around for roman shades, it could be tempting to get those low price ones that might be appearing to offer the feel. Rethink your decisions and buy roman shades from the right company. In the course of buying inexpensive and affordable Custom Roman Shades, make sure that you purchase them from a trustworthy company that knows what they are doing. It is really important that you choose to deal with the right seller or manufacturer- someone who you can fully rely upon for the quality of the ready-made roman shades they are selling you.
Let us reiterate that there are many online sellers and big box stores selling exceptionally cheap Roman Shades under the tag of 'affordable roman shades. If they fall apart or become useless in a few months of uses, it sure isn't worth making the investment, right? Don't go with someone "shady" to get your Roman Shades. Prefer a company or brand with a good reputation, reviews and customer service to remain assured that you are playing safe. Imagine what it would be like to spend several extra bucks to buy a new shade just because you ended up buying a non-refundable poor quality roman shade and get no response from the customer care! I'll tell you- horrible, that's what it would be like.
In this context, you can rely on Affordable Blinds. Affordable Blinds ill not only assure the quality of the product delivered to you, but also will back you up in case of any trouble. We give you everything you need without robbing your bank!
Types of Materials Found In Roman Shades
One of the biggest determinants of the costs of Roman Shades is the kind of materials that they made out of. You can find them in grass cloth, cotton, linen, polyester, and many more. You can find roman shades in a wide range of sizes, shapes, materials, etc. Choosing Roman Shades that are made of a relatively inexpensive material or fabric can perhaps cut down the costs by several folds. However, because of all the size and material alternatives available, you may find it difficult to find the right material and right shade to meet your requirements. Well, luckily for you, we are up with our list of affordable roman blinds fabrics as well. Read on!
Cheapest Roman Shades Fabrics
If you have been looking for most affordable of the Roman shade materials, let us assist you there. read on an take a look at some of the cheap roman shade materials.
YARD LINEN
The fabric is overall pretty and works fine. Carrying natural looks, it is also has a very soft look and feel along. Another of the plus points of Yard linen is that they are quite malleable which facilitates the manufacturing of a wide array of patterns and shade styles. Thus, if you are comfortable with yard linen, you should probably never have trouble in finding the perfect Roman Shade that can fit in with the interior of your home.
COTTON
Yet another commonly found yet greatly affordable roman shade fabric is cotton. Cotton made roman shades would cost you typically the same as around the range yard linen and similar to it, cotton fabric based roman shades can be found in tons of different styles, prints, and colors to match your unique preferences.
BAMBOO
When talking about cheap roman shade materials, nothing can probably beat the prices of Bamboo Roman shades. They are one of the least expensive types of Roman shades. Basically, bamboo is such an easy material to deal with, and moreover, it is quite easily available. Moreover, the bamboo shades function excellently well even while they are inexpensive. To begin with, they are quite sturdier, even when compared to the fabric alternatives. These usually won't go apart for years. Then, bamboo shades can be expected to bring a peaceful kind of feeling and somewhat adds to the beauty of the room. Particularly if you prefer giving your room a tropical touch, these would do just fine. No wonder why they are one of the most sought-after roman shade alternative apart from the fabric shades.
POLYESTER
Polyester is another of the much affordable material. While you sometimes might have heard some bad reviews about polyester shades, let us clear that how good a polyester shade can work depends on the quality of polyester used in the making. You must know that there are different tiers of polyester. In most cases, the actual cause behind these polyester shades running for the shorter period is simply because the chosen fabric being the lower tier or poor quality polyester. On the flipside, if you choose to get the roman shades made of good quality polyester, there are many positive aspects of it. Apart from being soft and smooth in appearance and to touch, the fabric will be much easier to clean than cotton. It can also be a decent insulator.
Customization Is The Cost
It should totally be understandable that if you opt for more customization of the colours, styles and patterns, you will, in all probabilities, end up paying more than you are planning for. That is simply how the world of customizations work, right? Some of the things that are commonly customized by people, making even the affordable roman shades somewhat expensive are black lining thermal insulation or customizing a variation of the cord types used. It may go to a bit more expensive side if you choose to go for a cordless alternative. Thus, one sure way to keep the costs in check is by finding the product that will best meet your requirements without too much of customizations.
Why are Roman Shades so expensive?
"How in Heaven's name it possible that these Roman shades are so incredibly pricey?" We have been hearing this question way too frequently. Don't worry, let us tell you that you are not alone here. There are just several people in the world who are left pondering the exact same thing.
So, now that we can explain a thing or two about shades and their intricacies, let us simply explain what makes many roman shades expensive, especially when put against the other window covering alternatives available in the market. Generally speaking, manufacturing roman shades is an 80 step process- that is a lot. Each step and customization has to be carried out with adequate care and attention- any major fault would mean undoing all the steps and starting all over. Thus, correcting any mistakes in the manufacturing is a real time-taking process. Moreover, roman shades need just many components as well as processing tools.
Considering all these factors, the money spent on roman shades sure is worth, right? Now, for those who consider them still too expensive, we're sure we suggested some good solutions above.
How to Best Use Roman Blinds in Your Home: More about Roman Shades
The interior awning is riding high. There is a wide variety of curtains and blinds that differ in both technical and decorative terms. It is essential to analyze your needs to determine the model that best meets your expectations. The shades preserve your privacy and protect you from prying eyes. They also help to regulate the brightness. Each type of blind has its particularities and responds to specific uses. Out of them, Roman Blinds are now the most trending shades available.
Following are the common uses of Roman Blinds in your home:
Hide and sift incoming light into the room.
Preserve the privacy of your room.
Sun protection (depending on the type and quality of the chosen fabric).
At home, the ideal rooms to put a Roman Blinds are the living rooms, the living rooms, and the bedrooms.
In restaurants, it is also an ideal product of decoration.
Undeniably, the Roman Blinds creates a warm and welcoming atmosphere.
The Roman Blinds are more and more popular in interior decoration.
Add Styles to Your Home
There are so many styles and choices available to dress your windows with roman shades. Whether you opt for a traditional, casual or contemporary look, you'll find the perfect style, but also plenty of fabrics and many cut options.
The modern Roman Blinds brings the next level of style to your home. These stylish Roman shades are available with winding and stacking options. The roll-up style is the only Roman blind in the market without the internal lifting cord, and the awning fabric wraps around the upper case entirely for unobstructed views. The stackable style does not have visible cords to ensure more safety for children and pets in homes.
Brings Sharpness
Whatever the style, the result is an impeccable sharpness, a Roman Blinds purified with a uniform sharpness and whose rear is uncluttered. The Modern Roman Shades are available in a variety of attractive fabrics made from 100% polyester for durability and easy cleaning.
Artistic Touch into Your Daily Life
Rich textures, customization of precision and flickering details give the sober Roman Blinds an artistic touch. The Roman Blinds offer such an appealing interest that you'd be tempted to leave the blinds lowered throughout the day to showcase the beauty of the fabric.
Light Control
As for the control of light that is unheard of, the modern Roman Blinds have opted for a whole new approach. Flat folds to filter the light or a blind and a room darkening panel occupy a scroll – harmony and simplicity. After the blind has been fully lowered, the back liner can be reduced to achieve the level of light control and privacy you want.
Clarity and Comfort
Made with fine fabric, the Roman Blinds provides maximum clarity to a room. With a genuine element of decoration, these shades are sober and elegant at the same time.
To bring a natural and cozy touch into your interior, you can opt among many options available in Roman Blinds.
Efficient Use of Energy
For superior energy efficiency, the Roman Blinds combine the soft, carved pleats with the insulating design of a cellular shade. A soft fold on pockets provides an extra layer of insulation to the window and reduces energy costs. However, you do not have to sacrifice quality for the benefit of functionality. Roman Blinds come in a wide variety of luxurious woven and non-woven colors, textures and patterns for light filtering fabrics or darkening of the room.
Romantic Routine
If you are rather nostalgic and modernity does not appeal to you, there are many fabric choices for Roman shades that will help you find your style, add convenience, and better control of light and privacy with Roman Blinds. Treat yourself to a variety of timeless fabrics such as cotton, silk and linen. They are available in four different styles: flat, entangled, slats forward or backward, to offer you slightly different aspects in the way the awning appear. And an optional liner at the back conceals the lifting cords and, of course, adds another layer to control the light and increase the insulation.
Each awning is specifically designed to suit the measurements of your window with particular attention to detail and quality. In addition, a well-studied selection of ribbons and moldings elevates this classic blind to the rank of a personalized masterpiece.
The Softness of a Curtain and the Comfort of a Blind
The Roman blind is an excellent alternative to the roller blind. Offering a more sophisticated and original look, the Roman blind is easy to install and uses the same manual mechanism. It also provides great latitude for controlling brightness. It is not recommended for bay windows, because when raised, the blinds cannot be at the same height.
Enjoy Many Choices
Today's Roman shades are light years away from the original window coverings. The diversity of fabrics and opacities means that this versatile awning benefits everyone. In addition, thanks to innovations in linings and systems of use, the net modern Roman blind has never been so beautiful.
Light, this 100% cotton fabric filters the light to give you a soft light. Thanks to the sifting boat awning you can keep prying eyes without having to turn on the light. This fabric is recommended for living rooms. If you want to preserve the benefits of sieving while bringing a natural touch to your decor, crack for the linen effect screening awning.
Which Did You Like The Most: The Indoor Or The Outdoor Exposure?
The layout of your Roman blind depends on several elements. If your home has beautiful moldings, you can choose to put your blind inside the frame of the window without the architectural details are retracted. However, if your house is modern enough and the moldings are rather simple, put the blind outside the window. This option further blocks the light and provides more privacy as the shade is slightly wider than the window. You can even choose to put the top of the blind several inches on the above the window frame to add more height to your room.
Some common FAQs about Roman Shades
What are the Benefits of Roman Shades?
Roman shades are ornamental home accessories that give light and confidentiality control. They are stylish, elegant, and can be personalized to match any particular window condition.
A Roman shade reduces costs on energy consumed as it is produced from the lightproof material, which effectively reduce the amount of sun exposure the room gets. In colder seasons and climates, Roman blinds can keep heat indoors.
Another benefit of a Roman shade is that it is available in unlimited design options. Therefore, the possibilities for your Roman blinds are infinite if you are selecting a fabric, based on appearance and not only function.
Another great thing about Roman blinds is that they fit anyplace in your home. They also look great in the bathrooms, bedrooms, dining spaces, and other places in your house. They provide a simple, still stylish way of covering any window space. Roman shades are surely a functional and attractive addition to any of the rooms in any home.
Roman blinds make use of almost 25% less fabric than their curtains counterparts, making them affordable and cheaper alternatives.
They add character to any window and offer it a soft look, as against other material choices such as the wood blinds.
More importantly, they are simple to lift up and down with cords. However, latest technology allows the motorized types.
Which Fabrics and Trims work Best for a Roman Shade?
The availability of different styles of fabric and trims make it somehow overwhelming to choose the best for a Roman shade for your room. There are knife pleat, flat roman shades aka classic, London shades, balloon shades, ribbed pleat, relaxed shades, and hobbled shades among others.
As a result, you must consider certain factors before choosing fabrics and trims that will work best for a roman shade.
Your Roman shade must be fancy and simple. This is actually the style of Roman shade that would work best for you. For instance, the classic or flat is exceptional for a more casual look. You can incorporate a simple trim to offer a bit of oomph if the fabric is plain and you are after that look.
On the other hand, if your Roman shades are down more they are up, ribbed pleats or inverted pleated are great. This will add a bit of interest and doesn't appear like a flat sheet of fabric when it is all the way down.
Furthermore, a London style is elegant, but interesting with a slight bow underneath. But you will prefer an Australian Romans or balloon shades if all you want is a fancier look.
Quite a lot of elegant fabrics and trims are available today, but putting some factors into consideration will make you identify the best choice of fabrics and trims that work best for a Roman shade.
However, a medium weight, textile fabric with a measurement of more than 54 inches is a perfect idea. Linen texture and cotton blends also work best for a Roman shade. It finishes off window shades adequately and it will not overpower them.
How do I Measure my Window for a Roman Shade?
Getting the measurements right on the first attempt is very important in order for your shades to look fit and work well. The two styles of Roman shades are the Inside and Outside Mounts. Hence, deciding on an inside or outside mount is the first step towards measuring a Roman shade.
The inside mounts shades fit within or inside the window opening or casing, even as the outside mount Roman shades extend over and beyond the sides of the window casing by 1to 3 inches.
Steps for Measuring for Inside Mount
From the left to right, gauge inside window casing on the top, center and underneath. Use the least of the three measurements and document this as your width. (1/4 inch will be deducted from the width measurement to guarantee fit).
Gauge inside the window casing from top to the base at the left, right side, and center of the casing. Use the longest of these three measurements and document it as your height.
Gauge the deepness. Although this particular measurement is not all that required, you will require a minimum of 1 1/2-inch depth for a fine fit on the inside mounted shades.
Steps for Measuring for Outside Mount
Gauge the breadth of the window from one side to another side, together with any molding. You have to include 3 inches to the breath measurement for the shade to extend by 1 1/2 inches on each side, in order to control light gaps and confidentiality
Measure the altitude of the window from the top to the base, again adding any molding. Take a good and careful look at your window and establish where you want to install the Roman shades.
You will need to include additional height measurement, if you plan to mount the shade some inches "more than" the window frame.
Don't assume or think that all your window measurements are the same, just because they "appear" similar. Windows are not likely to have the same width across or the similar height up and down, despite the fact that they are side by side. This is quite common and is why measuring for both inside and outside mounts is quite essential!
What are the main types of Roman shades that we can look for?
Well, for making a wise and informed decision, you might want to be informed about the roman shade types and styles and alternatives available to you. No wonder we frequently have people asking the types of Roman shades.
Listed below are the major types of Roman Shades.
Pleated Roman Shades: Take us at our work. If you anywhere prefer classic or a little romantic sort of appearance, you will certainly like to go with the pleated type roman shades. These are elegant and the ones that perfect match a classic as well as classy interior décor. Moreover, it not only goes with traditional sort house décor, but equally fits in with modern house interiors
Hobbled Roman Shades: When fully extended, these kinds of roman shades will have the overlapping, soft folds. Take a look at it and you'll know how beautiful a flowing look this kind of roman shades create.
Tulip Roman shade: It's got this frilly and somewhat girly appearance and appeal. Certainly this type of roman shade fits in well for girly rooms. One can call it 'cute'.
Flat roman shades: When fully extended, these appear as plain fabric panel on the window. When pulled, they form neat and straight folds. With flat roman shades, you have alternative of plain ones as well as the ones that would slightly show the pleat creases even when fully extended.