Zebra Shades and Sheer Privacy
Ahh the Zebra Shade… one of the most unique creatures in the entire window treatment jungle.
We're big fans of Zebra Shades here at Affordable Blinds, though, for the most part, not a lot of people know about them. This is likely because when you think of window treatments, you likely think of the more talked about window treatments, such as Roman Shades or curtains.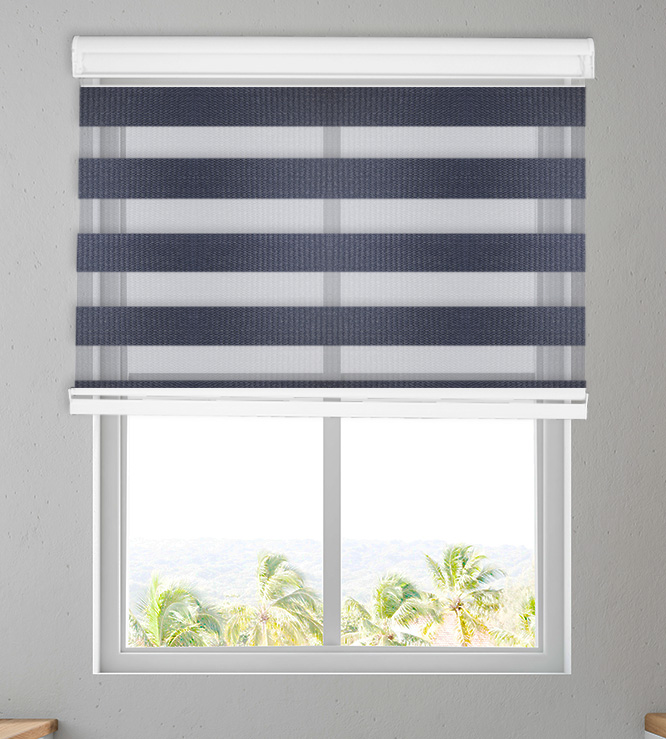 That is exactly why we wanted to open you up to a new type of window treatment that is super versatile and is perfect for the modern or contemporary household.
Put on your safari hat and let's venture out into the wild to learn about the unique and awe-inspiring Zebra Shades!
Why Are Zebra Shades So Cool?
The beauty of Zebra Shades is that they give owners complete control over the amount of light that is in their home. Zebra Shades, which can also be referred to as dual, double, or flat roller shades, help to provide people with different amounts of light in their homes thanks to the fact that they can be adjusted in a way where they can let through all of the sunlight or none at all.
If you're looking for a clear view of the outside, simply raise them all the way up!
Now, as you begin to lower your zebra shades, you'll see that the darker, opaque portion of the shades will start covering up the sheer portions. Essentially, the darker bands of the fabric will cover up the lighter bands as much as you allow them to, giving you the ability to let in as little or as much light as you desire.
The beauty of Cordless Zebra Shades is that when they are all the way lowered, they will form your traditional, solid shades. This can help to add total privacy to any room while also blocking out any outside light.
This is why we always recommend Zebra Shades to those who need window treatments for their bedrooms, living rooms, home theaters, etc.
Types of Zebra Shades
Zebra Shades either come with a continuous cord loop or an optional cordless option. These Zebra Shades not only look absolutely fantastic, but they also perform just as well. You can even go as far as upgrading to a motorized remote control so that you can adjust the amount of light in your room with the simple click of a button.
Getting The Best Zebra Shades For Your Needs
Zebra Shades are some of the most unique and versatile window treatments that are on the market today. If we were to have to recommend them to someone specific, though, we would definitely recommend them to someone who has modern decor, as their sleek modern look fits with the contemporary aesthetic.
We hope that we've inspired you to look into Zebra Shades during your next window treatment purchase. If you have any further questions, make sure to contact us here at Affordable Blinds so that we can help!