With more homes focusing on modern design, cordless window blinds have quickly become a popular choice. Not only do they look sleek and stylish, but they also provide more benefits than traditional treatments with cords. In this blog post, we'll cover the main benefits of cordless window blinds as well as an overview of the different types available.
Cordless window blinds come with a multitude of advantages over their corded counterparts. First, they create a cleaner appearance while still offering all the practical features that you expect from window treatments. Since there are no cords to get tangled up or in the way, cordless blinds can be opened and closed with ease. Additionally, cordless blinds eliminate any risk of entanglement or strangulation that is associated with cords. This makes them much safer for households with young children or pets who may come into contact with them regularly.
In terms of style, cordless blinds offer just as much variety as traditional window treatments. They come in a wide range of colors and materials so you can choose one that complements your existing décor. From light-filtering sheer shades to elegant blackout designs, you are sure to find something perfect for any room in your home!
When it comes to practicality, cordless window treatments are far superior to those that use cords and pulleys. Not only is there no fussing around trying to tie up excess strings when closing the shades but they're also easier to clean and maintain due to their smooth surfaces and lack of loops or knots. Additionally, they tend to be more energy efficient because there isn't a need for unsightly seal gaps around the edges which can let in air drafts during winter months.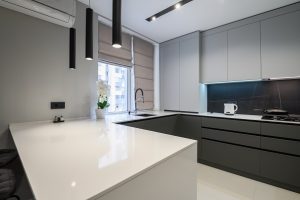 Key Takeaways:
– Cordless window blinds offer several advantages over traditional treatments with cords, including a sleek look and a safer environment.
– There are several style options available so you can find something to match your existing décor.
– Practically, cordless blinds are easier to clean and maintain and are more energy efficient than those with cords.
Safety Considerations
Corded window treatments are a common choice for many homes – however, there are some risks associated with cords that you should be aware of. From entanglement injuries to strangulation hazards, safety is always a priority when it comes to families with young children or pets in the home. Luckily, cordless window blinds offer a safe and stylish alternative for your windows. In this blog post, we'll cover the potential risks associated with cords as well as the benefits of using cordless treatments instead.
First and foremost, cords can pose a highly dangerous threat to young children and animals if they become tangled or entangled in them. Old-style looped cords are especially dangerous as they have been linked to several strangulation deaths in cases where they were not properly secured out of reach from small hands. To ensure safety, any corded blinds should be placed high enough so that the bottom is no lower than
1.5 meters off the ground and the cord tensioners should be checked regularly to make sure there is no excess slack.
Cordless window blinds provide an easy yet effective solution for creating a safer environment for children and pets in your home. Without having any dangling cords or strings, these modern treatments eliminate any risk of entanglement or strangulation – making them much safer than traditional options. Plus, they come in just as many different styles so you can still create a beautiful design aesthetic without compromising on safety!
Style Options for Going Cordless
Gone are the days of clunky window treatments with heavy cords – nowadays, cordless blinds are becoming increasingly popular for interior decorators who value both form and function. With a variety of colors, materials, and designs available at your fingertips, there's no denying that these window treatments can add an attractive touch to any room in your home. But how do you know which style is right for your décor? In this blog post, we'll cover some of the advantages of going cordless as well as how to pick the perfect look for your home.
At first glance, cordless blinds boast many advantages over their traditional counterparts. Not only do they provide a modern yet timeless look without compromising on practicality – in fact, they often come with easy installation instructions and several design options to choose from. Plus, they're easier to clean and maintain than corded window treatments due to their compact size – adding an extra layer of convenience when it comes to upkeep!
When it comes time to pick out a style, the best place to start is by choosing a color that's complementary to your existing décor. Neutral tones tend to be more versatile and timeless while bolder shades can make a statement in any space. Additionally, you can use different materials such as faux wood or aluminum depending on whether you want an elegant or industrial feel for your room. Finally, take into account any design features such as textured fabrics or woven woods that may be available with certain models.
Practical Advantages of Cordless Blinds
Cordless blinds are gaining in popularity for their modern yet timeless aesthetic – but did you know that they also boast several practical advantages as well? From easier cleaning and maintenance to increased energy efficiency for your home, cordless window treatments can make all the difference when it comes to convenience and cost-effectiveness. In this blog post, we'll cover some of the practical benefits of choosing cordless blinds over traditional options for your home.
One of the main advantages is that these blinds for windows cheap are much easier to maintain than traditional ones. Rather than having to maneuver around cords or strings, cordless blinds come with a straightforward installation and no small pieces or tangled messes. This means that they're simple to clean and won't require any special tools or expertise. They're also usually smaller in size compared with more traditional treatments, making them ideal for tight spaces where maneuverability might be an issue!
In addition to ease of use, cordless blinds also provide increased energy efficiency as well. By blocking out sunlight during the summer months, they help prevent heat build-up inside your home while allowing more natural light during wintertime – which can result in lower energy costs! Plus, some models even come with additional features such as blackout linings or room-darkening fabrics – ideal for bedrooms or nurseries where complete darkness is desired.
Conclusion
Everyone wants to make their home look great but sometimes it can feel like a daunting task – especially when it comes to window treatments! However, by choosing the right style – such as cordless blinds – you can easily upgrade your décor and enjoy practical benefits at the same time. Not only do they provide a modern yet timeless look without compromising on convenience, but they're also incredibly easy to maintain while adding energy efficiency to any room in your home.
So if you're looking for an attractive way to upgrade your interior décor without sacrificing quality or practicality, cordless blinds may be exactly what you need. They come in a variety of colors, materials, and designs, allowing you to pick out the perfect look for your space. Plus with their increased energy efficiency and easy maintenance, these window treatments can help enhance the value of your home while still providing all the styles you've come to expect from traditional treatments. Check out our blog post today for more information on why going cordless is the way forward!