Let Your Home Reflect Your Style with Customized Cellular Shades
Shades are window dressings or casings, which sieve and filter the strong sunlight from entering a room and hence, helping it remain cool. Shades also add on to the visual appeal of the room. It is seen that the various blinds offered today, have an enthralling mixture of high fashion and robustness.
Custom cellular shades are very artistic and are a visual delight. This is due to their uniqueness. When the custom cell blinds are pulled down, they provide enough privacy to the owner but at the same time letting light to filter in. Cellular shades are mostly made of wood, so that they act as effective insulators by preventing the cold to enter the rooms.
Custom cell shades are light in weight and honeycomb-style in shape. They are obtainable in soft textured non-woven or woven fabrics as well. The shades are packed in such a way as to create their unique cross-sectional shape, which traps air and creates energy efficiency and sound reduction.
AffordableBlinds.com not only provide solitude but also promote energy savings. This is possible because of the natural light filtering in the room even when the shades are lowered. These shades are assembled out of several sheets of materials and have many linked chambers that form a distinctive honeycomb pattern.
Custom cellular blinds are also available in a number of varieties like triple, double or single cell forms in various sizes. These have options such as motorized operation, top down bottom up shades, cordless operation, and unremitting cord loop.
We are among the most popular brand names that are manufacturing various types of shades. These are designer cellular shades that are custom made to suit the requirements of the clients. Although, some of these designer shades are a bit costly, their style and elegance makes them worth it.
Why Custom Made Shades?
When buying clothes for ourselves, we are very particular about the fit, color, style, etc. We want to buy something that would enhance our personality. Then why should we follow a 'one size fit all" approach when dressing our windows! After all, every home has its peculiar needs and so does every window in the house. You need to see that your window shade goes with the color of your walls and the overall interiors. The sunlight requirement also varies from room to room, and your shade will need to cater to that too. This is where custom cell shades can help you. Find more.
How to Customize Your Shades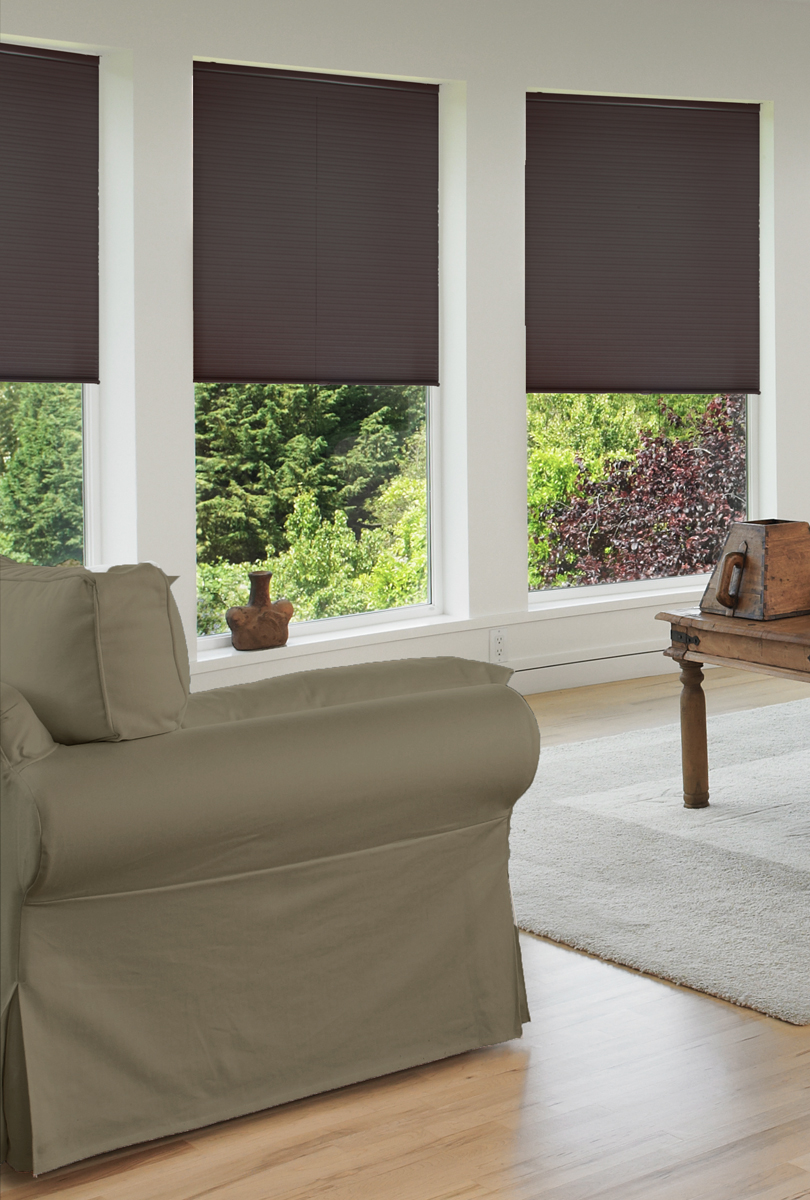 Customization of your window shades is now possible through our various available services, both online as well as offline. We can help you choose the right fabric or texture for your home or office. The measuring guide will ensure that your window shades are a perfect fit for your windows.
You can choose from various styles and base your decision on what would meet your practical and design needs. There is also an option to customize blackout cellular shades for
improving insulation with the help of additional block out lining. To beat the summertime heat, you can also go for sunlight blocking custom cell shades. Besides fabrics, there is also an option of wooden and bamboo.
A custom cell blind is made to order just for you. It can give your window a personal touch at a nominal additional cost. If you can afford to, you can also seek help from our experts who will help you design a shade for every single window in your home, thus lending them a distinct character. These will ensure that your shades complement your décor while at the same time meeting the basic functional requirements. You can install your custom cellular shade either on its' own or combine it with curtains and drapes.
Different types of Custom Cellular Shades
Custom cell blinds are mostly available in honeycomb shape that helps these shades filter light properly. However, some custom cell shades made up of wood can prevent the cold to come inside the house during winter. Various types of custom cellular shades are available in the market and are used for different purposes.
Custom cell shades are offered in various forms such as triple, double or single cell forms in different sizes.
The cellular shades with a high amount of cells or cavities increase the effectiveness of insulation.
Double cell shades perform much superior compared to the single cellular shades. The reason is that they have offset pocket space inside the shade. This will generate a condition where you can get two filters for controlling noise or temperature that you are resisting.
If controlling the light is your foremost criteria for a shade then have two options available. Firstly, you can choose cellular blackout shades, a room darkening shade that is supposed to block light completely. Another option would be to choose a cellular shade that does not offer complete blackout; rather it can bring almost complete blackout. The honeycomb shade with multiple layers can do this nicely.
Benefits of Custom Cellular Shades
Custom honeycomb blinds are the perfect window covers you can get in terms of design and other helpful benefits. With their help, too much light will not get in the way of your daily home tasks. Remember that windows are the main entry points of sun, wind and most of the time distraction coming from outside. These cell shades incorporate a honeycomb design which contributes to its ability in controlling light and saving home energy. These are good during hot and cold seasons since you don't have to use too much energy in using heating and cooling equipment.
Apart from their shape, they also come in various pleat designs perfect in making your home look better than the usual. There will be other designs that can be provided to match your needs, you just have to ask for design charts. This way, you'll be assured that you will be provided the design what you are looking for your home. This will bring out a smoother transaction as well as there will be no regrets in buying the item.
Choosing affordable blinds the right pleat will meet your design needs as they contribute to its overall appearance. Every room inside your house has their specific lighting requirement. Most of the time, personal preferences also get in the way of lighting room. With the help of these custom cellular shades, you can find those that will meet your preferences. For instance, you can choose to use light filtering shades. These are the shades that will limit the amount of light to pass through your windows but will still illuminate a room. This is a good option for home areas where families usually meet like in the dining area or living room.
But if you want your room to be darker than the usual, you also have an option to order darkening custom cell shades. In contrast to the light filtering option, this will make your room dark to meet your room design preferences. Many customers use this for their media or entertainment rooms to avoid glares on their television screen. For the patio doors, opaque shades are the perfect choices to cover it. In addition to its function, you can choose the pleat design of your window covers like horizontal or vertical choices.
Custom cell blinds are an ideal choice for all kinds of spacious and compact homes. They are available in varied sizes and style to meet all types of lifestyles.
So, use the latest innovation to redesign the whole ambiance of your home which is eco-friendly, energy-efficient and makes a safer place to live in.
Custom Cellular Shades Installation Tips
Once the gorgeous shades that you custom ordered arrive, the next problem that arises is how to go about installing them. Before you do anything else, it's time to stop and read the directions. No matter if you are installing cellular shades, Roman shades or blackout shades, you simply need to know the manufacturers' recommendations for installation. Even if you think you can install them without instruction, it is still to your benefit to read what the manufacturer has included with the product.
Installing cellular shades is not hard as long as you've provided correct measurements to us. You will need to assemble some basic tools and make sure all of the parts have been included in your shipment before you start. If you have ordered cellular shades, you should have a head rail, cord lock, end cap, installation bracket, pull cord, stop ball, cord joiner, bottom rail and tassel.
If possible, you should locate a stud in the wall where you intend to install your shade. At times, you may not be able to do this, so you will need to use toggle bolts or plastic anchors if you have to fasten the brackets to brick, tile or sheetrock. To install a shade in these types of materials, you will want to use extension anchors and a carbide drill bit. You might even have to drill into steel to get your shades installed. If you do, you will need to create a pilot hole and use a #8 self-tapping screw to get the hole into the steel.
The first step is to decide how you are going to mount your shades. You will either be mounting them inside or outside the frame. This is a decision that should have been made before you even ordered your shades since the measurements will change based on your decision. No matter if you've picked an inside or outside mount, the next thing you will need to do is to attach the brackets to the surface. Insert the headrail and, if you opt to, attach the hold down brackets. Lower the shade to make sure it works correctly.
If you have chosen shades that operate on a cord-pull system, you must think about child safety. If you have kids in the house, clamp a clothespin on the cord or use a commercial tie-down that is made specifically for this purpose.
Top 3 Reasons Why Every Modern Home Should Go For Custom Cellular Shades
You may be wondering why the fuss on these types of blinds all of a sudden. Here are some reasons why:
Colors and Designs – custom honeycomb blinds come in various array of colors and designs. Furthermore, homeowners have the option of getting them in single, double and triple cell designs.
Multi-Functional. Most custom cellular window shades can be designed to be bottom-up top-down. This means that they can be lowered or raised either direction like that of a cafe curtain, to allow privacy. These type of shades also allow you more control options. These include the most common ones like the cordless feature which offers a cleaner, more contemporary and modern look with no cords. Other options comprise of the top down bottom up options that help reduce glare and ensure privacy. There are also those that are motorized which makes it easier to operate heavy and hard-to-reach window blinds with cord loop.
Energy Efficient – custom honeycomb blinds are energy efficient, and this makes it doubly ideal for homes that are trying to save on household expenses. These blinds can come in light filtering designs. Again, this allows for both privacy and enough light to fill a room. Customers also have the option of putting them on opaque in order to keep out the glaring sunlight in some rooms in the house. Furthermore, the cellular structure traps air and reduces sounds. Since
Since custom cellular shades are the most energy and cost-efficient window covering available today, it is only understandable then why it's becoming such a trend in modern homes.
Let Your Home Reflect Your Style
You are a unique person with unique taste and style, and your home should reflect that. We can work together to custom design the right window treatment to bring out that style, whether you want spectacularly opulent shades, utilitarian shades or traditional-looking blinds. When there are unlimited options available, it just doesn't make sense to go with something that isn't perfect.