The short, direct answer is: "In most cases, yes!" 
Waterproof blinds are strongly recommended for 99% of bathrooms as the default, as they are likely to get wet or your bathroom gets overly moist or humid when in use. 
Always pick water-resistant window coverings, as they are a 100% safe choice for a variety of bathroom sizes, scenarios, and layouts.
If you install non-waterproof blinds for the windows of even a well-ventilated bathroom, they'll absorb small water droplets hanging around in the air of the bathroom. 
This will happen even if the bath, sink, or shower is at a reasonable distance from the windows or window covers.
You'll need to blot any moisture that builds up on the slats or fabric sheet when the bathroom remains in use for longer or it gets steamier. 
If you don't dry off moisture from non-waterproof window coverings, it will cause various problems and greatly reduce the durability and lifespan of your blinds.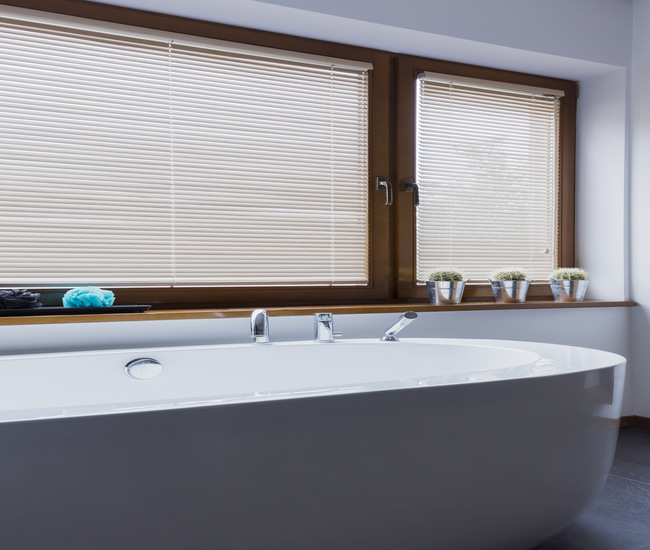 Rare Exceptions to Choose Non-Waterproof Blinds
There are some odd exceptions to choose non-water-resistant shades, made of soft, delicate fabrics like silk or cotton.
For example, if your bathroom is huge, it doesn't get overly steamier, or you seldom use your bathroom, non-waterproof blinds will be a budget-friendly alternative.
Still it will be better to go with products that are not prone to moisture damage and decay or warping.
What are waterproof blinds made of?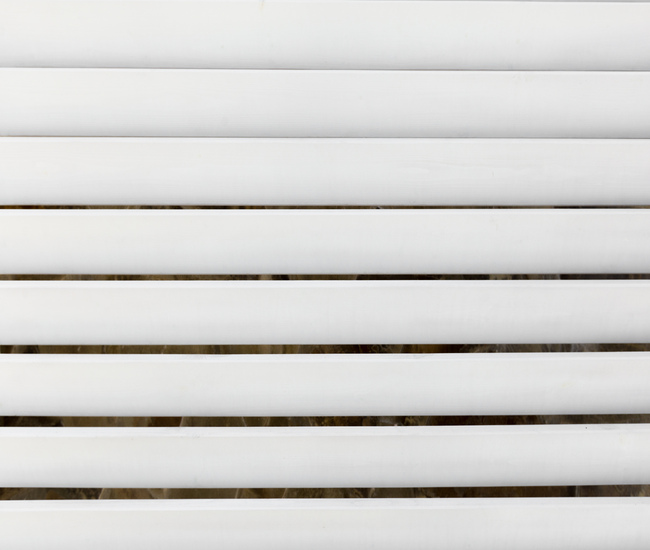 Modern waterproof blinds like waterproof rollers, vertical blinds, and venetian blinds are made from either PVC (polyvinyl chloride) or vinyl soft fabrics. 
Waterproof faux wood blinds are made of robust, solid, and rigid PVC material.
All these shower window blinds are 100% waterproof and fire-resistant. 
If you are looking for hard-wearing blinds, go with enamel coated aluminum or mini blinds.
Water-repelling bathroom window coverings provide a higher degree of privacy and light regulation, including a blackout feature.
PVC vs Vinyl Blinds: Which Is a Better Choice for the Bathroom?
PVC is generally used for manufacturing totally waterproof and fire-resistant bathroom blinds, like blackout rollers, vertical blinds, and rigid PVC faux wood blinds.
They can withstand any level of direct contact with water and protect your privacy from onlookers outside.
Similarly, vinyl blinds come in the form of vertical blinds and room darkening rollers and provide the same functional and safety traits. 
So, there is no significant obvious or hidden difference between the two.
As neither vinyl nor PVC is superior, picking either of them should be your personal preference. 
You can choose a suitable color, pattern, design, and finish to complement your interior decor style.
Are Polyester and Nylon Blinds Suitable for Bathroom Windows?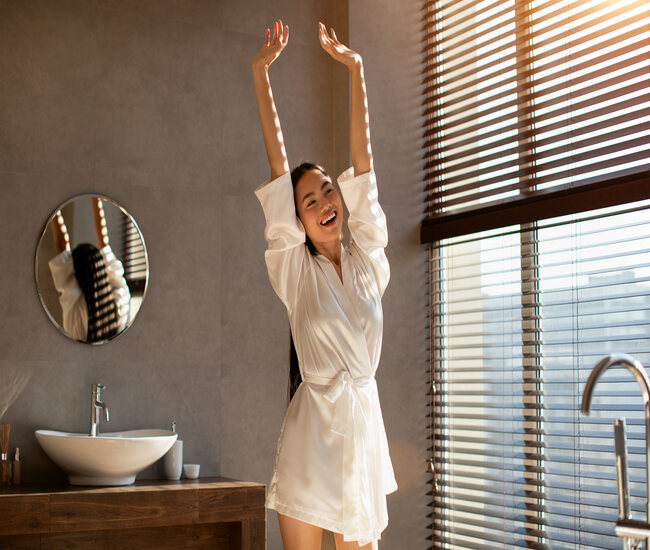 Polyester and nylon are not as good waterproof fabrics as vinyl and PVC, so they are not generally recommended for shower windows. 
However, you can still consider them a practical option for your bathrooms where there isn't a lot of humidity or a risk of splashing.
Polyester and nylon are inexpensive materials that are used in a variety of affordable window coverings, including roller shades, Roman shades, and day and night blinds.
Here it is worth mentioning that polyester fabrics can be treated with moisture-resistant coating to make them more suitable for shower rooms. 
However, they will withstand a moderate level of moisture.
Water-resistant nylon or polyester blinds are not in demand in the presence of fully waterproof vinyl and PVC window covers, which are readily available to purchase.
Do Waterproof Blinds Go Moldy?
No. As fabrics of waterproof window covers do not get damp or absorb moisture, it is very unlikely for them to develop mildew or go moldy. 
Their water-repellent fabric vanes or slats do not collect water droplets, reducing the chances of mildew, black mold, or fungus-based nasties to grow on them.
They only go moldy if you don't open or close them for several years and condensation or damp collects on their slats, corners, or creases.
To avoid such a situation, just keep wiping your bathroom blinds clean after regular intervals.
On the other hand, non-waterproof blinds become moldy and spread a dank, funky smell in the bathroom.
Fungal growth also affects the durability and lifespan of non-waterproof blinds, causing them to perish quicker.
Do Water-Resistant Blinds Offer Blackout and Privacy in the Bathroom?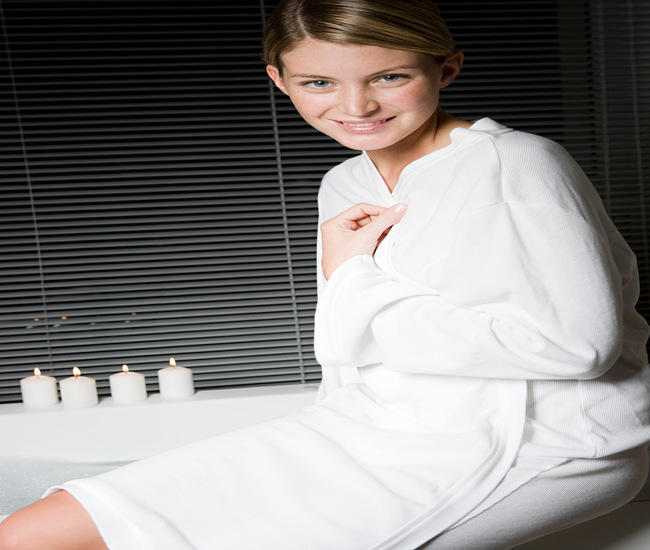 Curious if damp-resistant blinds will protect your modesty when in the tub or brushing your teeth? The answer is yes! 
Whether you choose roll-up fabric shades or blinds with 1" or 2" slats, both can be tightly closed, preventing any chances of prying eyes to breach your privacy. 
When it comes to blocking 100% light in your lavatory, you don't really need such a dark environment in your bathroom.
Light filtering shades providing a soft glow and top-to-bottom privacy control are usually preferred.
However, if you feel uncomfortable with a small amount of light filtering in, the blackout out option is still there. Just properly install your blinds for a perfect fit and tightly close them. Also, you can add a privacy liner.
Are Waterproof Blinds Costlier?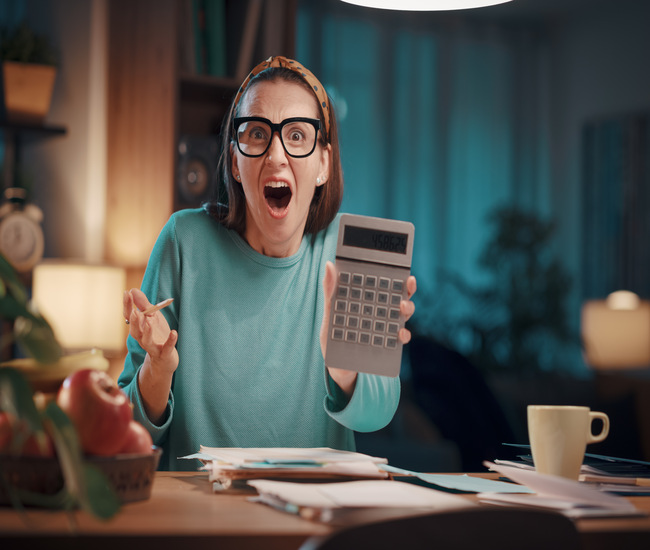 No, they aren't. Surprisingly, water-resistant bathroom blinds are one of the cheapest window coverings on the market. For example, you can buy a sturdy 2" cordless faux wood blind for as low as less than $40! Child-safe privacy 'minis' are even cheaper, costing less than $20!
What Are the Best Waterproof Blinds for Bathrooms?
Hear-wearing rigid PVC faux wood blinds

Enamel coated aluminum (mini) blinds

Vertical blinds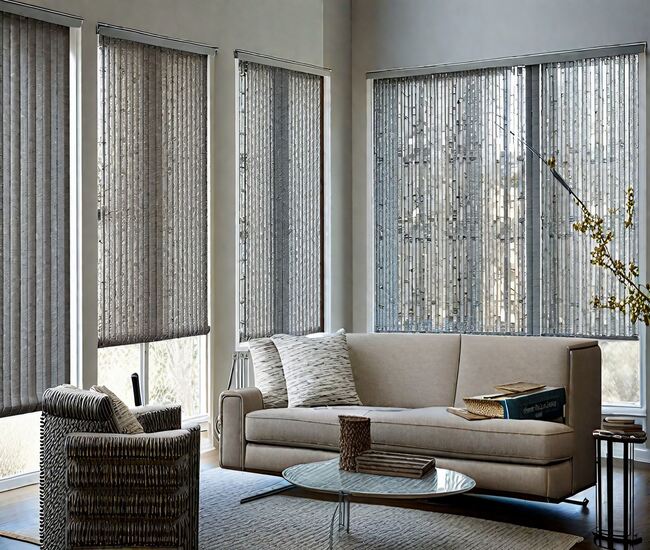 Venetian blinds

Roller vinyl shades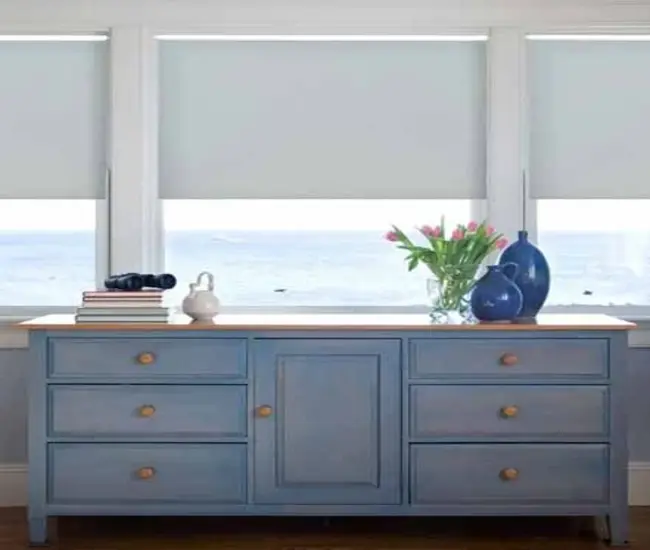 Foam core blinds coated with waterproof material
What kind of blinds to use in the bathroom?
Always hang high-quality water-repellent, fire-proof, stain-resistant, and child-safe window coverings on the bathroom windows, which provide total privacy and light control.
What blinds are best for shower windows?
PVC 2-inch faux wood blinds, vinyl shutters, vinyl rollers, and hard-wearing enamel-coated aluminum blinds are the best waterproof, fire-resistant, and 100% safe window coverings for bathroom windows. Plus, they offer privacy, light regulation, and style.
Are PVC blinds good for the bathroom?
PVC blinds are an excellent choice for bathrooms and other wet rooms, where windows are located closer to sink or tub, and the window covers have to withstand direct, long-term contact with water droplets and splashes.
Need More Help?
Need expert advice on how to choose and measure waterproof blinds for bathrooms? Contact our professionals using 24/7 live chat or give us a ring at (800) 863-6109.