Top Down Bottom Up Cordless Shades have changed the world of window covering, and for the better. There is more than one reason for you to love these cellular shades. While, with these, you can secure your privacy, you can, at the same time, have some part of daylight in your room. It is really easy to operate with no cord pulling or wrapping headaches and at the same time, they appear better for any modern house interior. Additionally, the cordless shades can be considered safer from a parent's or a pet owner's perspective. These shades certainly are a winning alternative against the traditional corded blinds and with all the features and benefits they come wrapped with, cordless top down bottom up cellular shades are a must-have in today's household.
Top down bottom up shades benefits: Why they are unbeatable?
There are several reasons that cordless shades make our lives easier. The following are some of the main reasons why you will love these new generation window covering solutions.
Safety: The old corded blinds have another setback- children and pets in the home can easily mess with them. Parents are often concerned with kids dangling and somehow getting hurt from the hanging cords. From this perspective, the cordless shades are way safer to be used around kids and pets.
A modern approach to enhancing privacy: With the classic shades, you had to sacrifice either your privacy or day-light- which is not the case with these modern shades. You can adjust the shades to let in the adequate amount of sunlight which still being able to secure your privacy. Moreover, many of these shades support semi filtration of day-light, which means your room will still be getting some part of day-light which you have the shade completely covering the windows.
Cleaner appearance: Without all that bundles of hanging cords on floor or walls, there is no doubt that cordless shades will offer a much cleaner appearance to the room. Moreover, many of these top down bottom up shades comes with hidden hanging brackets that can offer the shade a lot cleaner appearance. No more clutter with all the cords!
Easy maintenance: When putting against the ordinary blinds, these cordless shades are way easier to clean. Simple vacuuming would be enough to keep the pleats of the shades clean. No more bothering soaps and sprays.
Easier to operate: Comparatively, the cordless shades are way easier and convenient to operate than the traditional ones. Simple lift and lock mechanisms just need to you pull down the shade or push them up to where you require it to stay. No more hassles with pulling and wrapping or all those long cords.
Insulation: Many of the modern-day cellular shades works great as heat and noise insulators. So, in addition to being able to control the day-light and privacy, you now will be able to keep the noise of the outside world somewhat shut out!
Have you been considering getting cordless shades? Let us help you out with the list of best cordless and top down bottom up shades list. All of the products listed here incorporate the amazing features of a cordless modern shade. Read on to know more about our top picks and their features.
Our top pick:
Exquisite Top Down Bottom Up Cordless Cellular Shades
Our top choice among the best cordless and top down bottom up shades is Exquisite Top Down Bottom Up Cordless Cellular Shades, for its quality, brilliant looks and design. Certainly, its flawlessly functioning top down bottom up feature is the core. Use it once, and you will be head over heels in love this wonderful shade as well.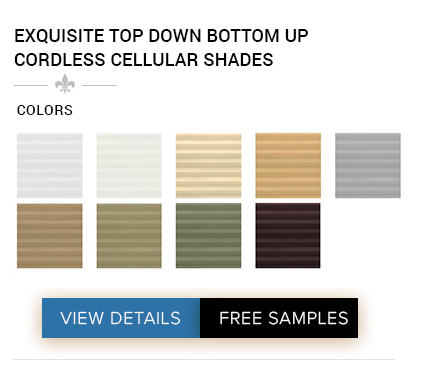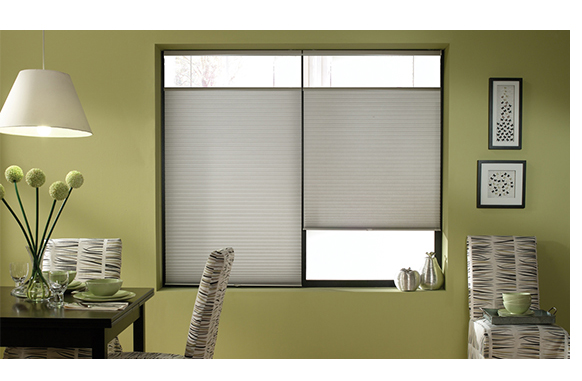 Advantages of Exquisite Top Down Bottom Up Cordless Cellular Shades
[su_list icon="icon: check-square-o" icon_color="#2c6f9e"]
Installing these shades saves the daytime light bills as they partially lets is soft day-light. The shades don't completely darken the rooms
Works fairly from window insulation point of view, round the year
Sober yet elegant design that can fit in with any interior
Smooth non-corded functioning
Better when considering the safety of children and pets in the house
The shades are relatively affordable
Much easier to install, use, clean and maintain
You can mount it inside or outside the window frame
[/su_list]
Why buy Exquisite Top-Down Bottom-Up Shades?
Insulation capacities: The shade is designed to offer decent insulation to room throughout the year. This indicates a fairly moderate room temperature without additional appliances; it is especially helpful in winters in locking heat in. This can certainly help you somewhat lower your utility bills comparatively. Moreover, the shade is made of pure polyester fabric and thus the insulation property works even better.
Smooth and 'dangle free' Cordless operation: Pets and kids often like to crawl and mess with the cords of the conventional shades or blinds. The Exquisite Top-down Bottom-up shades offer a total cordless working and thus are absolutely safer to be used in the families having children or pets. Moreover, without all the hanging cords, the room your room is going to look way better.
Durability: The product is absolutely great in terms of sturdiness. The shades would still be in great shape even after a good length of time.
Made of pure polyester fabric: The Exquisite shade is made of 100 per cent pure polyester fabric. This implies barely any shrinkage troubles, a greater mechanical resistance and ultimate durability when compared to shades made of natural fabrics.
Beautifully fits interior: The Exquisite shade comes in an elegant and subtle design that's neither too fancy nor too sober. Mostly, the design easily fits into any kind of interior room interior and décor.
Easy installation: The Shade's installation process is something that would be totally easy for you to handle yourself without any external assistance.
Privacy while you still have a glowy day-light: What the shade does is actually filtering the light into the room. This means, even while you have covered the window completely with the shade during the daytime, some part of the sunlight would filter in through the shade, offering a pleasant lighting in your room. This is particularly useful if you've been troubled by the glares on your TV or computer screens. Moreover, this feature would help you avoid the use of lights during the daytime.
Other Cordless cellular shades reviews
Nightfall Top Down Bottom Up Blackout Cellular Shades
While most of the shades enlisted works great for semi-sheer light filtration, they may not be suitable for those who are looking to have an option for darkening out the room during the daytime too. Nightfall Top Down Bottom Up Blackout Cellular Shades overcomes that setback too.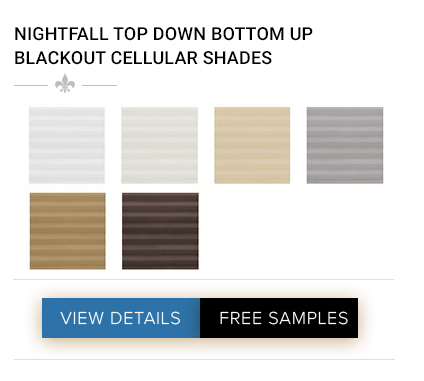 Like other cordless top down bottom up shades, you can have a great degree of control over the amount of daylight you are willing to get into the room with this nightfall blackout shade as well. Moreover, it incorporates most other features of modern shades along with the add-on feature of darkening out the room. Overall, the shade is a great value for the money you will be spending.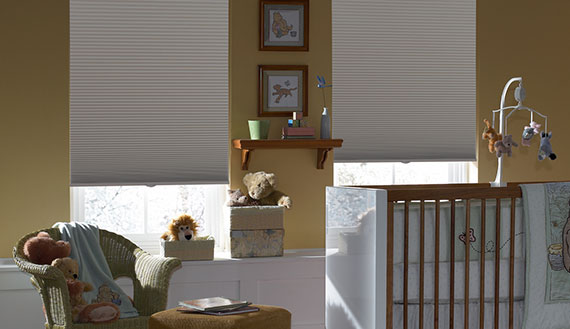 Advantages: Why you should consider buying Nightfall Top Down Bottom Up Blackout Cellular Shades?
The nightfall blackout shades come with multiple advantages over an average window blind or shade. Here is exactly why you can rely on this cellular shade.
[su_list icon="icon: check-square-o" icon_color="#2c6f9e"]
The blackout feature: Most of the cordless shades today offer semi-sheer daylight filtration. While they're great, they may not be able to offer complete darkness as might be required by some individuals. The Nightfall blackout shades feature complete blackout design, with which you will be able to prevent any day-light from entering the room.
Day-light control: While you will be able to get complete darkness you want, you will also be able to adjust the shade, just like other top-down bottom-up shades, depending on the amount of sunlight you are willing to let in
Insulation and energy efficiency: Made of 100% pure polyester, the shade is designed to provide some degree of insulation to the room as well as to improvise the energy efficiency. You'll be noticing a greater heat retention during winters and the maintained room temperature during summers. Save some utility bills with these!
Value: For the quality, make and the sturdiness that is packed with the Nightfall shades, it is a great value for money and is certainly affordable.
[/su_list]
Essential Cordless Cellular Shades
Have you been looking for a cordless shade, that somewhat can look some of those beautiful classic shades? Essential Cordless Cellular Shades is pretty much everything that you will be looking for. Designed to function with utmost smoothness and for offering you best benefits of a cordless modern shade, Essential Cordless Cellular Shades are certainly one of the best shades you can have. Minimalist, durable and greatly functioning, these are yet another set of shade you can trust investing upon.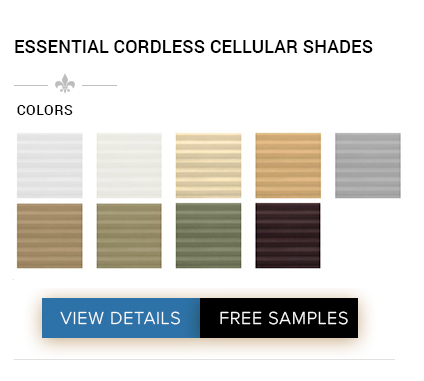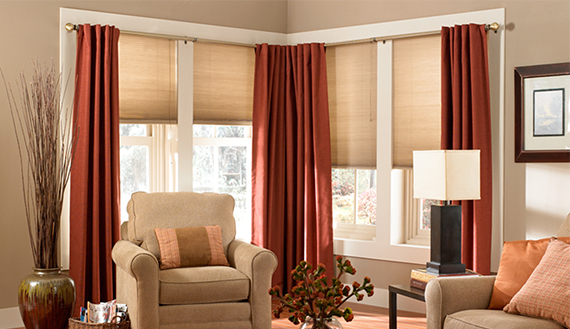 Advantages: Why should you consider buying Essential Cordless Cellular Shades?
[su_list icon="icon: check-square-o" icon_color="#2c6f9e"]
Quality and sturdiness: Use the Essential Cordless Cellular Shades for a year, and you'll still find them in just the right shape.
Energy efficient: First, the shades would eliminate the need of burning lights during the daytime by not darkening out the room when covered. Moreover, with an average insulation, the shade can reduce the requirement to run AC or heater, thus conserving energy
Ease of installation: Installing Essential Cordless Cellular Shades is breeze. You wouldn't have to bother hiring any external aid for carrying out the installation of the shades.
Affordable: If a modern shade, with all its great features, is available at the rate of the conventional shades, isn't it, well, something great? Without a speck of doubt, Essential Cordless Cellular Shades are one of the most affordable modern-day shades you can get home!
[/su_list]
Elite Double Cellular Light Filtering Shades
The best thing about Elite Double Cellular Light Filtering Shades is its energy efficiency and insulation capabilities. Double cell shades are moreover the most popular shades. Want to own a great and durable light filtering shade without burning a hole down your pocket, you don't have to look any further than these amazing shades.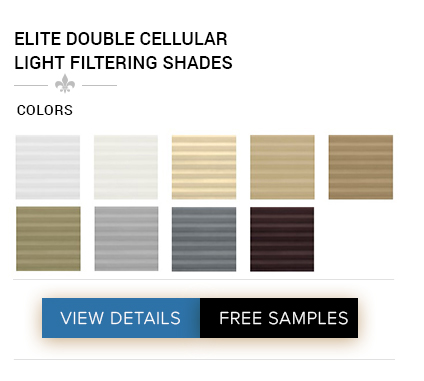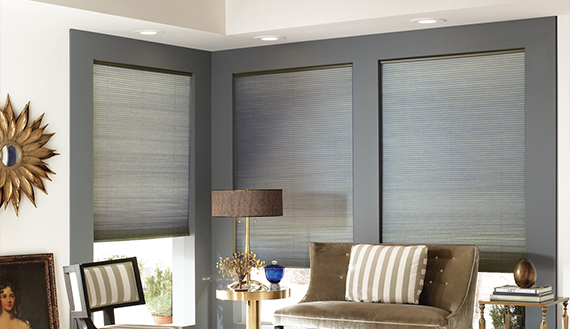 Advantages: Why should you buy Elite double Cellular Light Filtering Shades?
[su_list icon="icon: check-square-o" icon_color="#2c6f9e"]
Easy blend in: The shades simply ease in with most interior. They won't really be noticeable or a standout for your room's or your house's interior. Even better, simply pair them up with some good curtains, and there you go, it will only make your interior mode elegant.
Value for money: Once you use the shades, you will know that the shades are worth way more than what you will be paying for it. These are some of the real affordable window coverage options available out there.
Easy cordless operation: Just like other cordless shades, there would be no dangling cords to mess your room. Moreover, you will love how smooth this shade works!
Amazing insulator: These shades are double-celled, which implies even better insulation. Your AC stays in; sun stays out, the room's temperature remains great. Fantastic, right?
Available in designer looks: The crisp color shade ranges and the designer looks available with this particular shade is yet another great thing about this shade. Shades aren't an eclipse to your house's elegance anymore!
[/su_list]
Nightfall Cordless Cellular Blackout Shades
Another of the top cordless shades from Nightfall that offer total darkness for a peaceful rest time is Nightfall Cordless Cellular Blackout Shades. The product is moreover greatly useful for slowing down the heat-up or cool-down of your room (due to climatic changes), thus conserving a great deal of your utility bills. Look no further than Nightfall Cordless Cellular Blackout Shades if what you are looking for is a great cordless shade that can not only partially let in the day-light, but can also completely shut out any sunlight when you want. Hidden brackets further make the product a winner.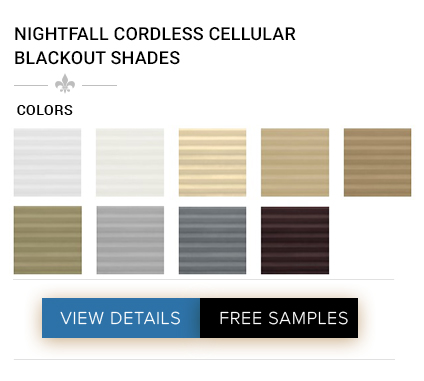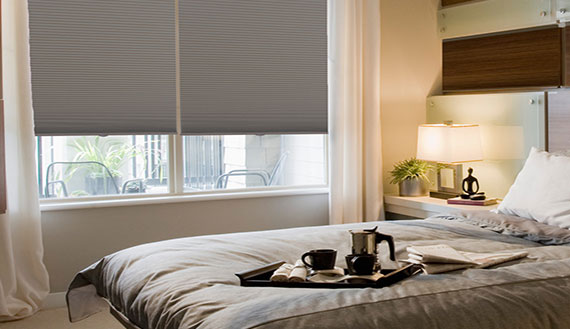 Advantages: Why should you consider buying Nightfall Cordless Cellular Blackout Shades?
[su_list icon="icon: check-square-o" icon_color="#2c6f9e"]
Hidden Brackets: The shade shall be held by hidden hanging brackets that shall not be externally visible, unlike most other shades. This would make the shades least of a standout and would offer much cleaner appearance.
Full control over the day-light filtering: With the Nightfall Cordless Cellular Blackout Shades, you can not only let in partial day-light, but you also have the option to completely block sunlight when you want to. Many of the modern shades may not offer complete control on day-light filtering.
Slowing room heat up and cool-down: The shade works amazingly as an insulator, and can help you cut back on your utility bills.
Low maintenance: The nightfall shades are way easy to maintain and care for.
[/su_list]
Eclipse Day & Night Cordless Blackout Cellular Shades
We would suggest Eclipse Day & Night Cordless Blackout Cellular Shades as one of the finest blackout shade you can get your hands on. The refined texture and blend shades make the products a perfect fit for any kind of room, decor or lifestyle. The shade shall be worth every penny going out of your wallet! you can check out inexpensive cellular shades.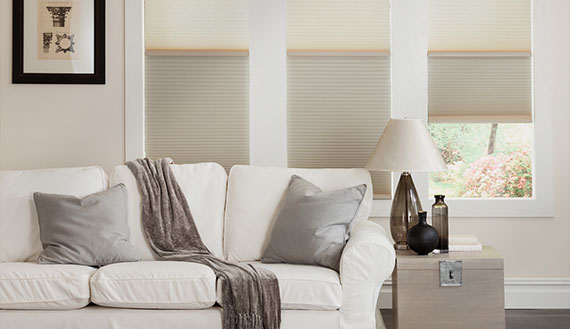 Advantages: why should you consider buying Eclipse Day & Night Cordless Blackout Cellular Shades?
[su_list icon="icon: check-square-o" icon_color="#2c6f9e"]
Looks: Eclipse Day & Night Cordless Blackout Cellular Shades comes in the finest of looks and textures, which can give your house's interior a much warm, cosy look.
A perfect sun shut-out: The product promises about 99% of sun glare blockage. The product is additionally a good insulator as well.
Available in a range of attractive shades and designs: With Eclipse Day & Night Cordless Blackout Cellular Shades, you'll most certainly find the shade that can perfectly blend in with your room and décor.
Automated control: The Shade come with automated, cordless lift and lock mechanism. Nothing but a gentle push is all that it needs.
Noise blockage: The shade not only blocks heat and glare, but also some degree of noise. So the shade would be great if you live in a high-traffic region!
[/su_list]
How do cordless top down bottom up shades work
The cordless top down bottom up shades uses a simple lift and lock mechanism to function. The functioning of the shade may slightly vary, depending upon the product you choose. These shades usually come with a cordless lift system. Most of these shades are made of polyester fabric that are pressed and designed into perfect pleat layers. These pleats are designed to last and stay crisp. Both the top and bottom rails will be having a push button. You can pull them down from either top or bottom and can lift them from either of the sides, thus making it possible for you to adjust the shade as you prefer. The pleats of the shades compacts as you lift and lock where you want it to stay.
How to install cordless cellular shades
So you ordered cellular shades and are now wondering how to install them? Well, it is much simpler than what you must have probably thought. Given below is the simple 2-step process to install a cordless shade. You can also refer the detailed installation guide that you must be receiving with the shade package, for more precise installation instructions.
For installing cordless cellular shades, you need the following tools and accessories.
[su_list icon="icon: check-square-o" icon_color="#2c6f9e"]
Measuring tape for correct positioning of brackets
A driller
A pencil for marking places to be drilled
A flat head screw driver
[/su_list]
1. Installing the cellular shade bracket
Before anything, for installing a cordless cellular shade, what you need to do is installing the brackets. Usually- in fact, with almost every shade- you will be receiving the shade bracket for the shade you have purchased. The package must contain the shades, the brackets to fit shades, the bracket fasteners (screws) and the shade caps (in case the shade require to be assembled). When you are ordering a product, it is advisable to check the package details to see if the package coming with the required hardware. Choose for the companies offering the entire package than mere shades. Also, it is advisable to contact the company in case any of the hardware is missing from the packaging you received.
Proceeding to the installation of the brackets, first, you need to measure and determine the desired position of the brackets. Generally, brackets are places a few inches from both the ends (of the window space), and then one in two to three feet gaps. You must measure and make sure that you are installing the brackets at even distances. Once you have decided the bracket positions, mark for the drill-hole points on the wall using the pencil. Make holes with the driller where you have marked. Now, simply put the brackets back on positions and fasten them securely using the screws in the packaging with driller or screwdriver.
2. Installing the shade:
After you are done with installing and securing the shade brackets, remove the shade and the remaining hardware from the box. If you have got shade caps along the package, you need to assemble the shade first. Cover the edge of the shades by installing the end caps on the edges appropriately. After covering the edges, you just need to simply push-fit the shades into the brackets.
Conclusion
Doubtlessly, one of the latest and most convenient ways of getting proper window coverage is cordless shades. Apart from being easy to install and handle, they are also secure to be used around children, attractive for a modern house interior and they are relatively much versatile when compared to the traditional window covering solutions. Moreover, many of these cordless shades offer some degree of sound as well as temperature insulation round the year, providing them with a winning edge. So certainly, if you are looking for window covering solutions, the cordless and Top-down Bottom-Up shades are the best you can consider.
The best of cordless shades recommended by us here are certainly the ones you can consider and rely upon for once and for all. You can make the choice according to your requirements, budget, geographical positions and other factors. You can, anyway, rest assured that you'll find them all of reliable quality and satisfactory.