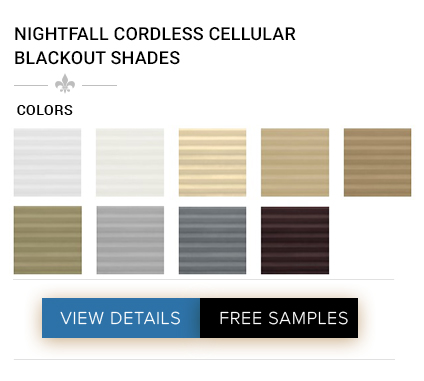 Cordless Top Down Bottom Up Cellular Shades Guide
Are you tired of seeing those worn down shades on your windows? Are you thinking of a home makeover and want a good window solution to fit your budget? Then the perfect answer to your questions would be our inexpensive cellular shades. The window is the center of your attraction of your house and the untidy look of the ordinary shades is obviously not desirable. Think about how it would be if you could find a window arrangement that allows the sunlight and fresh air to come in and the things that are polluting the home environment to filter out. Most people do not care to consider window treatments as an important part when they are planning to redecorate their houses. But those who do understand the importance of window treatments often back out because of the cost it requires. But window treatments do not always have to be costly and include a great deal of reconstruction. Proper shades are enough to change their looks and give your home a new style.
What Are Top Down Bottom Up Cellular Shades?
You might be thinking, what Are Top Down Bottom Up Shades and why are these used? There are various things which are required in your home, and you cannot live without them. It will be difficult to live in a home without a bed or crockery because these are mandatory for your home. In the same way, you have to think about the covering of windows because light can disturb you whether you are studying, watching television or using the computer.
Cellular shades bottom up top down are used to cover up home windows so that you can easily perform these activities. You might think about the other options instead of using windows shades like using blinds to cover windows. It is not a bad solution, but you have to consider several factors while choosing coverings for windows. Blinds are not easy to use, and these are not better than shades because you can roll roman shades to any angle either from the top or from the bottom. On the other hand, you can either fold or unfold blinds, and there is no intermediate state to control light. Top down Bottom up Shades are easy to use, maintain and clean as compared to blinds.
Moreover, blinds will just give a simple look to your room while you can completely decorate your home using these flexible shades. You can purchase these with the design and style that matches your room's decoration and interior. Some of these cordless honeycomb blinds come with cords while some are cordless. It depends on your requirements and needs that whether you are purchasing one with cords or you are purchasing cordless. Call us to get some basic information about the features, varieties, and types of Top down Bottom up Shades before purchasing. You can also get information regarding price. Our online stores give you a complete description and features of the particular shade. Also, you can get a better idea by viewing a picture of the shade at our site. Moreover, we even have several discounts offers like free shipping and discount coupons to save your hard-earned money.
Examples of Top Down Bottom Up Cellular Shades
Honeycomb Cellular Shades
These window treatments have blown up in popularity for their excellent insulating benefits. They come in many colors. Double cell shades will offer more insulating protection than single cell shades. To receive a federal tax credit for energy savings, click here to shop our cellular shades that offer side lock systems and foam head rails, to completely seal out drafts.
Bamboo Woven Wood Shades. These are a great window treatment for warmer climates. Closed, they allow the breezes to pass through the windows while blocking the sun's harsh rays and damaging UV light. These offer a tropical feel, or the feel of paradise. Bamboo shades may also be referred to as Matchstick Blinds or Bamboo blinds. Ours come in a variety of different weaves, colors, and stains.
Pleated Shades. These offer a clean, simple look to finish any room. Some are available with no holes privacy, meaning the lifting cord runs through the back of the shade and no light can seep through. The front of the shades are a bit thicker than the back when compressed because of the make-up of these window treatments. There are many colors to choose from our plated shades.
Roman Shades offer a classic look that has stood the test of time. They bring elegance to a room and often come in fabrics like linen, silk and more. Our roman shades are best known for their opulence.
No matter which type of shades you decide to purchase, give yourself a little extra flexibility with our top down, bottom up version. Check out your options affordableblinds.com/
Reasons to Buy Our Top Down Bottom Up Shades
Today, there are a lot of window treatments that are available in the market. One of the many reasons people install affordable window solutions is to change or improve the appearance of a room and for privacy, light control and reduce the entrance of UV ray light emission that can fade furniture, floors, paintings. Our Top down and bottom up shades gives you the functionality to combat all these issues and look great at the same time.
They provide quality interior décors for homes, offices and other establishments. You can find cellular shades, woven woods (bamboo shades) roman shades and even wood blinds and mini blinds in top down bottom up. The diverse colors, designs and textures help people complement and beautify their rooms even more. Our products are made from special kinds of fabric that can vary from anything from sheer to semi-sheer, opaque or even semi-opaque.
Top down bottom up shades are becoming increasingly popular. It is a shade that is common and very essential to households. This type of shade can cover rooms such as living rooms, bedrooms, and bathroom or practically any room wherein the right amount of light and privacy is essential. It also allows people to have the proper shading and light control and still have the privacy that they want. People who install this in their homes can adjust it by raising the shades from the bottom just like a standard shade or lowering it from above.
Here are some of the reasons you may want to buy our shades:
One is that you would have complete control of the amount of light that enters a specific room. Homeowners are allowed to adjust the type of lighting inside a room according to their preference. Whether people prefer to have heavily filtered dark rooms, lightly filtered rooms, or even complete blackout, this cordless honeycomb blinds would surely solve lighting problems. You can also enjoy the watching your favorite TV shows without the glare of sunlight.
Another is that they can complement any room decor. They offer unique looks and charm and add to the total ambience of a room wherein they are installed. They can easily turn a dull room alive and make it look classy and elegant.
You may think that they are extremely expensive and costly to install but that is not always the case. The prices of our shades largely depend on the size, design, and the kind of fabric used.
Another reason is that they are the only style that can allow sunlight within a room while still giving the privacy that people need and want. Since the top and bottom rail function independently from one another, you can adjust the position of the shade by fully drawing the shade, fully open, or setting it to the combination you prefer.
Our shades functions by having two cords that are designated on each side of the shade. More often than not, the right cord would be the one in control of the bottom rail while the left cord would operate the top rail. Many are available in cordless, which is safest for children.
Our Top down bottom up shades offer the combination of functionality and style. Reaping out lots of benefits at a very reasonable price, this type of shades is the best in any room in your house, office and establishments.
How to Use Top Down Bottom Up Shades
Real Top Down Bottom Up Shades are widely used to keep your privacy and protect you from sunlight. Windows covering is important in every home, and you will see that almost every home uses some kind of covering for windows. Whenever we purchase any new electrical appliance or furniture we are worried about its protection and same is the case with our house and its windows.
Real Top Down Bottom Up Shades are important to keep your home windows and other goods from dust, humidity and other harmful factors. People spend a lot of money to cover their windows because there are various options. You have to adopt a feasible as well as economical solution. These shades are available in different designs and play important role in the decoration of your home. Look and décor of your home can be completely changed using top down bottom up shades. In the old days, you could either completely allow sunlight to enter in your room or to completely block it. Now the time has changed and technology has affected every industry of human life. Now you can have complete privacy in your room using these top down bottom up shades. By using these shades, you can choose how much sunlight to enter the room.
These Shades are easy to use whether you want to enter the room or you want to completely block it. Also, you can also adjust them if you want the light to come partially in the room. As the name shows, these shades can be adjusted from both sides. For example, you can roll them from the top as well as from the bottom. Top down bottom up shades are easy to clean, and this is the advantage of using shades for windows. They are manufactured with different materials, so it is a good idea to consider the manufacturing material while purchasing. Shades manufactured with the non-static material will keep away dust particles, and will not get dirty quickly.
Some of these Shades come with cords while some are cordless. It all depends upon your requirements. They also come in different designs which you can choose to decorate your interior walls with. Shades with good designs will play a key role in the attraction and charm of your home.
Why Our Top Down Bottom Up Shades Will Make Your Life Easier
Here are some simple advantages of these shades:
No clutter
We all dislike the sight of pools of cords at the floor. They look so unsightly and make the appearance of the room cluttered. Also there is a lot of nuisance when the cord breaks at one or two points.
Child safety
With these top down bottom up cordless shades even little children can slide the window up only with a stroke of the finger. Also there are no falling or choking hazards for babies and toddlers.
Pet safety
Now you no longer have to worry about the safety of your pets. The cordless shades offer complete safety for pets.
Different degrees of light control
This is a feature that anyone is going to love. The top down bottom up cordless shades allow us to roll up the shade from the bottom or roll down the shade from the top both simultaneously or one at a time.
Enhanced privacy
As compared to the vertical blinds/shades, one does not have to trade off the privacy to get some sunlight.
Easier to clean and maintain
One added advantage of the cordless feature is that the shades become easier to clean and maintain. These shades can be cleaned only by the means of light vacuuming; there is no requirement of adopting the traditional soap and water cleaning.
Conclusion
So if you want to enjoy all these benefits buy our top up bottom down cordless shades as soon as possible. As you can see there are many benefits of having top down bottom up shades in your house as they provide a lot of safety benefits along with flexibility and ease of use. They also can provide a lot of style to your rooms allowing you help balance your rooms by been able to choose countless styles and colors.