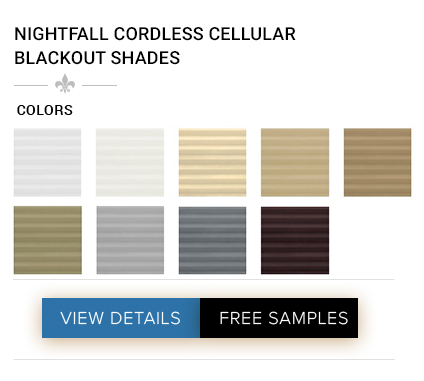 The Cellular Shades are one of our most sought-after product lines due to its versatility, functionality, and contemporary style. Our shades have a unique honeycomb design making them very energy efficient; prevent air from entering or escaping via windows thus keeping your home's internal temperature consistent. With a large color selection and bold designs, our shades are a customer favorite.
Cordless Cellular Shades Tips on Selecting the Best for your home
Affordable Blinds Shades are a modish way to increase the energy efficiency of your residence. With smooth, deluxe fabrics turned up into honeycomb shaped cells, our unique shades form good-looking barriers that insulate windows and control the indoor temperature, whether the objective is to keep the heat out during the hotter months or keep the cold out during the colder months. And since our unique shades save energy, they help lower your energy bills.
Cellular cordless shades are among our most popular products hands down. Most people have heard of them in some way, form or shape but don't truly know all the details about the great features this product has to offer. We hope that after reading this you will be truly inspired to update your window treatments with Affordable Blinds shades that will look great and insulate your home.
With their refined texture, good, natural appearances and countless useful advantages, our shades are a perfect way to add to your windows without eclipsing your home's decoration. Affordable Blinds presents these "honeycomb" shades in a variety of colors and selections to match your needs—your perfect shades await!
Why Choose Us?
It is said by some wise people that never shop window coverings when you are in an irritable mood. It can lead you to one of your big mistakes. Usually, consumers tend to purchase the shades they recognize. This means they are unaware of the benefits of some of the newer and advantageous products available in the market like honeycomb shades.
Affordable Blinds Shades are multi-tasking, hard-wearing shades that match up easily with any interior decoration. (And among our most liked window treatments!)
Our distinct shades are made with smooth fabrics in artful patterns and lively colors. Irrespective of your style—be it modern or traditional you will find a shade you fancy.
Energy efficiency. Our well-engineered customized honeycomb shades are layered at the pleats to create compartments, or cells that trap air. This construction provides excellent insulation, which translates into excellent energy efficiency. Our energy saving honeycomb shades obstructs up to fifty six percent of the sun's heat from getting inside and prevents up to twenty two percent of heat from escaping during the colder months.
Light control. It is your choice! Both light filtering, sheer, blackout, and room darkening options are available.
Added Insulation. Affordable Blinds shades look amazing while adding insulation. It's a win-win situation!
Easy to Clean. Affordable Blinds blinds are very easy to clean and have dust repellent and anti-static properties.
Reasonably priced. Our shades are a budget-friendly way to add a high-end, modern energy to your home.
Our large selection of options and colors including popular bold, vibrant and neutral colors, make it a must-have for any room.
Affordable Blinds Shades come with a non-rusting aluminum head rail color coordinated with your fabric for a clean, finished look.
Shop Cellular Blinds at Discounted Prices
Cordless Single Cellular Light Filtering
These shades are excellent for home insulation and glare reduction at a reasonable price. The bottom rails and head rails are color coordinated to complement the color you pick for your shades, giving the whole shade a stylish and harmonized look that matches the furnishing of any room in your home space.
Cordless Single Cellular (TDBU)
You will be startled by our unique Light Filtering Cordless (TDBU) shades! Cordless Top Down Bottom Up Shades are ideal for pets or kids because the cords run through the center of the shades
Cordless Double Cellular Light Filtering
The sleek, clean, designer look you fancy is yours with these superbly versatile and reasonably priced Affordable Blinds light filtering  shades. Softly textured fabric pleats are just what you need to fill your rooms with soft, natural light warmed with subtle colors.
Cordless Single Cellular Blackout
Our Hand-picked Single Cellular Blackout shades come in the newest trending neutrals to match your interior decoration. Layer them with sheer curtains or drapery for a unique custom look in your rooms. All parts are color coordinated to the fabric for a lovely finish, top to bottom.
Bottom Up Top Down Cordless Blackout Single Shades
These shades provide you with the capability to operate window treatments from the bottom up or the top down to meet all your privacy needs while still affording you access to natural light.
Cordless Single Cellular Day & Night
This light filtering shade decreases heat and glare while providing the option to get rid of all outdoor light. Additionally, they filter light and absorb sound to decrease disturbing exterior noises.
Cordless Honeycomb Shades FAQ
What is the purpose of shades?
The main idea is to save energy. They are obtainable in single, double and triple honeycomb. All honeycombs increase the efficiency of the shade. In the hotter months, the shades help shield the ultraviolet light out of the house and the cool air conditioning inside. You choose a dark color to face the inside of your home, and a bright color reflects the light outdoor.
What are the benefits of these Shades?
There are many benefits of honeycomb shades. One of them is they are energy savers. Many people are looking for some way to decrease their monthly expenses. It will decrease energy usage, as they are one of the best energy efficient products available in the market, if they have invested in shades for better interior for their home. The most energy efficient product in honeycomb shades is the one which has three cells.
These kinds of shades come with top down bottom up option. So when it comes to light control and privacy, they become more versatile. The meaning of top down bottom up is the shade can be opened by pulling the bottom to meet the top or the other way, by pulling the top to meet the bottom. For those who value extensive designs options, the honeycomb shade makes a popular choice. The honeycomb construction offers extremely pleasing privacy options. It can provide anything from muted light to total darkness. They come in three different varieties- single cell, double cell, and triple cell. Most of the people consider these options in relation to their privacy requirements. Their privacy requirements lead them to their choice in shades whether they should buy a single cell, double cell or triple cell.
In this way the benefits of cordless shades are unarguable. These shades can be the most energy efficient covers for windows if they are fitted properly.
How else do room darkening shades help?
Blackout shades are ideal for anybody sensitive to light. Also, If you've trouble sleeping, then these are perfect for you. They block out light during the day so those who work during the night shift can sleep peacefully during the day.
Are the shades easy to close and open?
That is the best part about the new shades. Shades are mostly installed on spring rollers. This makes them simple to close and open. Consequently, you can let in as little or as much light as you need. It is entirely up to you.
What about glare?
The shades prevent all natural light from entering the room and blocks out any glare. This means that you won't get the harsh glare from the sun. Imagine not having to strain to see your computer or TV again. It does make the investment worthy.
I have heard that children get hurt from dangling cords. Is that true?
In the past, children have been injured from looped cords. The U.S. Consumer Product Safety Commission has put out a statement recommending that all blinds, eliminate the continuous cord system. Most companies no longer make blinds this way, if you still have blinds with the continuous loop contact the manufacturer for a way to replace the string.
The Best Features of Cellular Window Shades
Cell shades are rated the best energy efficient window shades you can purchase. But they are also visually appealing, easy to use and versatile. Customers can select from a wide variety of colors and pleat sizes. The pleat size is a defining factor in how well these shades will insulate your home. The cells not only range in size from 3/8" up to 1-1/4" but you also have a choice of single, double or triple cell insulation. The more cells you have the increased insulation you have in your home. To break it down you want to make sure that size and product balance. For example, to cover a small bathroom window it is best to choose a single cell 3/8" shade, small size for the small window. A large bay window in your living room can handle a single cell 1-1/4" treatment.
One of the great things about Cell shades is that they come with many options like fabric choices, light filtering levels and special features like the cordless shade option to make them a truly custom treatment. The best is the cordless option which can be lowered and raised by gently pulling up or down on a small lip attached to the bottom rail. This feature is great for child and pet safety because there are no cords at all for strangulation. Then there are top down bottom up shades which is a versatile feature that allows the bottom half or top half of the shade to be lowered or raised independently, perfect for greater light control while maintaining privacy. Most shades can be motorized as well. Imagine that with a touch of a button from your garden tub you can lower the blinds before getting out of the tub, it's a luxury well worth the money.
Another complex option to consider is that our shades are available in a variety of specialty shapes; this includes half arches all the way up to angles or ovals. The light weight fabric helps to make this a possibility that other products cannot achieve. Some will be non-operable due to the shape so a light filtering fabric may be your best option. AffordableBlinds shades are fire resistant which means that the shade can resist combustion. This is great for a child's room, kitchen or room with a fire place. Another special feature that some AffordableBlinds offers is water repellent honeycomb shades.
The water repellent feature is suitable for areas in your home such as kitchens and bathrooms. The last but not least feature is the light filtering choices you have. Shades can be purchased in semi-opaque, which allows in some light while maintaining your privacy. For greater light control you can purchase the light filtering shades or the blackout shade which blocks 99% of the incoming light this is great for a bedroom. These shades can be used to cover any number of windows or doors in your home. From sliding glass doors to skylights and arched windows, shades are a great way to improve the appearance of your home space while increasing the level of energy efficiency. This product is so easy to customize, so there is a solution for every person in every home.
Your Perfect Honeycomb Shade Awaits!
Affordable Blinds shades can provide the end user with all the capabilities to meet most of the specific requirements regardless of the situation. If light control is of utmost importance, shades allow you to control light at many different levels. If temperature control is the main reason for considering shades, this situation can also be similarly remedied as well. If the functionality of shades is at the forefront of your decision, you will find that our shades are a highly functional product which will bring years of comfort and aesthetically pleasing moments into your home or office. We have been in the industry for over a decade now, so feel free to contact us if you have any questions.