Why Should I Buy Cellular Shades – Top 4 Reasons
When you're trying to decide the best option for your window treatments, there are many options to choose from. An excellent choice for many reasons is Cellular Shades. With the broad range of options in color and style, the safety of their design, and the fact that you can get them custom cut to fit any window, we know you will get exactly what you want when you choose one or m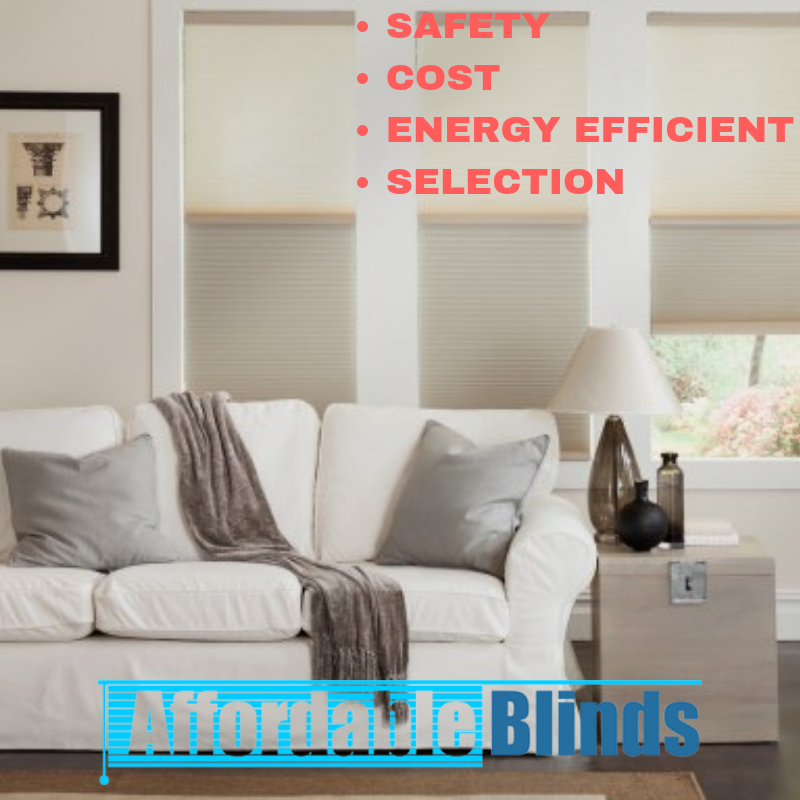 ore of our Cellular Shade options.
Safety
Cost
Energy Efficient
Selection
You'll have no problem getting the exact look you're hoping to achieve with all of the options in style and color AffordableBlinds.com has to choose from. What is really great about Cellular Shades is that you not only have an option in what color best suits your design, you have options on what type will offer the perfect look. You can control how much light filters in with a light filtering option, or how dark the room is with a full blackout shade. You can even choose a top down bottom up option so that you get the best of both worlds in light filtering! If temperature control is important, any style will create a barrier between your interior and the outdoors. You can even layer styles if one look isn't enough for you!
Another excellent feature of Cellular Shades is the safety of their design structure. Unlike old mini-blinds with their cords dangling dangerously in the up or down position, Cellular Shades are built in a much safer manner without loose swinging cords. This makes them much safer for children and pets alike. If you do have kids or animals to worry about, another even safer option is our Cordless Shade. This removes the concern of cords altogether. Safety from cords isn't the only way shades protects your family. The full coverage achieved from a perfectly fitted set of shades means that there are no gaps in coverage.
Just use our easy to follow measuring instructions for the best fit, and once installed you'll have complete privacy in any room.
The final feature that makes Cellular Shades a great choice that I'd like to tell you about is the perfect fit you'll get no matter what window you need to cover. This is because AffordableBlinds.com will cut your blinds to your exact measurements. While the measuring is easy to do, we do understand mistakes can happen—because of this we also go the extra mile to make sure that even in the event that you get a shade that doesn't quite fit you're covered with a Worry Free Fit guarantee. We want to make sure you're 100% satisfied with your purchase.