While both cellular and roller shades add to the curb appeal and functionality of your window, they do have certain structural and functional differences. So, before deciding between these two types of window treatments, you should learn about the pros and cons of each. Here is a comprehensive guide about the difference between cellular and roller shades.
If you're looking to update your windows with a new shade, it's important to make sure that the choice is just right. We'll compare two popular types of window treatments – cellular and roller shades — so you can decide which one best meets your needs and expectations. Read on to get an in-depth look at both options.
Structural Difference Between Cellular and Roller Shades
Cellular and roller shades differ structurally in how they are constructed and operated after installation.
Looking at cellular shades, they are also known as honeycomb window treatments because of their unique cell construction that traps air. They consist of layers of fabric material that create individual cells to trap air, providing superior insulation against sound and heat transfer through the window opening.
On the other hand, roller shades for windows are made of a single piece of fabric that can be rolled up and down a tube. Also, they do not have cells like cellular shades. Roller shades offer varying levels of light control and privacy depending on the type of fabric used.
Functional Difference Between Cellular and Roller Shades
Selecting between cellular and roller shades requires thoughtful consideration. Cellular variants are best for light control, insulation from the outside environment, and even blackout fabric if desired; however, roller options offer comparable advantages but provide limited impermeability to incoming light or thermal regulation compared to their cellular counterparts.
Aesthetic Difference Between Cellular and Roller Shades
Next, let's look at the aesthetics of each type of window shade.
Cellular blinds come in a variety of colors and textures that allow them to blend into any room's décor while still offering good UV protection against fading furniture fabrics or artwork.
On the other hand, roller shades offer a clean, minimalist design option since they generally don't have visible cords or tapes like some other types of blinds do.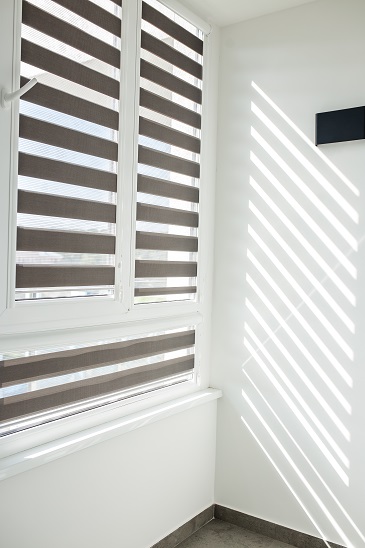 When to Choose Cellular or Roller Shades?
Homeowners in search of energy efficiency and style can enjoy the benefits that cellular shades, or "honeycomb" shades offer. With a unique air-trapping cell construction to provide superior insulation, these fashion-forward fabrics come in an array of colors and textures; instantly delivering warmth while blocking out light as needed.
Roller shades are similarly stylish but slightly less insulated—with their own set of advantages for those seeking easy installation with maximum privacy control. In developing your ideal home makeover plan consider both options thoughtfully so you arrive at the perfect decision for each room!
Importance of Window Shades
Shades and blinds for windows can be an important element of your home's interior décor, and many people are opting for either cellular shades or roller shades. According to a recent survey, almost half (48%) of American households have at least one window shade installed in their homes! Cellular shades types and roller shades types are the two most popular styles of blinds available today when it comes to window coverings.
Pros and Cons of Cellular Shades
Homeowners searching for the perfect window treatments should be aware of two popular options, cellular and roller shades. While both can provide energy efficiency and beautiful design elements to any home, there are unique benefits as well as drawbacks associated with each type. Take a closer look at these distinct styles today so that you can make an informed decision on which one is right for your space!
Pros
Insulation: One advantage that cellular shades have over roller shades is that they can trap air in pockets or "cells" within their structure, providing superior insulation against sound and heat transfer through your windows.
Reducing Energy Bills: The insulation potential of cellular shades helps reduce energy bills by keeping homes cooler in the summer months and warmer in the winter months.
Better Privacy: Additionally, cellular shades offer more privacy than roller shades as they form an impenetrable barrier against outside light while still allowing some natural sunlight into your home.
Cons
Bulkier: On the downside, cellular shades tend to be bulkier than roller shades due to their layered construction.
Limited Flexibility: Bulky fabric limits design flexibility if you're trying to achieve a certain aesthetic with your windows.
Require Regular Cleaning: They also require regular cleaning which can be time-consuming compared to other window treatments such as blinds or shutters.
Pros and Cons of Roller Shades
Roller shades have become an increasingly popular choice for home decor. According to recent surveys, more than 70% of homeowners opt for roller shades when selecting window treatments. While these blinds can add a touch of sophistication and style to any room, there are both advantages and disadvantages that come with choosing them.
Pros
UV Protection: Roller shades provide excellent protection from UV rays since they contain no gaps like those found between slats of wood blinds or louvers of plantation shutters—making them ideal for rooms with lots of direct sunlight exposure.
Colors and Patterns: They also come in various colors and patterns making it easy to customize your space without sacrificing light control or privacy needs.
Lightweight: Plus, they're usually lightweight enough that you don't need special hardware installation!
Noise Blockage: They can help reduce noise levels, allowing you greater privacy from outside noises while still letting natural light filter into your space.
Cons
Less Thermal Protection: Overall, roller shades won't give you quite the same level of thermal protection as cellular ones would since there is less material involved in their construction.
Risk of Fading: Furthermore, since most fabrics used for roller shade designs are woven rather than dense materials like vinyl; fading caused by prolonged sun exposure is more likely over time meaning replacement will likely be required sooner than other window treatment options available today.
Less Flexibility: One potential downside of roller shades is that they don't offer much flexibility when it comes to controlling sunlight or ventilation.
Overall, roller shades are great options for those looking for modern aesthetics combined with energy efficiency and noise reduction capabilities but should be taken into consideration alongside other factors such as desired level of control over sunlight and airflow before deciding on what type of window treatment to choose.
Conclusion
Cellular and roller shades are two of the most popular types of window shades. Both offer a variety of benefits, as well as disadvantages. Cellular shades provide superior insulation properties and can reduce energy costs significantly; however, they can be expensive to install. Roller shades offer greater versatility in style options but have limited insulation capabilities.
Selecting window shades is a big decision since your chosen option can have an enormous impact on both the look of your home and potentially even its energy efficiency. Cellular shades are top-notch when it comes to saving money on electricity bills while making a stylish statement – but if you prefer subtle elegance or greater adjustability in terms of daily light filtering needs, roller blinds may be what you need. Ultimately, only you know which type will best suit all aspects of life in your abode!