Refresh and modernize your living space with beautiful window blinds! From rustic shutters to sleek roller shades, this cost-effective solution will instantly upgrade the look of any room. Discover how easily you can transform a plain interior into an eye-catching design statement by bringing in textures and color – all while staying within budget.
Window blinds come in many shapes and sizes – from light-filtering fabrics to blackout materials, they offer complete control over natural light entering a space while also adding texture and color. Depending on the look you're going for, selecting the right type of window treatment will completely transform the atmosphere of a room. Whether you're aiming for rustic charm or sleek minimalism, there's something out there just waiting to be discovered!
For those who want more than just basic functionality from their window treatments, motorized shades provide convenience as well as ease of use. With these products, you can open or close them with a remote control or even set up automated schedules via voice control systems like Alexa or Google Home. No matter what kind of interior design statement you'd like to make, integrating window blinds into your home decorating plans is sure to help bring it all together beautifully!
Types Of Window Blinds
Home décor has come a long way since the days of early blinds for windows; now, a multitude of stylish coverings are available to create an eye-catching atmosphere. From luxe wooden shades, textured fabric designs and practical vertical slats to innovative motorized styles and classic roller varieties – there is truly something for everyone!
Wooden blinds provide an elegant look for any space by adding warmth to the room with their natural wood material. Fabric Blinds come in different textures and colors making them ideal for blocking out sunlight while still allowing some light into the room. Vertical Blinds are great options if you want more control over how much light comes into your home as they can open from one side or both sides depending on what is needed. Motorized Blinds offer convenience as they can be easily opened and closed via a remote control which is perfect for those hard-to-reach windows. Lastly, Roller Blinds create a sleek modern feel to any room due to their minimalist design aesthetic.
With so many choices available it'll be easy for anyone to find something that suits their needs and enhances their interior style. Next, we'll discuss why installing window blinds may benefit your home – whether existing or new construction.
Benefits Of Installing Window Blinds
Window blinds are an essential feature for the contemporary home. With their unique combination of energy efficiency, privacy and decorative appeal, they will create a more comfortable living space while also providing noise reduction and light control benefits that make them invaluable to both form and function.
Window blinds are a practical and alluring addition to any room, allowing you the flexibility of controlling how much light comes into your home. With so many designs available, it's essential to make an informed decision when deciding which window treatments will best suit your desired atmosphere – whether that be modern or timeless in nature.
Tips For Choosing The Right Window Blinds
Shopping for window coverings can be overwhelming, but an experienced interior decorator provides their time-tested advice to streamline the process. With these tried and true tips, finding the ideal blinds has never been simpler!
Like choosing any other type of furniture or décor item, selecting the right window blinds comes down to finding something that fits in with the aesthetic and design of your space. With a wide range of materials and styles available – ranging from classic vertical blinds to modern roller blinds or wooden blinds – there's sure to be something out there that you like!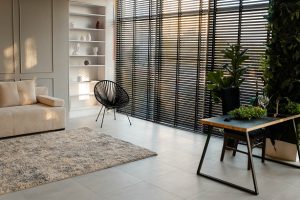 When shopping around, consider these factors:
* Functionality:
* Motorized Blinds – If you're looking for convenience, motorized blinds may be worth considering as they can easily be controlled using remote controls or voice commands.
* Blackout Blinds – These are great if you need complete darkness during certain times of the day. For example, blackout shades could help reduce glare while watching TV or create the ideal sleeping environment when needed.
* Style & Design:
* Material – Different materials will offer different aesthetics depending on what look you want to achieve in your space. Do you prefer natural wood? Vinyl? Or something else entirely? Choose accordingly!
* Color – Think about how color plays into your overall interior design scheme and pick something that will fit in nicely. Consider whether a neutral shade would work better than bolder colors to tie together various elements within the room.
No matter which option you decide on, window blinds can add a touch of sophistication to any abode and provide both functional benefits and visual appeal at the same time. By keeping these tips in mind while browsing through all the possibilities, it should hopefully become simpler to find exactly what you're looking for!
Conclusion
Installing window blinds is an easy and affordable way to enhance the look of any home. Whether you're looking for a more modern or traditional style, there are plenty of options available that will suit your needs. With the right type of blinds, you can create an atmosphere in your home that fits with the rest of your decor while also providing added privacy and light control. Plus, when it comes time to sell your house, having high-quality window treatments installed can help boost its value!
When selecting window blinds for your home, be sure to consider both function and form. Choose something that complements the existing colors and textures within the space but also provides practical benefits like energy efficiency or UV protection. The best part? You get to enjoy all these great features without sacrificing style!
For those looking to upgrade their windows' look and feel, adding window blinds is one of the most effective ways to do so. With so many styles and materials available, it's never been easier to find blinds that perfectly match your aesthetic vision as well as meet all functional requirements. So go ahead – permit yourself to explore all the possibilities this wonderful product has to offer!