Basement blinds are a great way to keep your basement cool during the summer, maintain privacy, and provide a sufficient amount of light. So, it is important to consider certain factors when choosing the best blinds for basement windows. Here is a comprehensive guide about "What blinds are best for basement windows?"
Whether you're looking for light control, and energy efficiency or just want to add some style and color to your space, there is a window treatment that will work perfectly for you. Some of the best blinds for basement windows include vertical blinds, faux wood blinds, and blackout blinds.
During the dog days of summer, basements can quickly become unbearable due to intense heat from direct sunlight. Installing blinds is a great way to not only keep your space more temperate and energy efficient all year round but also to provide an extra layer of privacy when you need it most!
What Blinds Are Best for Basement Windows?
Your basement can be both functional and stylish, depending on the type of blinds you install. Below are some of the best blinds for basement windows.
Cellular Blinds: These window treatments are a popular choice among homeowners for basement windows as they are energy-efficient, provide privacy, and allow natural light to filter in while maintaining privacy.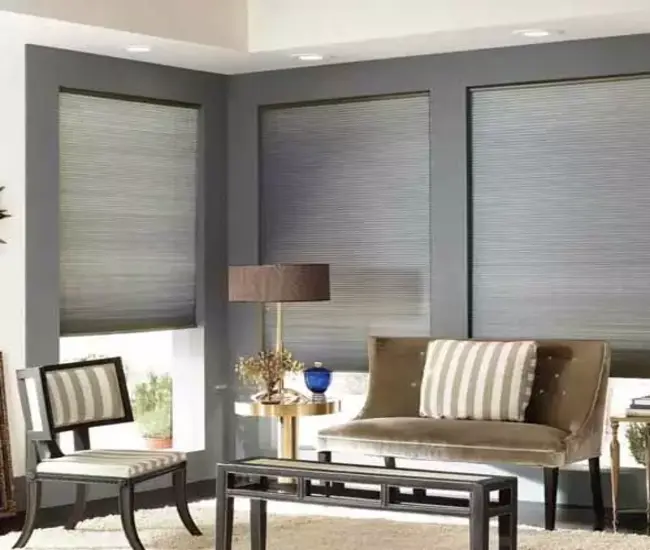 Roller Blinds: Roller blinds or shades are sleek and simple and work well for windows that require maximum privacy. They are easy to operate (raise, lower, and adjust) and can be paired with curtains to add a decorative touch.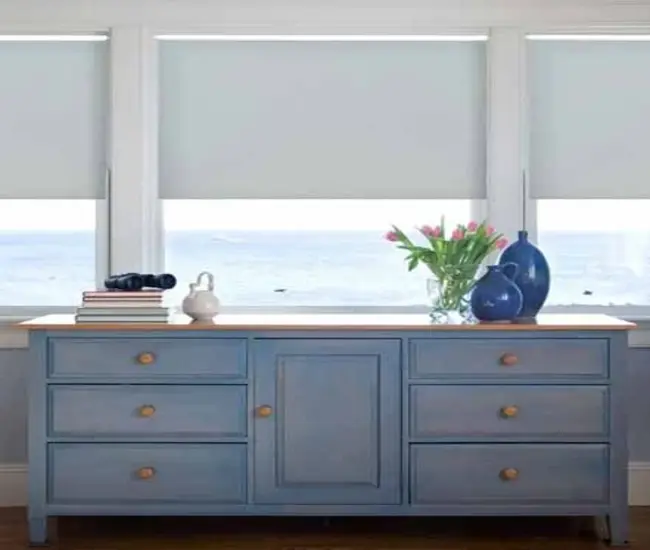 Vertical Blinds: If you have a large window or a sliding door in your basement, vertical blinds will be a good option. They provide privacy, are easy to operate, and can be fully customized to fit the window's size and style.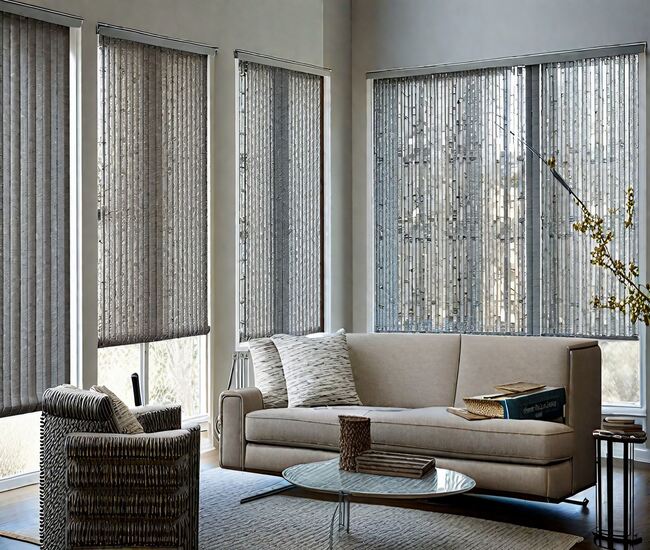 Faux Wood Blinds: If you want to add a touch of elegance to your basement windows, faux wood blinds are an excellent choice. They look like real wood but are made of synthetic materials. So, they exude natural beauty as well as offer resistance to moisture and humidity.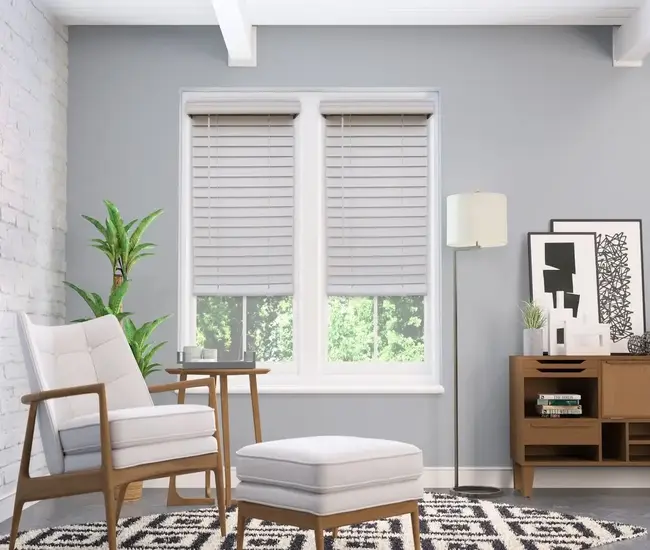 Blackout Blinds: If you are going to use your basement as a media room or bedroom, blackout blinds are an excellent choice. They block out light completely and provide maximum privacy.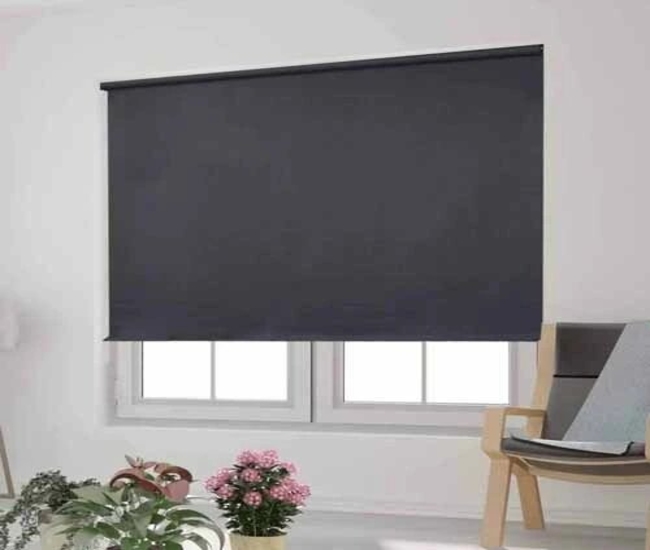 In short, roller blinds ensure a modern look with clean lines while honeycomb shades are perfect for insulation – essential in protecting the room from fluctuating temperatures. For added privacy, pleated shades lend an air of sophistication to any space, whereas blackout curtains provide total darkness if needed. So, whatever you're looking for, there's sure to be something that suits you!
Benefits of Installing the Best Basement Blinds
Homeowners find a multitude of advantages when they install the best custom blinds in their basements. In addition to improving privacy, regulating temperature, and increasing light control, these simple window treatments can also transform the aesthetic appeal of any space. Let's explore some of the key perks that come with purchasing apex-quality basement blinds!
Privacy Protection: Privacy protection is one of the main reasons why homeowners choose to install basement blinds in their homes. You can also easily adjust or close the slats depending on how much privacy you need. This makes it easy to protect yourself from prying eyes without losing out on natural lighting during the daytime hours.
Security and Light Control: With the perfect type of window treatment, you're able to keep your home secure while still allowing natural sunlight into the room.
Temperature Regulation: Superior quality basement blinds are also great for helping you to regulate temperatures throughout your home. During winter months, they help trap warm air inside while blocking cold drafts from entering through windows and doors. In summer months, they provide shade which helps reduce glare and insulate against hot sunrays – leading to energy savings when cooling costs begin to rise.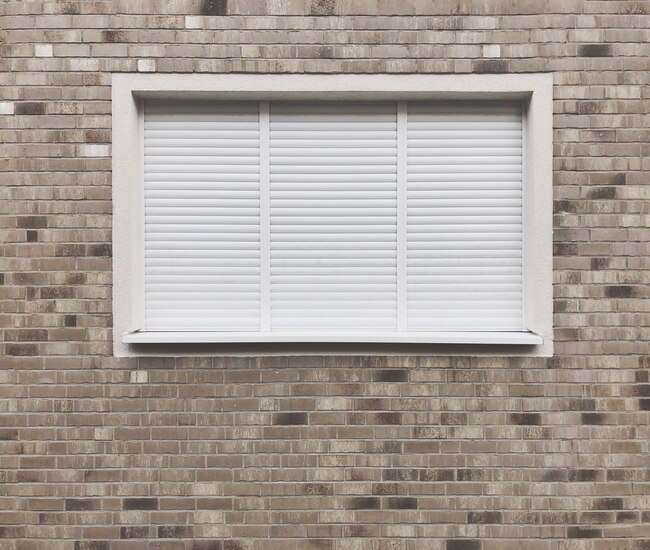 Greater Light Control: Additionally, these window treatments give you greater control over the amount of light entering your living space so you can create an inviting atmosphere regardless of whether it's daytime or nighttime outside.
These practical advantages make basement blinds a smart choice for anyone looking to upgrade their existing window treatments or increase their level of comfort within their home environment. Now let's move on to tips for choosing the right ones for your needs!
DIY Tips for Choosing the Best Blinds for Basement Windows
Selecting the perfect blinds for your basement can be intimidating. However, a recent survey conducted by Home Improvement Magazine showed nearly 80% of homeowners experience this feeling too! To break through that wall and find blackout curtains or light filtering options perfectly suited to your needs, consider these four easy DIY tips:
Identify the Most Suitable Blinds for Your Needs: Whether you're looking for privacy from the outside world or trying to reduce sunlight entering through windows in your basement, identifying the most suitable type of blinds is essential. Popular choices include roller shades, Roman shades, Venetian blinds, and cellular shades.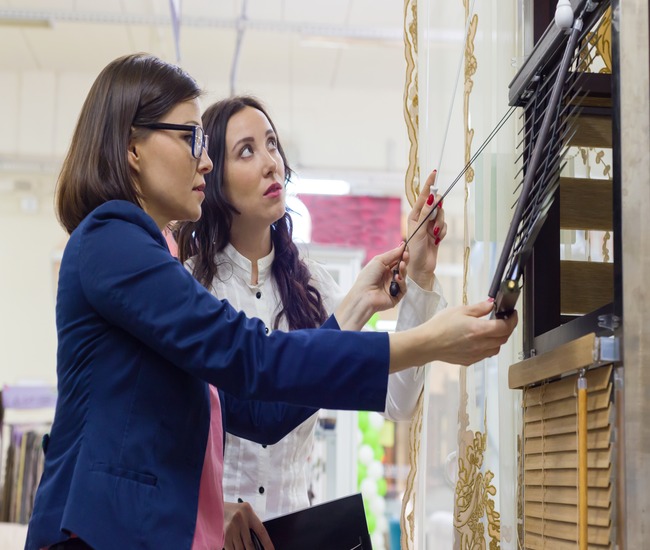 Consider What Materials Work Best in Damp Basements: Damp conditions can cause some materials such as wood and faux-wood to warp over time so look out for waterproof alternatives that won't be affected by moisture build-ups such as PVC/vinyl or aluminum slats.
Look at Different Levels of Opacity: If you want complete darkness during certain times of day, opt for blackout fabrics but if you prefer just a hint of light coming into the room, lighter fabrics may be more appropriate. You may consider sheer curtains or voile drapes layered with other types of window coverings like wooden shutters or bamboo shades.
Compare Prices Before Purchasing: Make sure you shop around online and offline before making any decisions as costs vary significantly depending on the material used and size required.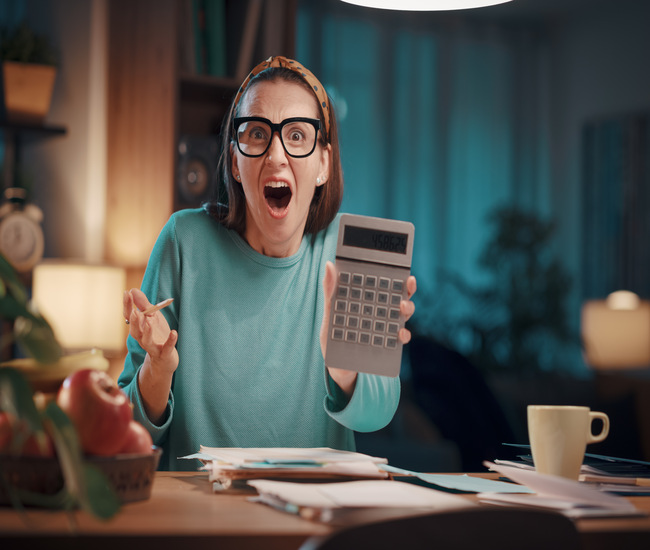 Choosing the perfect set of basement blinds doesn't have to be difficult; simply follow the above DIY steps and soon enough you'll have stylish yet effective sun-blocking solutions for your basement windows!
Conclusion
Installing basement blinds is a must-do for any homeowner who wants to keep the sun out and their privacy in. They're affordable, easy to install, and come in so many styles that you'll be able to find one perfect for your space. The right products will last longer and look better than anything else on the market – no exaggeration! So, don't hesitate: if you want superior light control with maximum privacy protection, installing high-quality basement blinds is the way to go!