Since their invention in early 1800's, Roman shades have been increasing in popularity. And they are in style in 2023. Their functionality, curb appeal, affordability, durability, customizability makes Roman shades a favorite choice for homes, offices, and other residential or commercial spaces. Read on to learn more about popular Roman shades style 2023.
Modern premium Roman shades are preferred over other window treatments for houses, like curtains, wood blinds, faux wood blinds, draperies, woven wood shades, and plantation shutters, for their diverse functionality and dominant aesthetic element. For example, you can install Roman shades in style 2023 on different types of windows for privacy, light control, energy efficiency, insulation, light filtering, blackout features, and style at any time of the year.
Also, Roman shades in style 2023 for homeowners can be fully customized for size, color, material (or fabric choices) design, texture, pattern, lift options, and so on. So, you can choose a personalized window treatment to suit any interior décor style in your home, office, or other space.
Various material choices for Roman shades include cotton, polyester, linen, wool, and silk fabrics. Also, different styles of Roman shades are available in blend fabrics, such as linen-silk and cotton-polyester. Different color choices for custom Roman shades include ivory, white, blue, silver, glacier, grey, and pink. Among custom color trends for premium Roman shades, white and ivory are more common in homes, offices, and other spaces.
Different Types of Roman Shades in Style 2023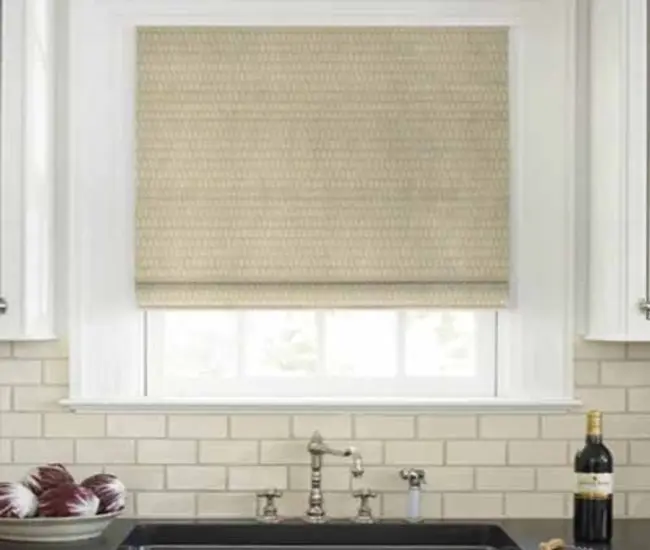 Different types and styles of Roman shades in style 2023 for homes, offices, and other spaces include:
Top-down, bottom-up – Plain Classic Style
Top-down, bottom-up – Flat Fold Variety
Trends in Roman Shades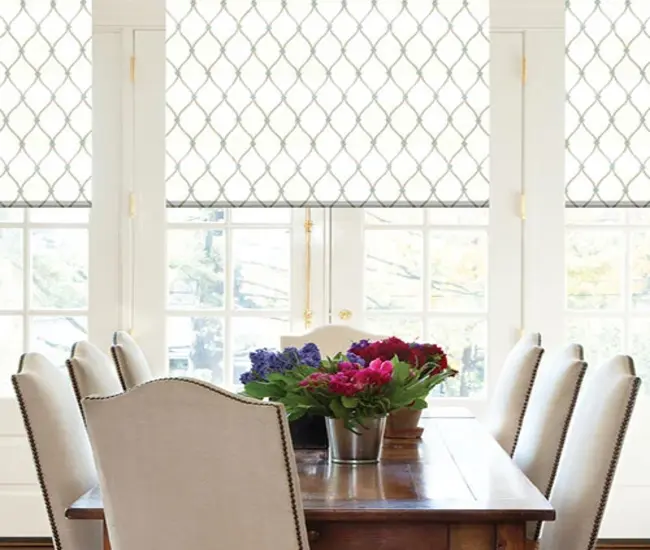 Top trends in custom Roman shades in 2023 include bold color and prints, mixed material combinations (like cotton-polyester and linen-silk), textured fabrics, patterned variants, blackout liners, cordless operation, motorization option, and smart home integration. With smart home integration, you can operate your premium Roman shades or blinds with the help of a voice command or a tap on the screen of your smartphone.
Bold Colors and Prints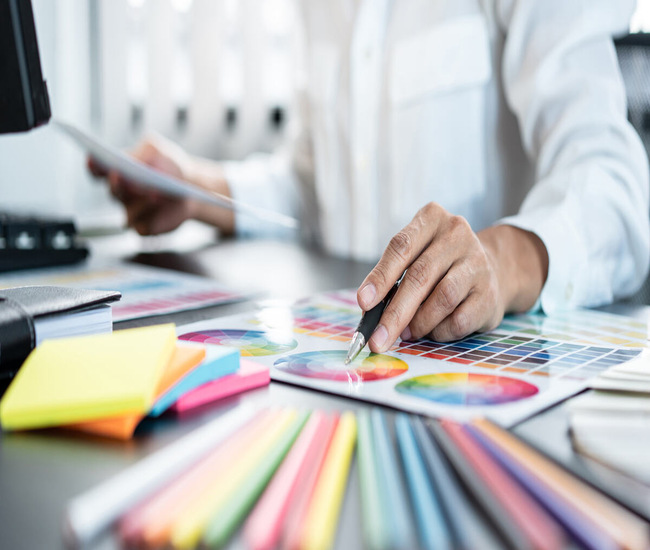 The bold colors like deep red, cobalt blue, and emerald green are a popular choice for Roman shades in 2023. Besides adding to the visual interest of a room's interior décor in your home or other space, bold colors can create a sense of depth and spaciousness. Also, they offer versatility to fit any interior décor and are resistant to fading.
Bold prints for Roman shade trends include stripes, geometric patterns, and floral prints. With bold colors for Roman shade styles 2023, you can add personality to your window treatment, create a cohesive look, and increase visual interest of your room's interior décor. Also, Roman shade fabrics with bold prints are durable and easy to clean in your home, office, or other space.
Mixed Material Combinations
While Roman shades for homes, offices, and other spaces are usually made of different types of fabrics, you can also go for mixed material combinations like fabric and wood, fabric and bamboo, fabric and rattan, and fabric and leather. Also, you can combine one type of fabric with another, such as silk and linen, and cotton and polyester.
Below is a brief discussion on mixed material combinations for Roman shades in style 2023.
Silk-Linen: Roman shades with silk and linen material combinations are a popular trend in 2023, as they can add a touch of sophistication and luxury to your window treatment. Also, these materials provide softness, warmth and a natural look to your room's interior décor.
Cotton-Polyester: Roman shades created from a blend of cotton and polyester fabrics are an affordable and durable choice for your window coverings in traditional and contemporary settings.
Fabric and Wood Combinations: A combination of fabric and wood for Roman shades can provide both texture and warmth to a room's interior. The fabric adds softness and texture, while the wooden part provides a natural touch.
Fabric and Metal Blend: A blend of fabric and metal is a popular trend. It adds a touch of industrial chic to your room's window covering. Metal elements can reinforce the edges of your Roman shade or blind and create a decorative accent.
Fabric and Bamboo/Woven Wood Shades: A combination of fabric and bamboo or woven wood can add a touch of natural beauty to a room. Bamboo can be used to create woven wood shades that can be layered with Roman fabric shades.
These are just a few examples of several mixed material combinations that are available for Roman shades on the online marketplace. Using mixed materials, you can give a unique look and add interest to your window treatment.
Textured Fabrics for Roman Shades
Textured fabrics are used to give a unique surface feel to Roman shades.
With textured fabrics for Roman shades, like jute, burlap, and linen, you can add a touch of beauty and texture to any interior décor style in your room. Other textured fabric trends for Roman shades include woven woods, velvet, and chenille. With woven woods, like bamboo, jute, and rattan, you can create aesthetically appealing woven wood shades.
Patterned Roman Shades
Patterned Roman shades are window coverings that feature a repeating pattern or design, adding visual appeal to your room. Some popular patterns for Roman shades in style 2023 include:
Floral Patterns: Floral patterns are a classic option, as they feature flowers, leaves, and other botanical elements.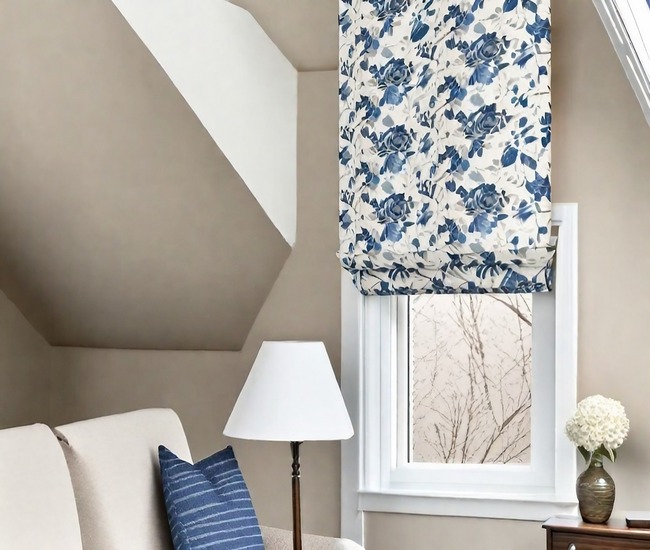 Geometric Shapes: Geometric patterns on Roman shades feature repeating shapes, such as diamonds, stripes, or circles.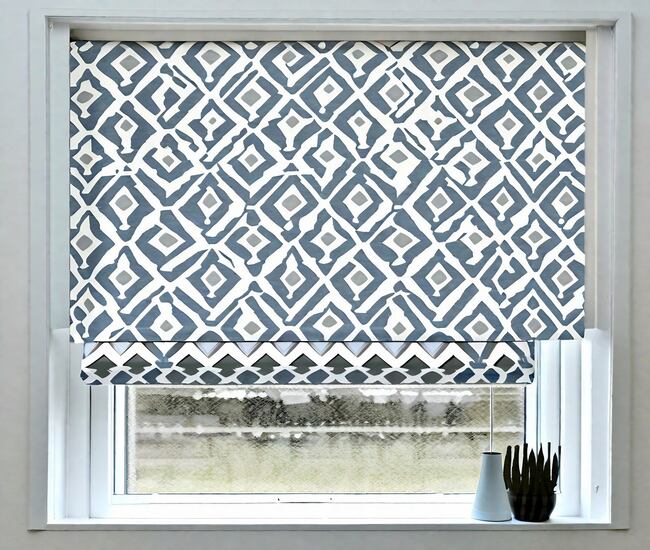 Animal Prints: Animal prints on modern Roman shades feature the patterns of various animals, such as leopard, zebra, or giraffe. Among them, zebra blinds and shades are very popular in 2023.
Stripes: Stripes exude a classic and simple pattern, as they feature parallel lines of varying widths and colors.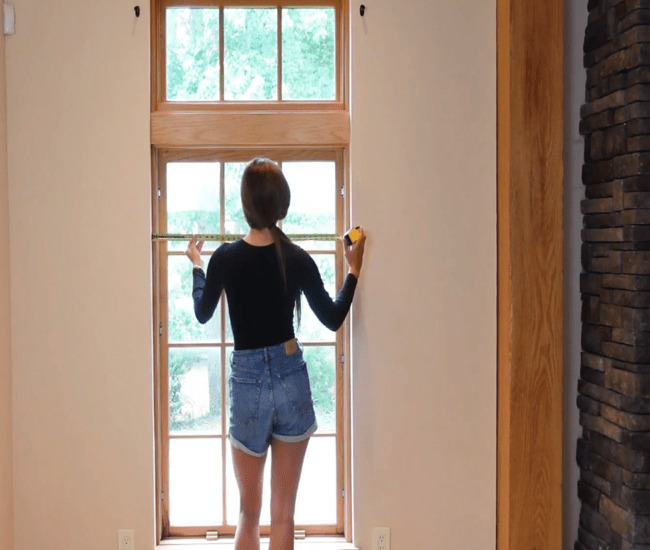 Mounting Options
Roman shades in styles 2023 are usually mounted on the wall around the window frame. However, you can also go for an inside mount to add beauty and sleekness to your window treatment.
Lift Options for Roman Shades in Style 2023
Roman shades in style in 2023 can be operated, i.e., raised, lowered, or adjusted, with different lift mechanisms, such as cord, continuous, cordless, motorized, and smart lifts. Among them, corded and motorization options are more common nowadays.
Affordability Factor
There are multiple factors that can influence the affordability of Roman shades, such as size, design, and material. For example, modern Roman shades made from polyester or cotton are relatively inexpensive. On the other hand, Roman window treatments made from silk can be quite costly.
Nevertheless, at Affordable Blinds online shop, you can buy various low-priced Roman shades in style 2023. Also, there are huge discounts on each product along with free samples and free shipping options.