Buying a roman shade can be confusing. We'll help you find the perfect shade for your home! Read below to learn more about roman shades and how to choose the best ones for your home.
Roman shades are an elegant, easy-to-install window treatment that can add style and sophistication to any room in your home. They're available in a variety of styles and colors, so you can find one that matches your decor perfectly. 
Here's what you need to know before buying roman shades:
What Is a Roman Shade?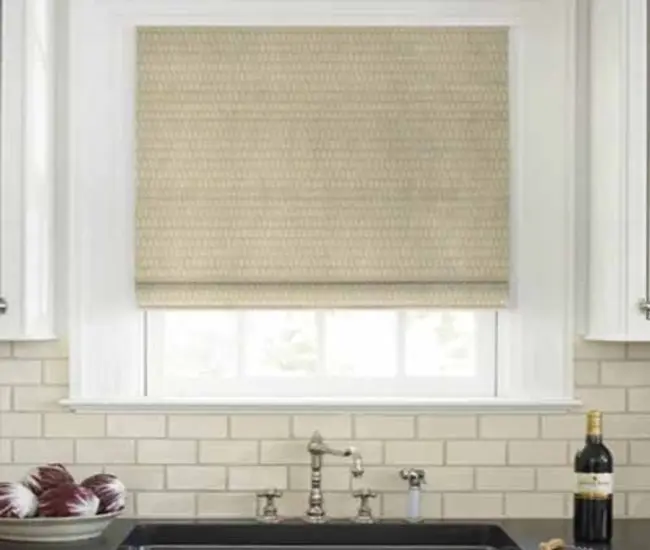 Roman shades are like traditional window coverings, but they have a more modern look. They're usually made of fabric or vinyl and they come in a variety of styles and colors. 
Roman shades are often used in kitchen windows because they can be easily cleaned and they don't require any hardware on the inside of the window frame. 
They're also great for bedrooms or other rooms that need privacy but still want some natural light coming in through the window.
How Roman Shades Work
Roman shades are made of fabric (usually cotton or linen) that is pleated into folds on either side of a metal rod or track. When pulled down over the window frame, they block out light and provide privacy while still letting light into the room through the top slats. 
Roman shades are available with either solid fabric or patterns printed on them; both types have their benefits. 
Solid fabrics tend to be more durable than printed fabrics, which may crack or fade over time due to exposure to sunlight (although this depends on the type of fabric used). 
However, printed fabrics can give your room an added touch of style if you prefer something bolder than plain solid colors.
Roman Shades Fold Styles
Roman shades come in a few different fold styles, which determine how they hang in your window. Here's the rundown:
Soft-fold roman shades are made with a flexible material that makes it easy to install. The fabric hangs loosely, like an accordion, and is usually offered in a variety of colors and patterns.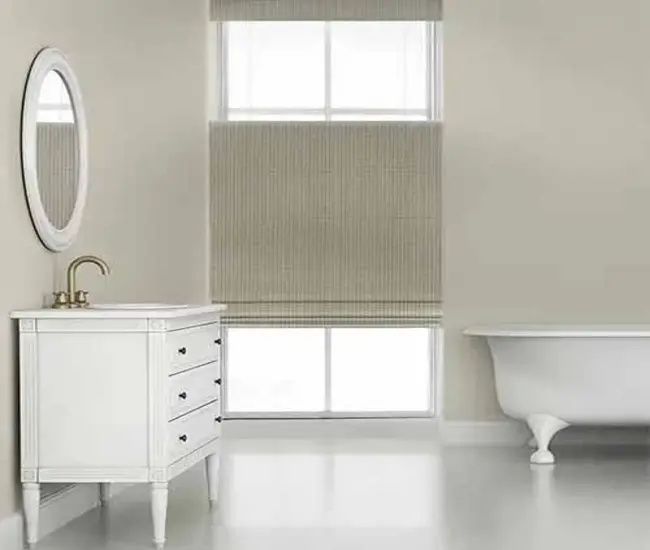 Flat-fold roman shades are made from heavy fabric like linen or cotton, and typically have a heavier weight than soft fold shades. They tend to be more formal looking and are often used in homes with traditional decor.
Plain roman shades are just what they sound like—no folds at all! These shades are great for covering up large windows that need full coverage because there's no gap between the shade and the wall when it's closed. 
They're also good for rooms where you want privacy but don't want to bother with any decorative detailing on your window treatment.
Relaxed roman shades are somewhere between flat and soft folds—they're not as soft as a flat fold but still have some give in them so they can be easily installed without any hardware or special tools required (like drills). 
Relaxed Roman Shades are best suited for rooms where light control is not important and where you'd like to keep things simple.
Front slats roman shade is the perfect choice for those who want a bit of privacy but still want to let in light. These shades typically have two or three layers of fabric and feature a cross-stitched design on one side.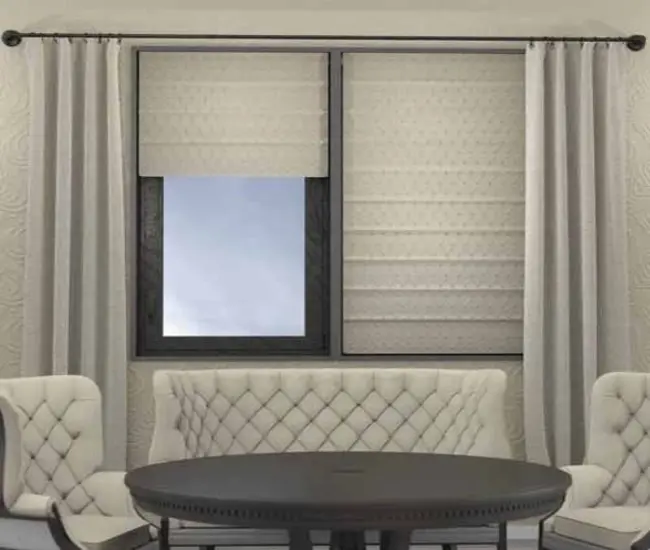 This style is a favorite among homeowners because it allows you to control the amount of light you let in through your window treatments.
Roman Shades Upgrade
Roman shades are a great way to add a touch of style and privacy to your windows. But if you're looking for the latest, coolest features, you've got to upgrade with a cordless lift, continuous cordless loop, and motorization.
Check out these three great options:
Cordless Lift: This option is perfect for those who want their shades to go up and down effortlessly. No more pulling on a string or having to get out of your chair! Just push a button and watch as your shade goes up or down at the touch of a button.
Continuous Cordless Loop: This option is great if you have a larger window that needs multiple shades to be controlled by one remote. With the continuous cordless loop, one remote can control all of your shades at once!
Motorization: Motorization allows you to give your home an added touch of luxury with automated window treatments that open and close at the push of a button. 
With motorization, you can choose from several different styles, including top-down/bottom-up lift and bottom-up/top-down lift, as well as continuous loops and cordless loops, so you can find exactly what works best for your home!
Roman Shades FAQs:
Roman shades are a great way to add a little privacy and style to your home. But if you're new to the world of roman shades, you might have some questions. Here are some FAQs that we've gathered from our customers:
What is a Roman shade?
A Roman shade is a fabric that is pulled down over your window. It blocks out light and can be used to block out light at night or to create privacy.
I'm looking for a Roman shade with a cordless lift. Is that possible?
Yes! We offer many different styles and colors of cordless Roman shades. You can use one of our custom color swatches to match your décor. 
Or you can order a sample if you want to see what the shade looks like before ordering.
Will these shades block out light?
Yes! Our Roman shades are made from heavy-duty fabric that blocks out 99% of light. They're perfect for bedrooms or other rooms where you need complete darkness at night.
How do I install my new Roman shades?
We have installation videos on our website that show step-by-step how to install each type of shade we sell (corded, cordless, roman). 
If you still have questions after watching the video, give us a call, and we'll be happy to help!
Can I get a custom length?
Yes! We can make your roman shade to any length you need.
What is the difference between Roman shades and roller shades?
Both Roman shades and roller shades are made of fabric, but Roman shades are mounted on a steel rod that allows them to be lowered to different positions. 
Roller shades, on the other hand, slide up and down on a track.
What are some benefits of using Roman shade fabrics?
There are many benefits of using Roman shade fabrics. They can help insulate your windows from heat gain or loss, they're easy to clean and maintain.
Also, they can help control light coming through your windows, and they come in many colors and patterns to match any decorating style.
Can I use Roman shade fabrics outside? How do I care for them?
Yes! You can use Roman shade fabrics outside if you keep them clean by washing them with mild soap and water every month or so. 
Avoid direct sunlight and rain—they will fade over time if exposed too often to these elements.