Shop Blinds, Custom Blinds and Shades Online Quality at Affordable Prices
Affordable Blinds specializes in high-quality shades and blinds at unbeatably low prices. Customers shop Affordable Blinds for Roman, Cellular, and much more!
All discount blinds and shades are completely custom and may be corded or cordless. Motorized options are available – great for homeowners with children or pets!
Custom Blinds
Cellular Blinds
Cellular Shades, sometimes referred to as Honeycomb Shades, are one of our favorite types of shades here at Affordable Blinds, as well as a favorite for many of our customers. They are in the same realm of versatility as Roman Shades and not only offer elegance and style, but also customization in light and privacy control.
The construction of Cellular Shades is what makes them so unique. They are made up of two or more layers that are joined together at pleats. The space in-between those pleats, referred to as the cellular compartments, help to trap air, therefore providing the best form of insulation to keep your home cool. If you are looking for shades to save you money on that next energy bill, or even want to block out some extraneous noise form outside, Cellular Shades are one of the top choices. The greater the size of the cell, the better then insulation. This is why Affordable Blinds has Cellular Shades ranging in sizes from 3/8 in (10mm) single cell, ¾ in (20mm) single cell, 3/8 in (10mm) double cell, and even triple cell.
Cellular Shades come in a few different types of fabric types including light filtering and blackout. Light filtering shades are perfect if you are just looking to diffuse the light in your room and retain a soft, warm glow. Blackout Cellular Shades, on the other hand, are best for places like bedrooms, media rooms, nurseries, or any room where blocking out 98% of light is necessary.
As with Roman Shades, Affordable Blinds has an array of designs and patterns for Cellular Shades, whether you are looking for a simple, solid color design or a bold pattern design. This makes it possible to find a set of Cellular Shades to complement the décor of any room in the house. Make sure to take a look into our large collection of Cellular shades so that you can find the perfect type to fit your needs.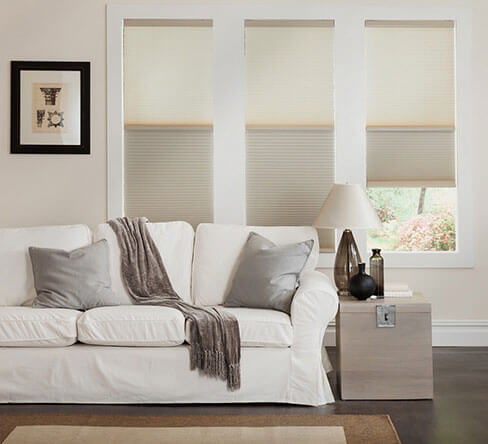 Shop
Custom Blinds and Shades
Roman Shades
Roman Shades combine the elegance and style of drapery with the utility of custom shades. From traditional to modern, they are truly perfect for any type of décor that you may have in your home, and add a nice, sophisticated touch to any room. While people typically correlate Roman Shades with a hefty price tag, here at Affordable Blinds, we're able to provide you with an array of high-quality Roman Shades without burning a hole in your pocket.
Similar to drapery, fabric blinds can be found in a vast array of fabric designs, from solid colors to bright patterns. You can also customize your Roman Shades with liners depending on the amount of light, privacy, or insulation, that you would like in your chosen room. One of the best characteristics about fabric blinds is the ease of operation. Simply lift them up and watch them fold evenly into themselves until they eventually become a small stack at the top of your window, allowing you to take in the view. There are a few basic types of folds that we can see with Roman Shades.
Plain Fold Roman Shades:
Plain Fold Roman Shades are easily one of the most traditional styles. The crisp pleats are subdued and supported by sturdy bars throughout. The seams on Plain Fold Roman Shades run every few inches. These are the perfect choice for someone who will constantly be opening and closing their shades, as well as if you have shallower windows.
Shop Plain Fold Roman Shades
Flat Roman Shades:
If you are looking for Roman shades with a simpler, more modern look, flat Roman shades might just be the ones you need. They are essentially full pieces of fabric that look flat and extended with the bar at the base when they are undrawn and neatly folded in accordion fashion when they are raised. Depending on whether you want to have a flat plane look or visible pleats, Flat Roman Shades can offer both. These are also one of the best choices if you are looking into bolder or brighter fabrics.
Shop Flat Roman Shades here:
Relaxed Roman Shades:
Unlike most of the other styles, Relaxed Roman Shades, sometimes referred to as Casual Roman Shades, do not have continuous pleats that run throughout, but are rather folded at the bottom. Relaxed Roman Shades are made with a full, gentle curve that runs along the bottom hem. Because of this, they have a more tranquil or relaxed type of aesthetic with the appearance of a smile near the bottom. They also work much better for outside mounts.
Shop Relaxed Roman Shades here:
Roman Shades are easily one of the most versatile options when purchasing a new set of shades for your home. Not only do they work well with any sort of home décor on their own, they can also be paired with other Roman Shades or drapery to add an extra touch of elegance or effectiveness to fit your looks or needs. Here at Affordable blinds, we know that Roman Shades work great to set the style of any room that they are in. Not only are they one of the more prominent trends in window-wear, but they truly work to provide privacy and comfort.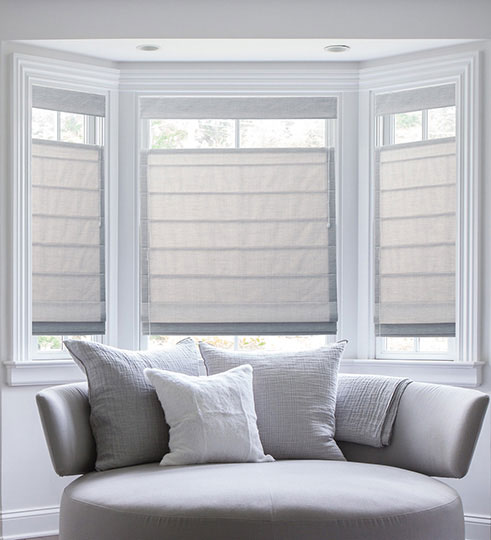 Shop
Blinds Shades
Pleated Shades
Pleated shades, sometimes referred to as pleated blinds, are made from fabric that is pleated. You can pull up the shades to have them sit flat at the top of the window if you don't want them to obstruct your view. The beautiful thing is, when they're down, they add a nice texture to any room that they are in. They also bring a nice, soft aesthetic to the windows that they are on while still allowing light to filter through so that a nice glow fills the room. Many people mistake them for cellular shades, though they are actually quite different. Pleated shades feature one layer of fabric throughout rather than two and are therefore less insulating.
You typically find that pleated shades are a made from a soft, woven polyester fabric that is permanently pleated. They are truly built to last as well. Our customers here at Affordable Blinds love the accordion profile of pleated shades. They are available in a wide variety of colors and are durable, yet to soft to the touch. Affordable Blinds offers pleated shades in cordless and top down bottom up (cordless) varieties. All hardware is color coordinated with the color selected for the shades. When you need to clean them, it is easy as pie. Just dust lightly or vacuum occasionally with the soft brush attachment.
Overall, if you're looking for a simple window treatment that is less expensive than most window treatments that you'll find on the market, pleated shades might be just the ones for you! Come check out our wide array of fabrics, lifting options, and shapes that we have available for pleated shades at Affordable Blinds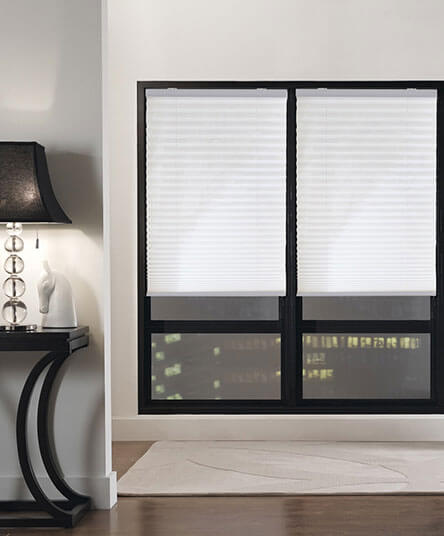 Blinds
Roller Shades
Roller shades live by their name in that they, well, roll up. These custom blinds and shades are made from a moving piece that is attached to a long piece of fabric. When you raise them, the fabric rolls up around a spindle and is then nicely concealed by cassette, a hard valance that covers a few inches at the top of the window. Not only do our customers at Affordable Blinds love the simplicity of roller shades, they also love the added qualities that make them so useful.
Though not as insulated as cellular shades, they do have small insulating properties that can help lower your energy bill a tad and keep your home cooler. Many roller shades are UV resistant to help block out the sun's harmful rays. This is why we also recommend them highly for commercial purposes. Their smooth, minimal, and modern aesthetic makes them perfect for fitting into any home with a more contemporary décor.
Because most roller shades come with light filtering properties and not blackout properties, we would recommend them for rooms where privacy is not the main priority. They are a very budget friendly type of shade and if you live in a milder climate where the weather stays fairly neutral year round, roller shades are the perfect choice! As for keeping them clean, you can simply use water and an easy detergent to make them look like new.
Shop Roller Shades here:
Blinds Shades
Solar Roller Shades
Solar roller shades share all the same basic characteristics as roller shades except that they offer a lot more protection from the sun. Not only that, but window blinds can keep your home cooler and keep your energy bill down!
Solar roller shades are usually built from a polyester weave that is combined with a PVC coating to give them extra strength. Even with that, the material is very soft. Here at Affordable Blinds, we have an array of solar fabrics to fit an array of different styles and decors. Not only do solar roller shades work excellently for rooms in the home, but they can also be placed outside for exterior use. You can also decide between a weave that is tighter or less tight depending on whether you want openness or protection and privacy. Luckily for you, we offer free samples of our online blinds solar roller shades so that you can test them out on your windows to make sure they are right for you!
Though solar roller shades also come in an array of fabrics from light to dark depending on your preferences. The fact that Solar Roller shades block out UV light can offer tons of benefits. Not only are you keeping your home cooler, you are also keeping sunlight off of your furniture and floors to help protect them from any discoloration. Solar roller shades are simple, modern, and have utility to them that makes them unique from many other types of shades out there.
Shop Solar Roller Shades here: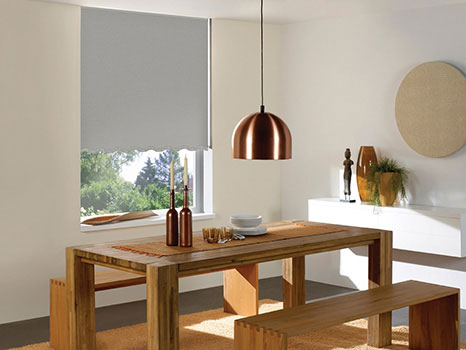 Motorized Roller Shades
So by now you all know that roller shades are a perfect choice for modern styles and decors. They can be made light filtering, blackout, or UV resistant, depending on your preferences all are available here at our blinds shop. How could you make these any better? Well by adding a motor of course!
Motorized roller shades illustrate the style of the technological age in any modern home décor. There are tons of great reasons to pick up a set of motorized roller shades. For one, they take all hazards of having wires on your shades out of the picture. Because they are controlled by a remote wirelessly, you don't have to worry about your little ones or pets at home accidently breaking or choking on the cord.
In terms of aesthetic, having a cordless window covering gives your shades a cleaner and sleeker look. The motor is hidden away inside the handrail of the motorized roller shades to give the seamless appearance. Our customers here at Affordable Blinds love to purchase motorized roller shades if they have windows that are a bit harder to reach. Many of our customers use them for skylights, larger windows, and windows that take up multiple stories in their homes. By using this intuitive technology, we're able to make everyday life just a little bit simpler.
Shop motorize roller shades here:
Blinds
Faux Wood Blinds
Faux wood blinds get their name because they are made to look just like real wood, though they are much less expensive. Our faux wood blinds are made from a high quality composite material that has an embossed wood grain, and helps add a unique and organic style to any room. One of the best reasons to get faux wood blinds rather than genuine wood blinds is that real wood can't hold up well in many different conditions or climates. If you were to put real wood blinds in more humid or wet rooms such as bathrooms or kitchens, you would notice them retaining water and wearing out quickly. Luckily the composite material helps to block out that kind of moisture.
Our customers here at Affordable Blinds shop love how affordable our faux wood blinds are. We have an array of shapes and sizes to help fit them into just about any window in your home or office. Because they are made to look like wood, they also come in a wide array of finishes and colors to help best fit your décor. If you're looking for something with a natural flare to put in your home that is also much more environmentally friendly than regular wood, we would highly recommend a set of faux wood blinds.
Shop Faux Wood Blinds here:
Blinds
Mini Blinds
Aluminum Blinds are easily some of the most cost-effective window treatments that you can find. While many people believe aluminum blinds to be old and out of style at this point, new designs have made them much fresher than they've ever been. At Affordable Blinds, you can find Mini Blinds in 1" corded and cordless versions.
The cordless versions are great because they completely eliminate the hazards of having a cord and give your blinds a cleaner and sleeker look. You can easily control them with an integrated handle located along the bottom rail. It easily tilts the blind open and closed with a simple push or pull. Our mini blinds are made with 7-gauge aluminum slats that are very smooth and reliable and can offer use that is long lasting so you never have to worry about having them tangled or mangled.
The corded aluminum blinds, while not offering the same safety, still give you the ability to lift the cord behind the blind when it is closed to get it out of the way. They close at a very tight angle to give you the best eliminatory quality with any incoming light. Because aluminum blinds come with an enamel finish on top, you won't have to dust them as much or worry about UV light fading them. With an array colors to fit any style of home décor, mini blinds are an excellent choice for window treatment on a budget.
Shop Mini Blinds here:
Blinds Shades Include
Woven Wood Shades
Woven wood shades can give a natural and organic look to any room in the home. They are made with natural bamboo slats that are woven on to hand fed looms. Not only does this make them much more environmentally friendly than regular wood shades, but they also have qualities that help them to filter out light and provide an excellent amount of privacy. In a way, they are very similar to Roman Shades in their design.
They are built with a durable pulley control system on the side that helps you raise and lower them smoothly without worrying about tangle. The use of woven wood shades in homes has seemed to have grown immensely in the past few years. Most of the reason is due to the fact that they can fit well with almost any aesthetic in the home, whether modern or traditional. They make for a window treatment that is difficult to compare to any synthetic shades, as the natural materials give them a unique flare unlike any other.
In our blinds shop you can choose whether you want to use these with or without any added fabric depending on your light blocking or privacy preferences.
Shop Woven Wood Shades here:
Drapery
There are tons of different kinds of drapery out there. Typically you'll find that if you compare drapery to blinds, they are more visually striking and can add volume and excitement to any room. If you're looking for a window treatment that works better in traditional rooms and can add a bit of a luxurious look to any room, we would highly recommend looking at drapery.
For one thing, they are great for colder climates in that they keep rooms warmer than blinds during cold winters. They can also help add privacy much better than many different kinds of custom blinds. In terms of their aesthetic, you can find drapery in a wide array of colors and patterns to add something a bit more stimulating to your window. You can also purchase them in a variety of thicknesses incase you want something like a sheer curtain rather than a heavy drape. With sophistication and aesthetic in mind, and a wide array of types ranging from ring top to grommet to back tab and more, if done right, drapery can add a lot to any room.
Shop Drapery here:
Affordable Blinds
Here at Affordable Blinds, we have a massive affinity for cheap blinds with top quality blinds and shades. Not only are they one of the most practical and customizable types of shades out on the market, but they also work with many kinds of décor and are very high quality. Affordable Blinds offers a wide array of roman shades, as well as a wide selection of discount binds and shades. You can find pretty much everything you need from flat roman to relaxed to pleated and beyond. These various types of shades provide different kinds of aesthetics to either give you that classic, elegant sort of look, or that modern look. We also have everything from cordless to top-down-bottom to RV blackout, so you can find the best style for you. You'll love the versatility of our discount window treatments, as they can either add a spark to help brighten up any room or bring some shade and ambience to the room by blocking out the sun. If it looks like wood and it hangs like wood, is it still wood. Not necessarily. If it looks like wood and it hangs like wood, is it still wood. Not necessarily. If it looks like wood and it hangs like wood, is it still wood. Not necessarily.
Shop Affordable Blinds Free Shipping Sitewide
Affordable Blinds is unique to its competitors as it gives you all you'll need for setting up your perfect blinds.
Purchase Your Favorite Blinds at a Discount
We all know that treating your windows can easily add up to the most expensive part of your home renovation. Trying to sift through the Internet or big box stores to find a set of blinds, curtains, or shades for a fair price can be extremely difficult, especially with the current market for these items. We've seen jaws drop at custom blind price tags. You can always go for the cheaply made roman shades, though they won't last you long and are typically not worth any cost. Here at Affordable Blinds, we carry some of the most popular brands of custom roman shades, as well as roller shades and cellular shades.
Free Shipping & Free Samples
We understand how important it is to make the right decision to begin with when deciding to finally purchase your set of custom blinds. Not only do we offer great discounts on our roman shades, but we also offer up to 10 free samples so that you can check out an array of window treatment colors and materials before you purchase. This will help you to make an educated decision about the kinds of blinds or shades that you will eventually add to your room. Check out our sample packs here: