Nursery window treatments are integral to the decor and function of your kid's room. They provide darkness (for better sleep) and light and safety (for playing), so it's important to choose the right type of window cover for your baby's room.
Romans or rollers? Sheers or cellulars? Corded or cordless? Ready to dress the windows of your little one's nursery with blinds, shades, or curtains that offer sound sleep, safety, and style?
Consider room darkening, blackout, noise-reducing, and temperature-regulating shades with a cordless control style.
Creating a comfortable and kid-friendly space is the top priority of parents when choosing affordable blinds for their child's room.
Here are 8 practically perfect and beautiful nursery window treatment ideas for optimal sleeping and playing. These toddler-friendly options will stop external light and drafts and prevent your newborn from waking up early in the morning or during the afternoon nap.
8 Nursery Window Treatment Ideas
1. Room Darkening and Blackout Window Treatments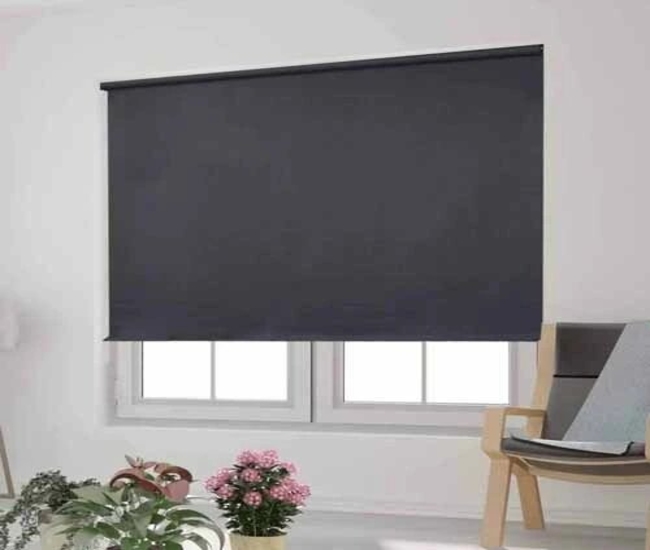 Create a night-like environment with room darkening shades, blocking 95 to 99% light. Go with blackout blinds for pitch darkness (100% light blackout). 
Choose light filtering window treatments if you want to block out less than 95% light. We recommend blackout as the best window treatment idea for a nursery.
| | |
| --- | --- |
| Pros  | Cons |
| Fully darken your kid's bedroom | More difficult to clean than vinyl blinds |
| Keep heat and cold out | Fade due to UV rays |
| Block noise | |
| More privacy than light filtering shades | |
2. Top-Down/Bottom-Up Roman Shades
With the top-down/bottom-up option, you can raise or lower your Roman shades from both top and bottom with your hand or even your finger. Customize them for color, size, style, design, and texture. Choose from soft fold, flat fold, plain classic fold, European relaxed fold, and front slat fold options.
| | |
| --- | --- |
| Pros  | Cons |
| Safe & easy to use | Reduced natural light |
| Lots of fabric designs | Semi-blocked view |
| Various fold styles | |
| Two openings for light & air flow | |
3. Layered Sheers with Romans
Looking for simplicity and style? Soft, sheer fabric curtains are lightweight window treatments that provide ample natural light, fresh air, and some privacy.
Plus they add a gauzy, breezy appearance to the nursery's interior design concept.
You can go for a white, bright look or a colored, printed design to match your toddler's room's decor.
Pair sheers with interior mounted heavy fabric Roman shades for dual functionality – switch between sufficient light and sufficient darkness by raising and lowering the interior blackout fabric.
| | |
| --- | --- |
| Pros  | Cons |
| Dual light/sleep functionality | A costlier option |
| Maximum to minimum light options | |
| Rich, crisp, & luxurious look | |
| Layered look enhanced decor | |
4. Nursery Shutters
Baby room shutters are incredibly safe window dressings as they don't have any loose lift cords dangling down.
When their slats are closed, they provide goodnight's sleep to your toddler. 
Besides light management, they allow cool air in and keep nasties out.
The moveable slats of these nursery window treatments give you the ultimate control over how much passers-by can see into your kid's bedroom.
| | |
| --- | --- |
| Pros | Cons |
| Low maintenance costs | Difficult to change or install |
| Easy to clean | Cannot be completely raised |
| Temperature and light control | |
| Air insulation | |
| Child-safe opening and closing | |
5. Motorized Cellular Blinds
Improve the convenience, security, and energy efficiency of your kid's room with motorized cellular or honeycomb blinds.
When it comes to ease of operation, these battery-powered nursery window treatments can be opened or closed with the push of a button or a remote control.
For security, integrate these nursery blinds into your existing smart home automation system and raise or lower them even when you are away from your home.
For energy efficiency, their cells or pockets trap air, acting as a barrier against the transfer of heat or cold into your baby's sleeping quarter. 
This phenomenon helps you to save big on heating or cooling costs in all weather conditions.
Pros
Cons

Ultra ease of operation

More difficult to clean correctly

Open/close with voice & app

A much costlier choice

Heat & light

insulation

Noise reduction

Blackout option
6. Mini One-Touch Blinds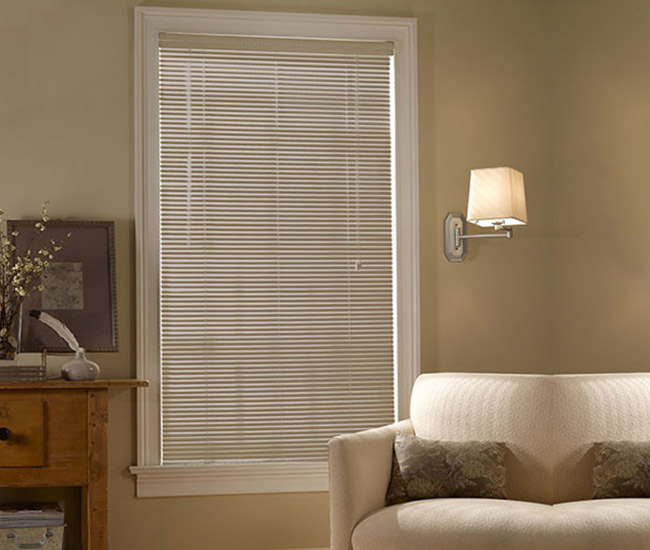 Choose sturdy, simple, and versatile value mini blinds with additional slats for tighter closure. One-touch mini blinds are simple to operate and look cute with their mini 1" slats. This is what your kid will love to have in the nursery when playing.
Mini-slat nursery blinds come with the potential to insulate light and heat to provide your kid with a dark, cozy, and comfortable environment to enjoy better sleep at any time of the day or night.
| | |
| --- | --- |
| Pros  | Cons |
| Most affordable | Get damaged easily  |
| Quick, one-touch operation | Little insulation value |
| Effective light control | |
| Enhanced visual interest | |
7. Day & Night Blackout Nursery Shades
Want to switch between day and night like conditions in your kid's room at any time? 
Choose day and night cordless shades with sheer or light filtering (day side) and blackout (night side) fabrics, each of which should be big enough to fully cover the window.
They allow you to transition from light filtering to 100% blackout. Keep the night side half raised and day side half lowered to maintain privacy from bottom, while allowing sufficient light to sail in from the top part.
| | |
| --- | --- |
| Pros | Cons |
| Easy switching between full light and full darkness | Installation requires drilling |
| Sun protection | High-cost maintenance |
| Beautiful look | |
| Incredible customizable | |
| | |
8. DIY Options
Do store-bought blinds not serve your needs or tailor-made options cost too much? Do you know how to sew? If yes, here is a great idea to create your own nursery window coverings.
A more affordable and practical option, DIY baby curtains give a perfect look and functionality and add sweetness and style to your baby's room.
Purchase simple fabric panels and decorate them with trims, colorful fabric ties, or pom poms at the junction between the curtain and its rod.
However, before cutting the fabric, you need to take accurate measurements of the width and height (w x h) of your window frame for a perfect fit. Learn more about how to measure nursery window treatments.
Pros
Cons

The simplest & cheapest option

Little skill will spoil the project

Save big on professional

installation

A time consuming activity

Complete customization

Inside and outside mount

options
Key Considerations When Choosing Nursery Window Coverings
i. Safety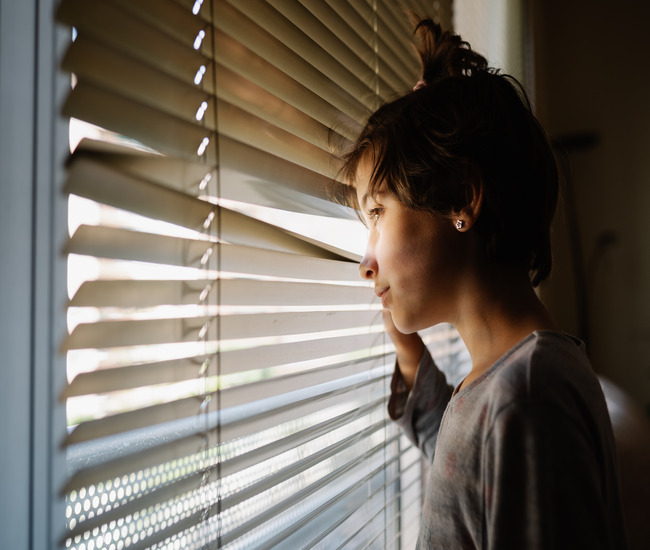 Do blinds in your toddler's room have long strings hanging down?
According to CPSC's New Federal Safety Standards for Custom Window Coverings, corded window coverings pose a strangulation hazard.
Your infants can get entangled in control cords or yank the shades down. Always go with kid-safe cordless blinds.
In addition to choosing a cordless option, select fire-safe fabrics.
An additional safety measure is not to place stuffed animals, bumpers, and pillows inside your baby's sleeping cabin until she is a year old.
ii. Light Regulation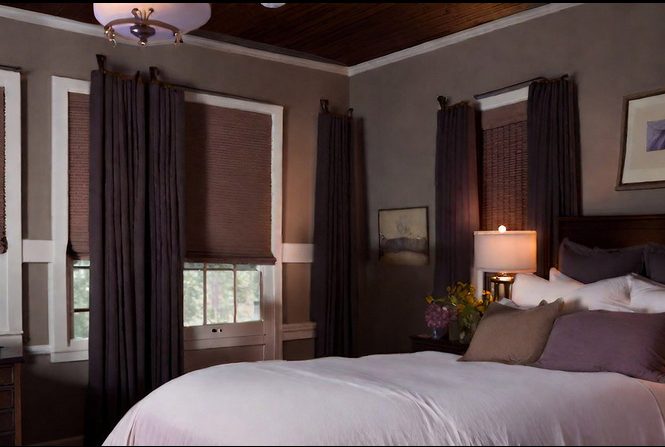 How much natural light do you want to stream into your baby's room and at what time of the day?
Consider window coverings that provide different light control options, from 100% light blockage for naptime to ample light for playing.
You can layer blackout shades with sheer curtains or light filtering shades.
iii. Temperature Regulation
Your child-safe blinds should keep the nursery cool in summer and warm in winter by blocking outside heat or cold from sailing into your baby's room.
iv. Noise Reduction
Outside noise is detrimental to the peaceful sleep of your kid. Consider a window covering that provides sufficient noise insulation.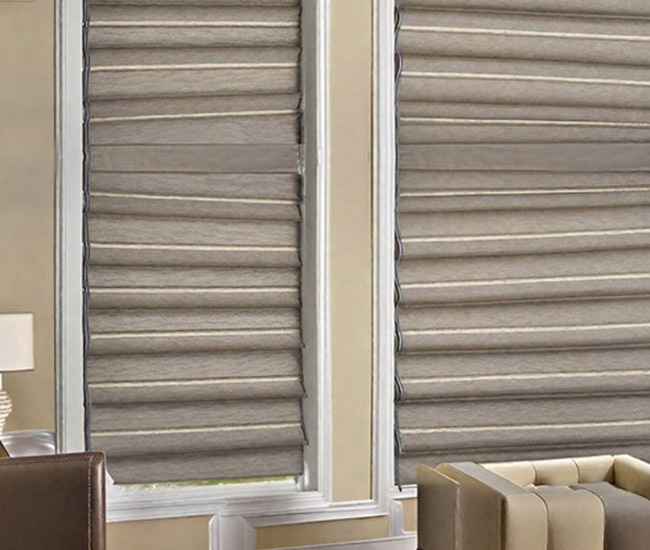 v. Decorative Element
Want to add visual interest to the interior of your kid's room?
Add a valance to your blind or choose a blind with a built-in valance.
Whether you select gathered, scarf, or straight valance, it will make your nursery's window treatment look amazing.
This decorative and classic element can hide the mounting hardware and make the nursery's window look sleeker.
If you want a more structured and dramatic effect, add a cornice – a simple, wooden frame box on the top of the window.
vi. View to the Outside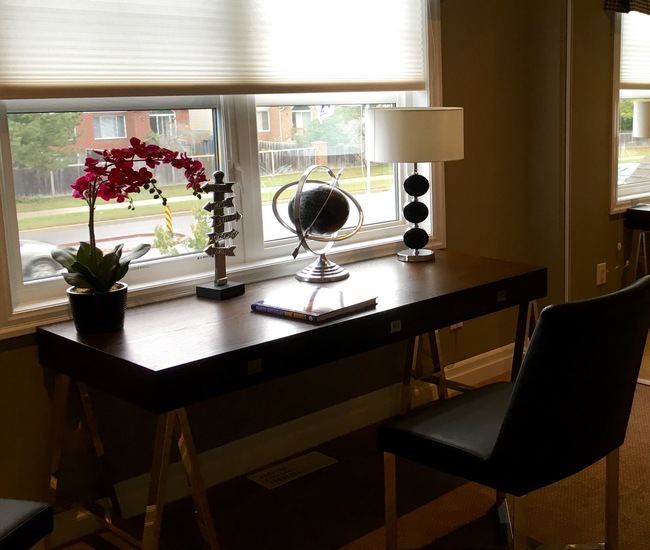 Want your kid to have a full view of the outside scenery when not sleeping? 
Here is a great nursery window treatment idea! When pulled back, curtains cover a considerable amount of window glass, reducing the width of your windows. 
When using curtains in your kid's room, purchase wide-paneled drapes and fix the rod a bit away from the edge of the window frame.
With this arrangement in place, your nursery curtains will be completely pulled back without blocking the view.
vii. Proper Installation
Mounting hardware, casings, and rods can be dangerous for your kids if they fall. Fix all hardware and decorative elements directly to the wall brackets. 
Learn more about how to install nursery window treatments.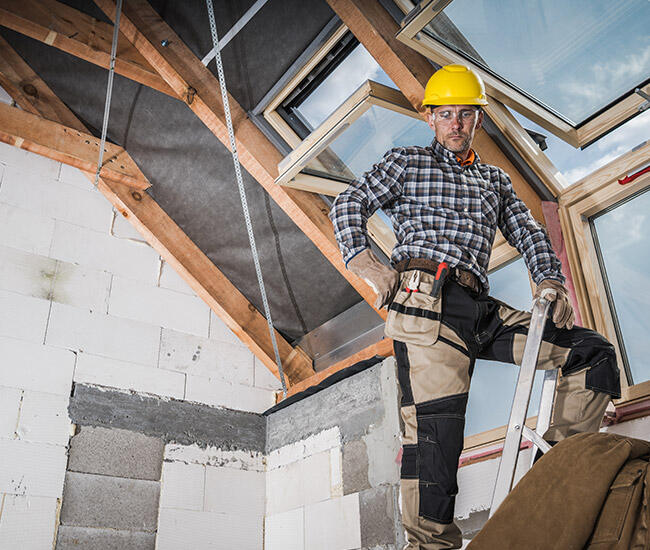 viii. Reasonable Pricing
Your chic and safe nursery window treatments should also be reasonably priced, so you don't have to break the bank to get them home. 
The average price of kid-friendly window covers ranges from as low as less than $20 to $200.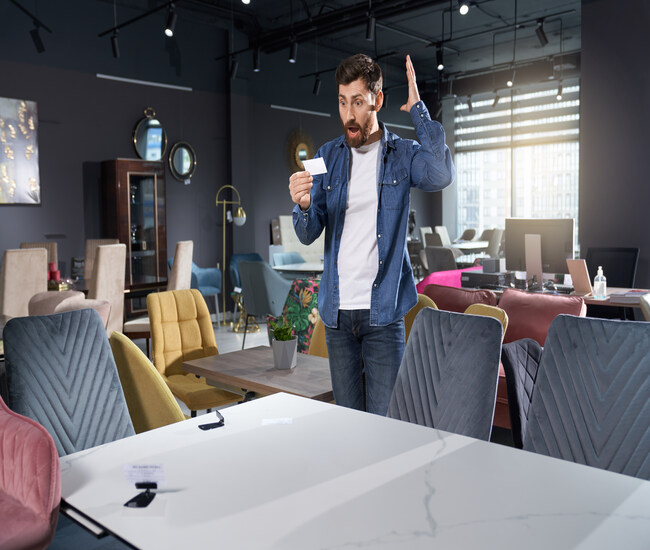 What type of curtains are best for a nursery?
Blackout and insulating curtains are best for a nursery to create a dark and cozy space for your babies to rest. They will prevent waking your kids in the early morning or during the afternoon nap.
Is it OK to have long curtains in a nursery?
No. It is best to keep curtains short, cordless, and out of reach in a nursery, so your little ones won't get trapped (or strangled) in them or pull them off the wall.
What type of shades are best for a nursery?
Room darkening, blackout, noise-reducing, and temperature regulating shades are best for a nursery to help your baby sleep soundly.
What is the most popular window treatment today?
Cordless cellular shade is the most popular window treatment today for its sleek look, kid safety, 100% light control, temperature regulation, energy efficiency, custom fit, ease of use, and affordability.
Need Help?
If you need expert advice about practical nursery window covering options, contact our professionals using 24/7 live chat or give us a ring at (800) 863-6109.