Honeycomb blinds, often referred to as "cellular shades", are one of our most popular window treatments. This is because they provide customers with a wide variety of advantages, from insulation to light control to privacy and beyond.
If you're unsure whether honeycomb blinds are the right choice for your home, come with us as we explore some of the top advantages.
Top Reasons To Buy Honeycomb Blinds
1. Great Insulation
Honeycomb blinds are made to provide supreme insulation compared to other types of window treatments on the market. They block out heat when the summer rolls around, though they are also able to keep cold air out during the winter months.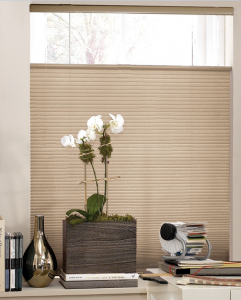 They are constructed with fabric cells that work to trap air while providing insulation.
The great thing about insulation is that it can help cut down on energy costs. Forget about having to run your air conditioner all day, every day, throughout the summer.
2. Modern Design
Cellular shades are made with a slim profile. They don't require a lot of depth to work well either. When you raise the fabric on honeycomb blinds, they simply fold up against the top of the window, completely out of the way. Whether you want the look of sleek, modern blinds or a wide-open window, honeycomb blinds can get the job done.
3. Tons of Privacy
Not only do honeycomb blinds provide users with great insulation properties, but they also provide them with greater privacy. For those looking for a private bedroom or den experience, honeycomb blinds are a wonderful choice. When you purchase them in light-filtering or blackout, they block light extremely efficiently compared to other types of window treatments on the market.
The reason they block out light so well is that they are made up of multiple layers of fabric, making it difficult to look through them if you are standing on the outside. If you want additional levels of privacy, we recommend selecting a double-cell option, as double-cell construction provides a much thicker build.
4. Noise Cancellation
If you decide to go for double-cell honeycomb blinds or honeycomb blinds with thicker fabrics, you have a better chance at canceling outside noise. If you have a home theater, home studio, or bedroom, having that added noise cancellation can be a treat. You can turn your home into a zen space with a simple window treatment!
Getting Your Honeycomb Blinds At Affordable Blinds
We know that it isn't easy shopping for window treatments. There are so many different types on the market, each of which has unique advantages and disadvantages. Plus, most window treatments can be out of reach in terms of price, which can make it hard for regular, working people to afford them.
Our goal here at Affordable Blinds is to sell high-quality, yet affordable window treatments so that everyone can bask in the joy of creating a space to call their own. Make sure to take a look at our Honeycomb Blinds selection to see if we have what you are searching for!