Are you looking to save money on your energy bills? Believe it or not, the answer may lie in something as simple as window coverings. Window treatments are an often overlooked piece of the home design that can have a major impact on your energy costs. As an energy efficiency expert, I'm here to tell you how choosing the right window treatment can help you unlock the secret to lowering energy bills.
The type and amount of sunlight entering your windows has a huge effect on heating and cooling needs throughout the year. The wrong kind of window covering (or none at all) can cause temperature imbalances inside your house. This causes air conditioners and heaters to run longer than necessary – resulting in higher electricity bills for you! On the other hand, using proper window coverings gives homeowners more control over their interior climate, making it easier to maintain comfortable temperatures without spending too much money.
By investing in good quality blinds or shades, you can reap valuable dividends when it comes time to pay those pesky monthly utility bills. In this article, we're going to explore why window treatments are so important for saving energy and what types will work best for every room in your home. So if you're ready to start saving some cash with smart decisions about windows, let's get started!
Benefits Of Window Coverings
Window coverings offer numerous benefits to homeowners in terms of energy savings, reducing bills, and controlling sunlight. They can also help reduce noise levels both inside and outside the home. Window treatments provide an insulating barrier between your living space and the outdoors, trapping heat during colder months while reflecting away heat on hot days. This helps keep indoor temperatures more consistent throughout the year, allowing you to use less energy heating or cooling your home. With strategically placed window treatments you have better control over which areas of your house receive direct sunlight – helping avoid overheating rooms and furniture while protecting carpets and furnishings from fading by blocking UV rays. By taking advantage of all these features, you'll be able to save money on energy costs as well as preserve the look and feel of your interior decor for years to come. Now that we've discussed all the key benefits let's move on to the types of window coverings available today.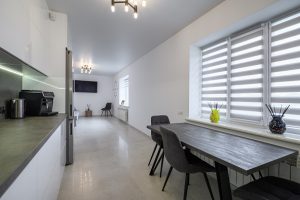 Types Of Window Coverings
Homeowners looking to save on energy costs should consider investing in custom blinds. An array of options are available, from blackout curtains and roller shades to thermal curtains or drapery panels – each capable of helping you maintain a comfortable temperature while keeping those costly bills at bay.
Cellular shades provide insulation against both hot and cold air infiltration while preserving the view outside. Blackout curtains block out light which helps regulate temperatures inside during extreme weather conditions. Roller shades have an extra layer of insulation that also blocks out UV rays from coming into the room. Thermal curtains insulate each pane of glass making them great at keeping warm air indoors during winter months. Draper panels add another layer of insulation across the top of windows while still allowing natural sunlight to come in when open.
Window coverings offer excellent opportunities to improve energy efficiency around your home with minimal effort.
Strategies For Improving Energy Efficiency
Improving energy efficiency does not have to be a complicated process. It can start with something as simple as window coverings. With the right energy-saving strategies in place, you can reduce your electricity and heating bills significantly.
Energy-efficient windows are an important part of any home's insulation strategy. They help keep hot air out during summer months and cold air out during winter months – thereby reducing energy costs all year round. But adding thermal insulation by way of curtains or shades can also give you significant savings on your utility bill. Heat-blocking curtains and light-blocking shades provide additional protection from damaging UV rays while helping to regulate the temperature in both summer and winter seasons. So investing in quality window treatments is worth the money when it comes to saving energy and lowering your monthly utility bills.
Not only will these measures cut down on electricity usage but they also protect furniture, flooring, carpets, artwork, and other valuables from fading due to extended exposure to sunlight. The cost savings associated with using these products easily outweigh the initial investment over time – making them an excellent choice for those looking for effective ways to improve their home's energy efficiency.
Conclusion
As an energy efficiency expert, I'm often asked how to reduce a home's energy bills. The answer is simple: window coverings! Window coverings are an effective and affordable way to lower your energy costs by allowing you to better control the amount of light coming into your home.
With a vast array of colors, materials and budgets to choose from, window treatments are an easy way to add style while saving money. Blackout curtains have the added advantage of trapping warm air in during winter months and cool air within during summertime – allowing you to make significant savings on your heating & cooling bills all year round.
Moreover, studies have shown that using window coverings can save homeowners up to 25% annually on their energy bills – making them one of the most cost-effective ways of improving your home's energy efficiency. So if you're looking for a fast, easy, and affordable solution for reducing your utility costs, then invest in some quality window coverings today!