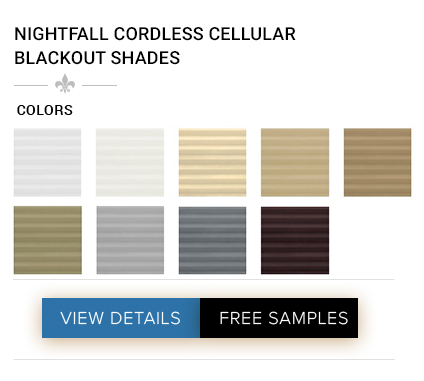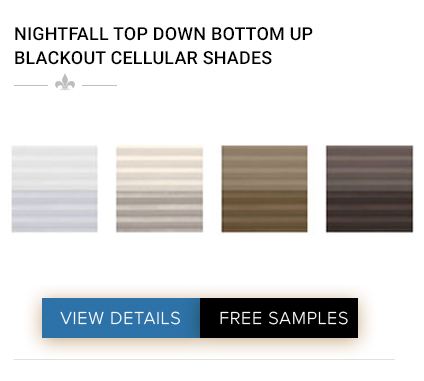 Double Cellular Shades
Double Cellular shades are a good choice for the living room, bedrooms, playroom, man caves, and even the bathrooms. They can with stand the moisture humidity and precipitation. They are easy to clean and will retain their pleats.
Double Cellular shades are the best and most energy efficient window coverings you can buy. They use a series of cell pockets to trap air around your windows, keeping your rooms warm in the winter and cool in the summer. Therefore, saving you money in your electric bill.
Double Cellular shades act as a blockade against outside temperatures to keep your home more comfortable than without them. Since a double cellular shade has two pockets, it offers double the energy savings of a single cellular shade.
Double Cellular Shades insulate your windows by trapping air in pleated pockets, so if energy efficiency is a concern, the double cellular shade is a great choice.
Normally single cellular shades are less expensive than double cell, however it is possible to find a combination of a custom option that is equivalent to the cost of a single cellular cell shade.
BENEFITS
Double Cellular Shades offer energy efficiency and privacy. The unique design helps block airflow through windows, acting as a thermal insulation barrier and keeping in warmth. The double cellular material provides and maintains greater energy efficiency in homes, especially during the colder months, sequentially saving you money all year long.
Double Cellular Shades feature cordless control, makes it safer for homes with pets and children. Having no cords will stop strangulation and other household risks caused by cellular cords. The cordless feature comprises a small handle that allows the user to lift and lower the cellular shade without the use of a pull cord. These are uniquely designed to ensure they can be set in any position. This means, whether the homeowner wants their shades half raised or open all the way, they can do so without harm to their children or their pets.
Double Cellular Shades can be custom-cut to your window's width, ensuring perfect fit and better light control and privacy. They provide an elegant and polished look, making sprucing up rooms in your home in a unique, beautiful and cost effective way.
Double Cellular Shades act as insulators since they trap the hot and cold air that goes through windows. Double cellular share are considered better insulators because they have more cells to block out air than single cellular shades.
During cold weather the blinds keep the heat and warmth in. During the warm weather the blinds keep the sunlight out, they block some of the sunrays with keeps your house cool.
UNIQUE FEATURES
Noise Blockage
The unique design of the double cellular shades also means they can help block-out noise. Buyers requiring significant sound eliminations will benefit from the double cellular shades, since these shades offer sound suppression levels compared to single cell cellular shades, so you can sleep soundly.
Improved Home Value
Updated window treatments such as double cellular shades can help upgrade the look and value of a home. They can be a less expensive renovation options for homeowners who are trying to upgrade the value of their home. Double cellular shades are constructed from two intertwined cells, which then form a double layer of material. Due to the increase in material strength, double cellular shades are more effective at insulating a room and blocking sunlight from entering the property.
COST-EFFECTIVE DÉCOR
Double cellular shades are a budget-friendly way to add a high-end, modern energy to your home space.
QUALITY
They are extremely attractive, and the fabric is very durable.
You can open and close them effortlessly, and they have a lovely range of color choices.
They feel solid and tight, as though you will be able to depend on them for years.
EASY CARE
Easy to install, inside or outside mountable.
Easily lift and lower and stay in place when released.
You can easily remove dust from cellular blinds by using a feather duster or a brush attachment on your vacuum cleaner.
Designed with high-quality fabrics that are soft, durable, and easy to clean
Cellular blinds are the easiest window treatment to clean and have anti-static and dust repellent properties.
No special products needed.
Double Cellular Shades Galery
[envira-gallery id="768"]