Looking for practical tips to choose the right color for your window blinds that you'll love for years to come? We've got 8 top tips to choose a window blind color that will perfectly match all your decor elements, from window trim to wall color to flooring.
Just focus on matching your decor style and think long term, when shopping for new decor-conscious window treatment solutions.
Choosing the right window blinds color is one of the most fun yet most difficult decisions to make when buying new affordable blinds. Even a decor risk-taker would think twice when deciding between a neutral hue and trendy pattern.
Here are quick hints. Want to make your windows the focal point of your room? Go darker or bolder. Think otherwise? Go lighter or more neutral.
Just keep your window covers clean and well-maintained to give the same fresh look for a long time.
8 Things to Consider When Choosing the Perfect Color for Your Window Blinds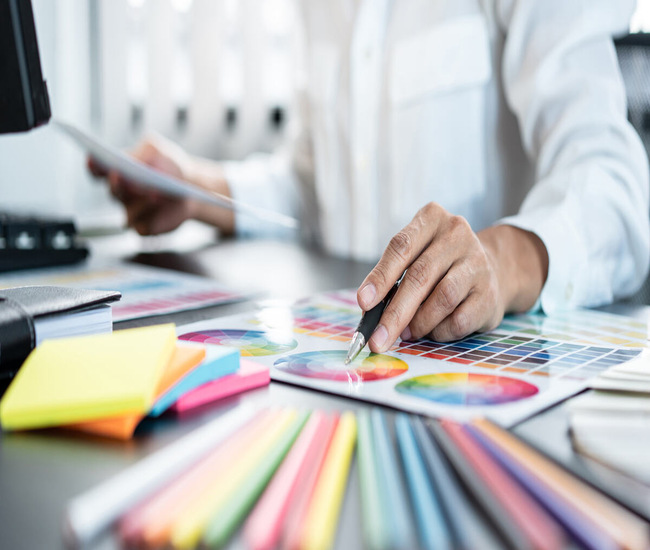 Tip 1: Coordinate Blinds to the Color of Window Trim
Matching the color of window blinds to that of the window trim or molding is a failsafe strategy that most homeowners lean on, when purchasing new window covers.
If your trim has a neutral look, such as white or off white, go with the same hue for your solar shades, roller shades, cellular blinds, sheer shades, or other window blinds that you've selected for your home. Neutral colors are guaranteed not to clash with other decor elements. This classic appearance won't go out of style any time soon.
However, such a look will not make your windows or window treatments the focal point of your room.
Did you know? Every neutral color has a cool or warm tone to it, as there is no such color as a "plain white". Plus color may look different on the computer screen and in-store under different lighting conditions. So, we recommend ordering a free sample of your chosen color to hold against your window molding to make sure it's the right white.
Tip 2: Match to Your Wall Color
Want to make a little more of a style statement? Match your blinds to your wall color when customizing them to fit your decor. It's a safe and easy option to embrace the new trend, as tone-on-tone looks are more in style now.
An alternative is to choose blinds lighter than your wall color to create a lighter, more cohesive look.
Tip 3: Consider the Color of Flooring, Carpeting, Furniture, etc.
Matching your window blinds your floors and other existing fixtures is a great way to complement your decor. If your floors, furniture, carpeting, cabinets, and other finishes give a gorgeous look of natural wood, select shades that add natural wood tones to your window.
Some window coverings with natural colors and stains include wood blinds, faux wood blinds, and bamboo or woven wood shades.
Tip 4: Match Blind Color to Your Room Accessories
If you want to install fabric blinds, such as soft fold Roman shades, roller shades, draperies, and curtains, try to match the fabric material's color to the accessories like rugs, accent chairs, fabric sofas, books, and pillows.
Make sure to carefully measure the window frame and precise fabric cut for more decorative appeal.
Tip 5: Consider the Size of Your Room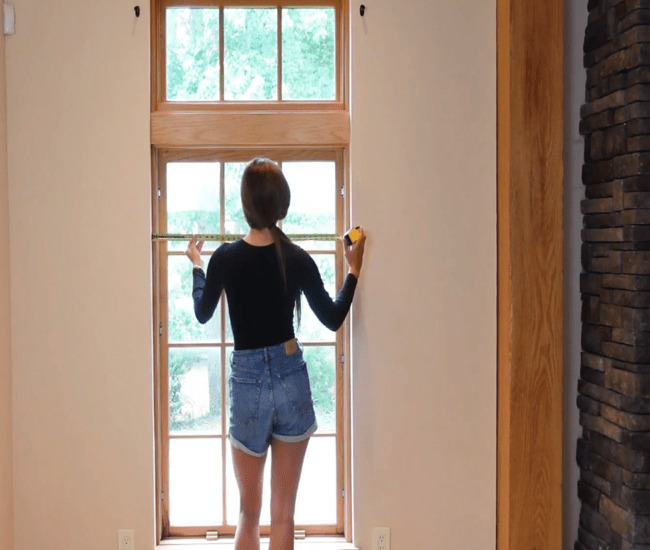 i. Bigger Rooms
Is your room bigger with a lot of windows? Would you like to add depth to your larger space and make it feel cozier? Choose a darker color for your blinds, such as bronze, black, blue, brown, copper, red, deep blue, and sullen tone gray.
These dark-colored fabrics will provide a luxurious visual appeal to your room and will pair well with other colors in your decor settings in your spacious room. Plus, if your room has lots of light, dark colors will perfectly contrast with sprawling walls.
If you have large glass panes, such as sliding doors, order a few samples of dark-colored window blinds to see how your room will look when these window coverings are pulled open or closed.
ii. Smaller Rooms
If your room is smaller, choose a lighter color on your window treatments to make your space feel more open, bigger, and brighter. If you go with darker colors, they will make your small space feel even smaller.
Tip 6: Bold Colors to Make a Statement
Want to make a bold statement in your white or neutral room and tie different decor elements together? Choose fabrics in bold colors, such as reds, blues, bright oranges, and purples to create contrasts.
Such color contrasts work well with both neutrals and solid hues. For example, you can install modern black shutters or darken-stained wood blinds to make a bold statement with a classic touch.
Another advantage of using contrasting colors is that it will make your window a focal point of your room.
Tip 7: Consider Layering Bold and Neutral Fabrics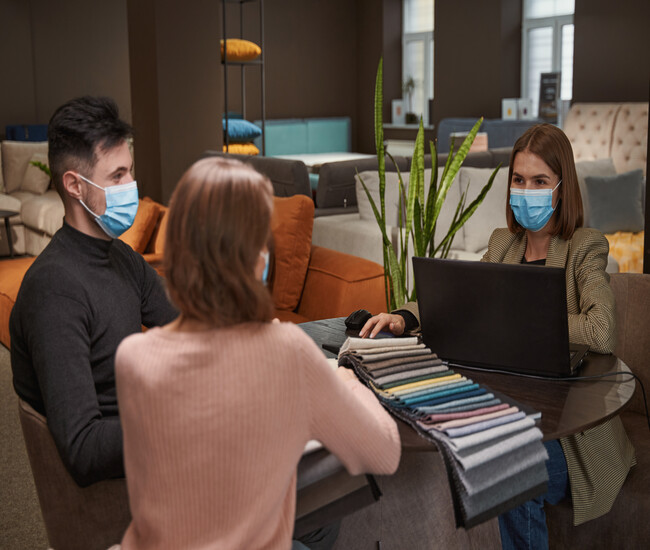 Do you want to install new blinds in a big hall in a restaurant, where you keep switching between different decor settings for meetings and parties, etc?
We recommend layering a bold-colored fabric with a neutral one, such as pairing a lighter sheer shade with a darker Roman blind. Here a beautiful floral patterned Roman shade will also do.
Such dual-fabric window coverings often match with mixed decor settings.
Tip 8: Think About Light in Your Room
If you want to hang new blinds in areas of your home with plenty of light, such as kitchen, living rooms, and dining rooms, consider light-colored blinds to give a lighter, softer look to the windows. White, cram, and pastel are popular light-colored choices.
Alternatively, consider darker colored blinds for the spaces like bedrooms and media rooms.
FAQs
What color of blinds should I choose?
When choosing the right color for your blinds, consider lighting, cohesiveness of decor, style (classic or contemporary), wall color, flooring, size of room, and function of room (dining room or bedroom). For example, a dining room will need light-colored blinds, while a bedroom will function better with dark-colored blinds.
Should blinds be lighter or darker than trim?
There are 3 popular choices when coordinating the color of blinds with window trim. (1) Create exact color-match with trim for a more consistent, cohesive look. (2) Choose a lighter color if you don't want to make the blind a focal point of your window area. (3) Select a darker (or bolder) color to make the fabric a focal point of the overall window treatment.
Should blinds be lighter or darker than the floor?
Window blinds darker than the floor are a better choice. An even better option is to coordinate the color and texture of your blinds with that of the floor. For example, if you have fixed wood-textured tiles on the floor, go with wood blinds or natural woven wood shades.
What is the most popular color for blinds?
Among neutrals, beige, white, and greige (a neutral gray with a hint of beige or brown) are the most popular colors for blinds. Among darker colors, black, red, and blue are preferred choices for window covers.
Need More Help?
Still not sure which color to go with, for your new window blinds? Contact our customer care professionals or talk to our Design Consultants using 24/7 live chat or give us a ring at (800) 863-6109. You can also order a free sample before ordering a blind with 100% satisfaction guarantee.