Zebra shades, otherwise known as dual shades, are easily some of the most popular shades on the market today. If you're looking to add an element of elegance to any room, whether in the home or at the office, zebra shades are an excellent choice.
Zebra shades work to combine style and functionality, providing the light control capabilities of traditional blinds with the beauty of fabric that you get from roller shades. By simply adjusting the panels, you can either let in a little bit of natural light or close them completely to darken a room.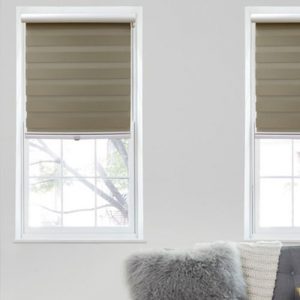 Here are some of the top features we love about Zebra Shades:
Light Filtering Technology
The original intent with shades was to exclusively block light from coming into a window. However, zebra shades allow users to control the amount of light coming in. With a variety of fabrics to choose from, you can diffuse the harsh rays of sunlight and allow a softer, more luminescent light to peer in.
With the cool zebra shade design, you can look through the slats to see outside your window. Whether you want to enjoy some natural light or maximize privacy, the choice is yours!
Modern Style
Zebra shades combine contemporary and traditional designs, making them perfect for the blended, modern household. Interior designers and homeowners everywhere talk about how much they love zebra shades.
At Affordable Blinds, we have a diverse selection of zebra blinds for all kinds of decor. There is no doubt that you'll find the right shades to add to your home's appeal.
Durability
Compared to traditional blinds, zebra shades are far more durable. They are often treated to be completely stain and dust-resistant as well. You can protect your valuable and furniture thanks to the fact that they utilize UV protection. Plus, they are seriously easy to maintain. There is no doubt that you will get many years of use out of a good set of zebra shades as long as you keep them out of harm's way.
Insulation Properties
One thing that we love about zebra shades is that they are incredibly functional when it comes to insulating the home. You can prevent air from escaping, which helps to get rid of unwanted heat or cold depending on the season. With a good set of zebra shades, you'll end up saving tons of money on your energy bills.
Not only will you get to enjoy the comforting ambiance that zebra shades supply, but you will also get a chance to reduce your carbon footprint without having to run your air conditioner or heating unit all the time.
Getting Your Shades From Affordable Blinds
Not sure where to get a good set of zebra shades?
Make sure to give us a call here at Affordable Blinds if you need help! We have a wide variety of options to choose from and incredibly low prices that will save you money. We look forward to helping you create your dream space.