When you are busy digging around the Internet looking for the best types of window treatments for your home or office, you might end up stumbling upon zebra shades.
Zebra roller shades or zebra cordless shades are very elegant and are well-renowned for their versatility, easy operation, and contemporary look that works in just about any modern environment.
Because we love these shades so much, we wanted to write a little article to discuss them with you so that you can hopefully consider them when you decide to make your next window treatment buying choice.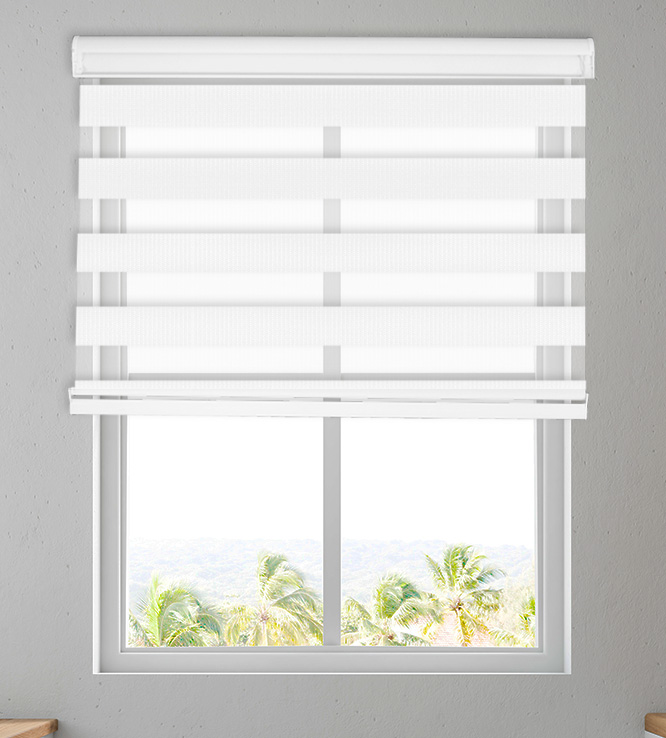 So What Are Zebra Shades?
We like to think of zebra shades as somewhat of a modern alternative to your traditional horizontal blinds. Cordless Zebra Shades allow you to transition between total darkness and privacy and sheerness with light. This is because they use a unique roller shade design!
Zebra Shades can be adjusted with ease so that the few-inch "zebra stripes" line up with one another, offering you and your family a bit of privacy when you need it. Plus, they provide the necessary insulation and light control that people seek out in modern window treatments.
You can then adjust the blinds by about an inch to allow the sheer portion to show. This will allow in a little bit of daylight. There are many different light-filtering options available to those who are looking for Zebra shades, as well as blackout options for those who are looking for some more private styles for their bedrooms or living rooms.
Why Should You Choose a Zebra Shade?
Zebra shades are very unique in that they allow you to set the tone of your home by adjusting the level of the incoming light. You can simply pull on the cord or adjust the cordless versions to let a little bit of light into the room. This is perfect for those who like to switch back and forth when privacy is wanted.
Zebra shades make a wonderful addition to just about any window, though we recommend them for living rooms, bedrooms, and rooms that are similar, as they give you a bit of a spin on the classic horizontal blind or roller shade.
How Do Zebra Shades Work?
Zebra shades work in a few different ways. Some zebra shades use cords or chains that allow you to adjust the shades. This way you can either see through the stripes when you want to or completely retract the blind so that you get a private feel. Others are cordless, allowing you to adjust using the bottom railing instead.
Getting The Best Zebra Shades for Your Home
Here at Affordable Blinds, we know a thing or two about the wonderful world of Zebra Shades. As some of the most versatile shades around, we recommend them to many of our customers. If you have any more questions or you need help finding the right window treatments for your home, make sure to get in touch with us.