Blackout cellular shades are one of the most popular window treatments on the market today. They are wonderful for modern decor and great for those who are looking to cut down on energy costs.
Cellular shades have a fresh and futuristic look in general, so if you are looking to modernize your home, cellular shades are a solid choice. Of course, as a proud homeowner, you want to optimize your window treatments in the best way possible.
Let's explore how you can use blackout cellular shades to your advantage.
Room
It is important to consider the type of room that you choose to put your shades in. Cordless cellular shades can fit into certain spaces very naturally. One of the first places you might consider putting blackout cellular shades in is your bedroom.
They look really slick and modern resting behind dresser drawers or beds, giving your room a modern yet inviting look while blocking out natural light. Plus, blackout cellular shades can provide an extra bit of privacy.
Plus, blackout cellular shades have insulating properties so your room sits at a comfortable temperature no matter what time of year.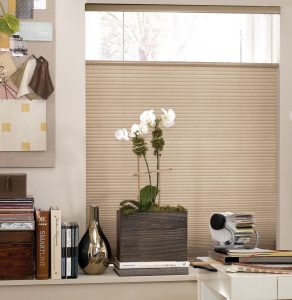 Window Type
We highly recommend that you use cellulars shades in rooms with low ceilings. This is because the clean edges on cellular shades can make rooms look taller than they actually are.
Rooms that are on the large side are great for cellular shades as well, as the available space can be emphasized through the simplicity of the shades.
Cellular shades are also wonderful for full-length windows, as they can cover large windows from the top to the sill without leaving any gaps. Plus, the look of the layers provides a sense of warmth and softness to any room.
Decor Type
Lastly, your shades should feel like a piece of the decor in your home. If you have modern or art deco decor in your home, cellular shades are perfect. On the other hand, if you have a French traditional or country-style look, the clean and simple lines on cellular shades can provide a nice contrast.
To create a more uniform look in your home, you can match the color and texture of the shades to your furniture too.
Of course, when it comes to blackout cellular shades, you will likely be looking at darker colors and thicker textures. We recommend playing around with a few different colors of cellular shades to see what fits best.
Getting The Best Cellular Shades For Your Home
As you can see, blackout cellular shades are much more versatile than most people think. From the bedroom to the den, they work in a number of rooms, and from traditional to modern, they can complement a number of different types of decor.
Here at Affordable Blinds, we have a number of incredible options for all your window treatment wants and needs. It's time to take action and get a set of high-quality blackout cellular shades for your home