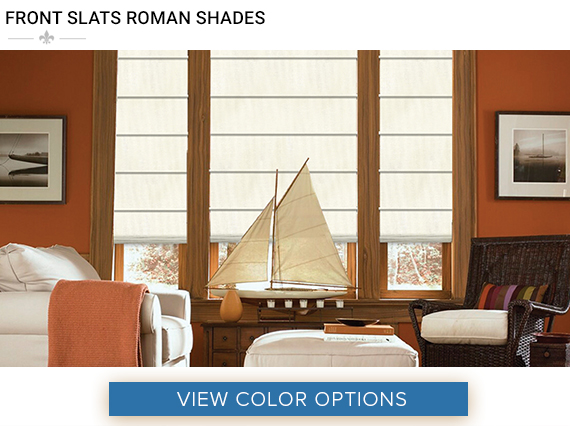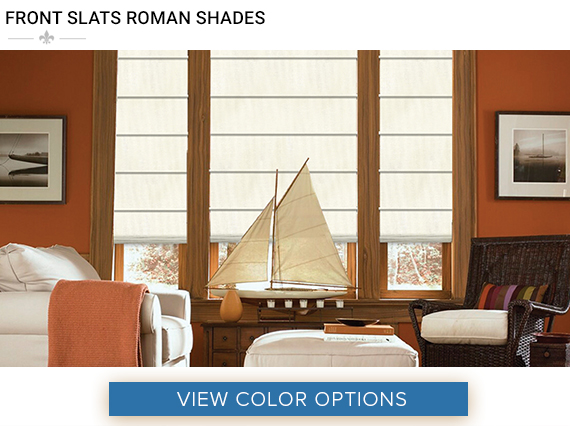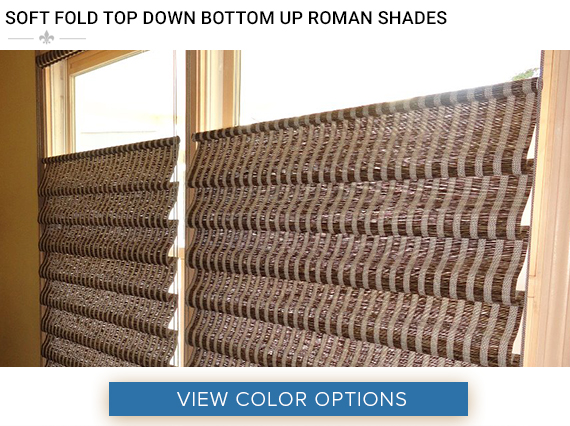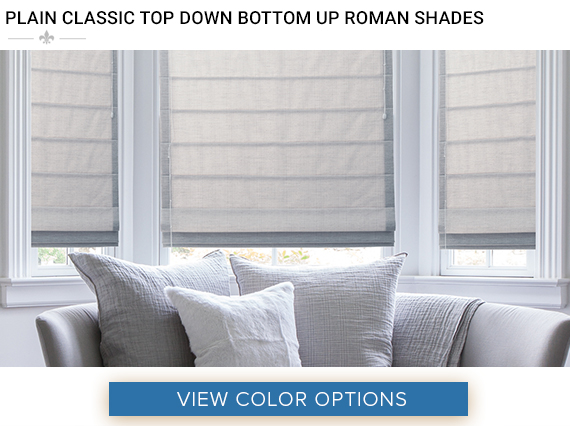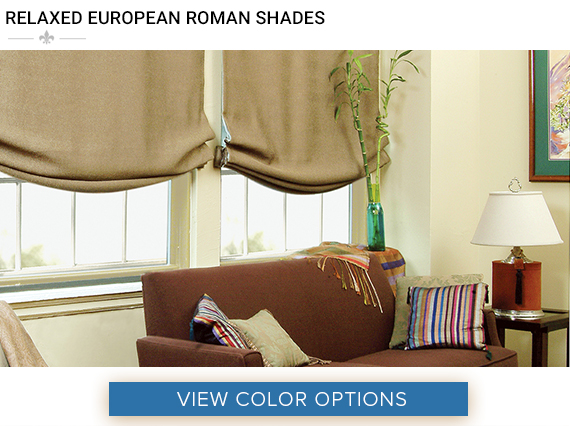 Pleated Roman Shades
Elegance is probably one of the first words that spring to mind when we think about pleated roman shades. It is something special seeing them installed on the windows, creating a special feeling. Pleated Roman shades are available in different designs, styles, and colors. They are also obtainable in shapes that let you utilize the shade on almost any type of roman that you have in your home. The question on whether to go for pleated shades is indeed a matter of taste and preference.
Privacy and Environmental Control
As a stand-alone item, pleated roman shades have a below average rating for privacy and for controlling light into your home. To offset this manufacturers' offer a liner that can be bought optionally with your shade. In terms of environment and privacy Honeycomb shades and Roller shades, all outrank pleated shades by utilizing solid textures through the design that are better at filtering light and visibility. This design is also helpful at insulating your home from colder weather conditions which are also a consideration in energy costs.
Colors, Textures, and Design
Pleated Roman shades have excellent options for design, texture, and color. You could invest a lot of time researching and looking at the different options. This is really where you find the design, style, and color that best suits your home. With the countless options it may seem overwhelming, so the first step is studying all the different types of shades. While the options for design, style, and color are many the basic form of each shade type is similar. First decide which type is what you visualize and once that is decided start exploring the design, texture, and color for the shade you select.
Maintenance
Pleated Roman shades mostly come with anti-static treatment meaning dust will be repelled away from settling on the shades. This will reduce the time spent dusting the shades even though it will not get rid of it altogether. For more thorough cleaning you'll need to reference the care directions presented with your shade. The methods for cleaning change following the texture, fabric, style, and type of the shade you have purchased.
Choosing the right roman treatment is one of those decisions that affect the quality of life. Your home is your haven, and while it may look like a minor detail, the roman shade you choose will change the look of your entire home.
What are the advantages of using Pleated Roman Shades for your home?
Pleated Roman shades are generally presented as windows blinds which fold horizontally. They are perfect for blocking light, and they are preferred by many homeowners who want to add a luxurious look to their homes.
Far from being just glamorous, pleated roman blinds have their set purposes. First of all, they offer the protection one needs against sunlight. The level of protection varies according to the style of pleated roman blinds chosen. For example, blackout lining provides the highest possible level of protection. If you desire complete light blockage, then you can add a liner to the pleated roman shades. Used in all rooms of the house, these window shades are generally found in the bedroom. They provide people with the rest needed and this is why you can expect to find them in lounges.
Many people also decide to select pleated roman blinds for their dining room windows. They enjoy the quality and the soft feel of the fabrics used. With heavier materials, there is also another aspect to discuss. We are talking about the properties related to insulation, and you know very well how important it is to maintain the level of heating in your home. There are several styles available, including fully lined and blackout pleated roman blinds. Standards blinds have the usual manual system for operation, but most shoppers prefer deluxe products with innovative mechanisms. They have trendy designs, filtering the light to the extent one desires and improve the look of any room.
Custom pleated roman blinds are available at our online stores with great prices and amazing models. Luxurious shades are made from top quality materials, with styles ranging from casual to elegant, ready to fit any home décor. With woven patterns and several fold style options, pleated roman blinds are definitely among the hottest trends when it comes to interior design. Modern blinds are able to block light to a great extent, being made from rich and exquisite fabrics. Some maintain a classic look while others clearly demonstrate a taste for contemporary tendencies. Traditional pleated roman shades remain just as popular, and there are also those that provide a rustic aspect.
Pleated Roman shades are known to withstand the sunlight longer than curtains. You can also choose the level of opacity so you can control the amount of light that can go through the blinds which is very convenient. Curtains, on the other hand, remain fixed and you can't adjust them. These kinds of shades can easily create any type of mood in your home. Another thing, all you have to do when controlling the light that comes in your home is to adjust the pleats upward or downward.
If you're looking for a cost-effective, yet charming idea for decorating your windows you might want to look at pleated Roman shades. These days it is hard to find something that is pleasant to look at and yet not too expensive.  Pleated Roman shades have been around for a long time, centuries in fact, and they remain one of the more popular types of shades.
Pleated Roman blinds are both attractive and efficient. They are easy to install and operate, elegant and highly useful. Sheer blinds allow for more light to come into a room while those made from heavier fabrics are chosen for room darkening. New colors and patterns keep on invading the market, just like the fold style options. Customization is definitely possible for pleated roman shades, and you can take full advantage of it too!
Top Reasons for Choosing Pleated Roman Shades
Even though pleated Roman shades have been in existence for centuries, they have not lost their popularity. If anything, they are becoming an increasingly more popular choice as a window treatment today, especially for those on the hunt for something unique and a little different. Here are some of the top reasons customers choose pleated Roman Blinds.
Their Classy Style: Pleated Roman shades are very elegant and classy. They are always an instant hit once they are put up, and they add a charm and elegance to a room that is not always that easy to achieve. Just changing your curtains, and installing a blind either on all windows, or just on one feature window, can change the look and ambiance in a room.
Great Price Range Available: It is expensive to re-decorate, and it is never cheap to buy new curtains or blinds. The nice thing with Pleated Roman shades is that there is such a wide range and variety of shades available that it's very easy to find something that fits within your price bracket. Blinds are generally a bit cheaper than fabric curtains, especially if you are looking at curtains that would look great in a bedroom or living room, and you are not thinking about the cheaper kind. Comparing prices between pleated Roman shades and good quality fabric curtains, you would come up with something that looks much better by choosing pleated Roman shades.
Simple to both Measure for and Install: It can be a bit confusing to measure for curtains, especially fabric curtains as you have to double your measurements or even triple them depending on how much you want them to fold. It is very easy to make a mistake and end up with curtains that just don't look nice or worse yet that are a few inches too short. Measuring for pleated roman shades could not be easier. You just measure the window frame, no need to double or triple measurements. It couldn't be any easier than that.
By the same token, they are also extremely easy to install. Usually, when you buy them, they come complete with all the necessary items to install them and get them up.
Available Online: It is also very easy to order our pleated blinds online at our stores, and have them delivered to your doorstep without you needing to go out to do any shopping.
Materials: There is a wide array of different styles and material to choose from when buying pleated Roman shades.
What Makes Pleated Roman Shades Different From Other Window Treatments?
When it comes to attractiveness and style, pleated roman shades remain. These shades do more than block out sunlight; they add a touch of class to any room. In addition, they work well with any interior decoration.
Pleated Roman Shades Stack Differently
The main difference between regular window treatments and pleated roman shades is the way they fold. When the shades are lifted, the slats stack on top of each other. fully drawn pleated Roman shades appear smooth and flat.
Pleated roman shades are distinctive when it comes to opening the shades. When you leave the shades partly open, the top half is stacked and the bottom stays flawlessly smooth, just as if it was fully closed.
The Countless Colors of Pleated Roman Shades
Not only can you buy pleated Roman shades in a diversity of colors, but you can purchase them with textured patterns as well. Some folks even select designs that form pictures when the shades are fully closed.
Besides the many designs, you can also buy pleated roman shades in a wide variety of materials as well. At times the materials are woven together to give a distinctive look. This makes the shades perfect for any decoration.
Pleated Roman Shades can be BOLD
In some cases, you may want to make a bold statement with your shades. Yet, you still need to keep the scorching sun rays from entering the room. In this situation, pleated roman shades are perfect. Not only can you pick the ideal design and color for the shades, but you can also pick the opacity of the shades as well. This means you can even go for shades that block a little light or shades that block out almost all the light. Either way, your shades will block out the amount of light you need them to.
Contact Us! Your Perfect Shade Awaits!
Affordable Blinds Pleated Roman Shades can provide the end user with all the capabilities to meet most of the specific requirements regardless of the situation. If light control is of utmost importance, Pleated Roman Shades allow you to control light at many different levels. If temperature control is the main reason for considering Pleated Roman Shades, this situation can also be similarly remedied as well. If the functionality of Pleated Roman Shades is at the forefront of your decision, you will find that our Pleated Roman Shades are a highly functional product which will bring years of comfort and aesthetically pleasing moments into your home or office. We have been in the industry for over a decade now, so feel free to contact us if you have any questions.