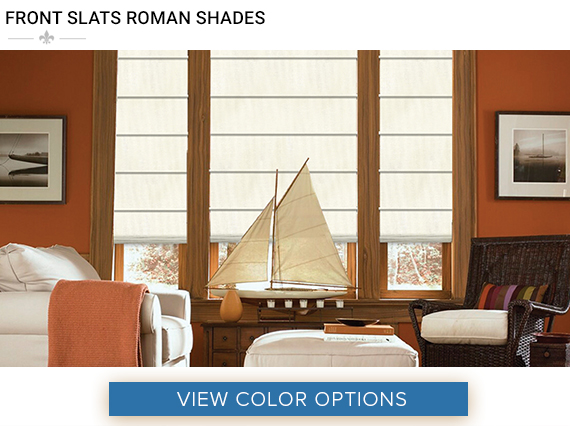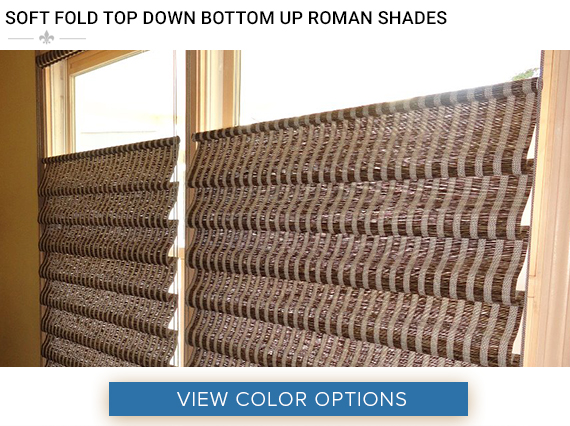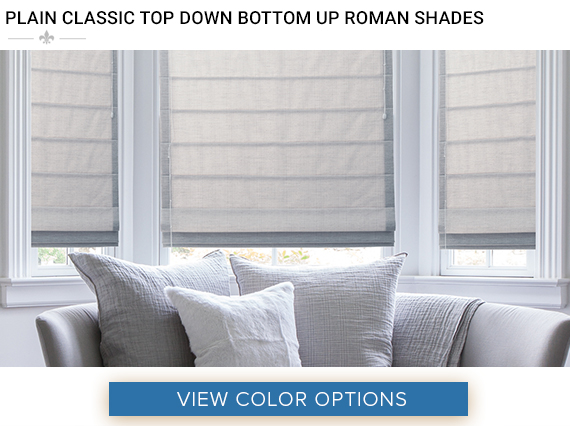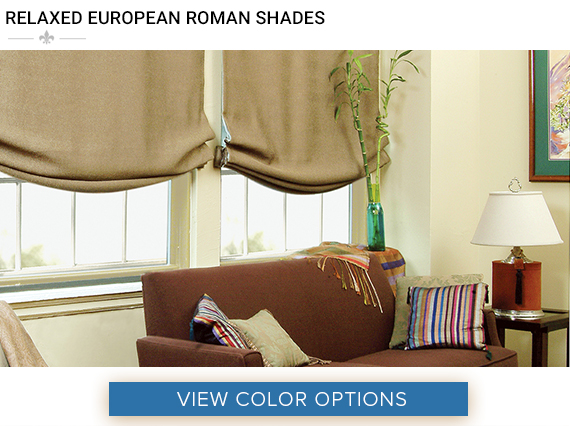 Roman Curtains
Let's face it, your home decor isn't complete until you've put something on the windows and our Roman shade curtains are a great way to get a finished but informal look in any room. Roman shade curtains can be hung in your windows all by themselves or they can be used in conjunction with balances or drapes for a great layered look.
Adding fabric to any room is an important element of interior design. Fabric can add color, softness, drama, serenity, romance, or whimsy depending on the colors, patterns, and textures that are chosen. Roman Curtains are a very easy and interesting way to add fabric to the total room design. Roman Curtains can add elegance, sophistication, luxury, and comfort depending on the type of fabric that you choose. Sheer roman curtains will create romance and elegance by softly filtering the natural light from the window. Plaids or herringbone patterns will create a more masculine feel. When choosing the fabric for your curtains, think about the texture, sheen, iridescence and durability. Linings are important for curtains because the lining can be room darkening and a lining helps to improve the acoustics of the room. Even a lightweight standard lining is important because it will increase the durability and make the curtains last longer.
Made To Measure Roman Curtains?
Finding the right deals involving roman curtains online is a great way to save money as well as spruce up an area by using top quality and life. Made to measure roman curtains and made to measure roman blinds offer the best luxury, fashion, and sophistication which can be added to a room.
Interior design is a vital part of making a place which seems fashionable. Guaranteeing to keep up curtains by ordering brand new ones  is a terrific way to provide friends a little something to note and enjoy while they sit somewhere nearby any windowpane inside your home. Interior design is an easy way to add charm to a home using design, class and magnificence. The online world supplies the greatest possibilities to purchase good curtains to put into a property and several may be decided on to a house's specific criteria allowing for an entire and also overall match to the rest of the residence's decorations.
The World Wide Web is a superb tool to make use of and when looked into properly any curtain can be bought as a selected size and span that is correctly sized to a home window. This is certainly cool and of a quality company that is directed at consumers who are looking to make the right investment towards any place of their building. Curtains spruce up a location and sustain personal space. A lot of people set about their particular lives who wish that they had good blinds which coordinated their wall color, and actually it is extremely simple to get hold of a pair of curtains that effortlessly tie in with and highlight any spaces room decorations. There is no use waiting to buy Roman shade curtain when all that is required is always to go to our online store and then order them to the exact specs which are needed straight away.
Top quality roman curtains are a search away and can be obtained at a reasonable cost. Getting curtains online is yet another easy way for you to amaze someone you care about through getting a new gift for your home or an enhancement for almost any place. These types of curtains in addition have a sensible way to block out the sun and maintain bedrooms cool and temperate
In all of the situations made to measure roman curtains are the very best curtains online that are available for purchase. A different alternative will be the made to measure roman blinds incorporating extravagance and style to your rooms that it inhabits overlaying windows.
Tips for Choosing the Right Curtains for Your Home
Choosing the right curtains for your home can dramatically change the overall appearance of each room within the home. You'll find a wide variety of curtains available that can enhance any décor while brightening up and giving your home a fresh new look. The trick is to find the ones that suit your décor the best and this is where it can get a little difficult. How do you know which curtains would be the right ones for your home? The following tips can help you make this decision.
Tips for choosing the right curtains for your home:
Take a look at the different types of designs available and choose three or four of the ones that you like the most.
Consider the shape and size of the room you're working on to determine which one of these designs would look the best.
If you choose floor length curtains, they should go all the way to floor, not half or three-quarters of the way down.
Curtains that sit just below the window sill work great for horizontal windows or cottage style homes. Tiebacks should be used with these for the best results.
Measure the size of your windows so you'll know what size curtain you'll need to ensure they fit perfectly.
Consider what the curtains will be used for. In other words, will they be used for decoration only or do you want them to serve a purpose such as blocking the sun in the summer or to help hold the heat in during the winter. This will help you determine which type of fabric would work the best.
Stay within your budget when looking at curtains for your home and you won't be tempted to spend more than you can really afford.
Buying new curtains for your home can be fun and exciting. It can drastically change the whole look of your home without spending a lot of money. With all the different colors and prints available today, finding something that suits your existing décor should be easy and even a little stimulating.
10 Benefits of Curtains over Blinds
When taking into consideration the interior design of your abode, how you cover up your windows is a very significant decision, and one that should not be taken lightly. The following are the top ten benefits of curtains over blinds.
Curtains add visual appeal to any room
Where both horizontal and vertical shades just disguise the window and add very little to the overall feel and look of the room, curtains and their fixtures add a certain style. Curtain poles are available a wide variety of styles, so you are sure to find a style that suits your room.
Curtains and curtain poles or curtain tracks can be twisted to fit a bay window
Even though some vertical shades can be twisted to the shape of a bay window, a vertical shade will take away the wonderful effect and leave the room looking more like an office. A curtain pole or track can be made to measure and twisted to suit your window and add style and classiness. Curtain tracks are flexible and can fit a wider range of bay windows.
Increased fitting flexibility
Modern-day patio doors and windows open inwardly leaving little room to fix. With curtain tracks that can be as tiny as 5mm and some that can even be fixed into the ceiling, leaving a lot of room for a door or window to open inwards.
Curtains offer insulation
Characteristically, most shades are light and provide negligible heat insulation. Measure up this with a beautiful set of curtains which keeps the heat inside and cuts draughts as they can hang below window ledges, unlike shades which stop just above window ledges. Curtains can also be interlined with a thick material to add extra heat insulation.
Electric, cord or hand operation
Curtain poles and tracks can be hand operated so that many different curtains can work on one window. This enables curtains of different drops and widths to stack at different positions on the window. Additionally, they can also be operated as a shade with a cord to avoid handling the curtains or electrically for an added touch of luxury and security.
Easy to keep clean
Shades can be dust traps, particularly horizontal ones. As more folks are suffering from dust allergies and asthma, curtains are a healthy choice, requiring little care to keep them presentable and clean. The poles and tracks need little servicing and the curtains need only be dry cleaned and vacuumed on the odd occasion.
Want a new look and feel?
Even though cream or white shades will fit in with most room colors and designs, they do nothing to improve it. Curtains blend in perfectly with your room, or can be picked to improve or contrast with it. Redecorating?  Just pick new curtains to match. Curtains provide wide scope for design.
Curtains can be remotely controlled
As stated above, electric curtain tracks can be fitted which lets you to control your curtains from the comfort of your sofa. Electric curtains can be set to close and open at certain set times each day, giving the impression that somebody is home. Then again a light sensor can be added to open and close the curtains in conjunction with the daytime hours.
Curtains are easy to hang
Want to change your curtains? Just unhook them from your curtain pole and attach the pegs to your new curtain. On the other hand, shades must be removed all in one, making it easy to damage them
Cost-effective and reliable
With so many functioning parts, shades tend to be less dependable than curtains on a pole or track. Merging curtains with reliable curtain pole or track can be an economical option; mainly because curtain prices have been significantly lowered since the introduction of express and ready-made curtain making services.
Contact Us! Your Perfect Shade Awaits!
AffordableBlinds Roman curtains can provide the end user with all the capabilities to meet most of the specific requirements regardless of the situation. If the functionality of Roman shade curtains is at the forefront of your decision, you will find that our Roman curtains are a highly functional product which will bring years of comfort and aesthetically pleasing moments into your home or office. We have been in the industry for over a decade now, so feel free to contact us if you have any questions.