Are you thinking about installing window blinds in your home? Window blinds can add a touch of elegance and style to any room, and they can also be a practical way to control light levels and privacy. But before you head to the store to buy window blinds, there are a few things you need to know. In this blog post, we'll give you a step-by-step guide on how to install window blinds, so you can get the job done right.
Tools and Materials Needed:
-Tape measure
-Screwdriver
-Drill
-Hammer
-Level
-Pencil
-Safety glasses
-Dust mask
-Step ladder
-Window blinds
Installing Window Blinds: The Step-by-Step Guide
Measuring your windows
Measuring your windows may seem like a simple task, but there are a few things you need to keep in mind to get accurate measurements. First, use a tape measure or ruler to measure the width of the window at the top, middle, and bottom. Then, measure the height of the window on the left, middle, and right sides. Measuring at multiple points will help to account for any slight variations in the window's shape. Once you have your measurements, be sure to write them down and take them with you when shopping for new window treatments. With accurate measurements in hand, you'll be sure to find window treatments that fit your space perfectly.
Cleaning your windows
Before you install new window treatments, it's important to clean the surface of your windows. This will help to ensure that the treatments adhere properly and look their best. Start by dusting the window frames with a soft cloth. Then, use a mild soap and warm water solution to wash the frames. Be sure to rinse the frames thoroughly and dry them with a soft cloth before proceeding.
Choosing the right type of blinds
There are many factors to consider when choosing the right type of blinds for your home. The first step is to decide what style you want. Do you want something traditional, or something more modern? There are several different types of blinds available, from wood to fabric to metal. Next, think about how much light you want to be able to control. If you need to block out a lot of sunlight, choose blackout blinds. If you just want to filter the light, choose light-filtering or semi-opaque blinds. Finally, consider your budget. Blinds can range in price from very affordable to quite expensive. By taking all of these factors into account, you can be sure to choose the right type of blinds for your home.
Installing the brackets
Most window treatments will come with brackets that need to be installed to hold the treatments in place. Begin by holding the bracket up to the window frame at the desired location. Use a level to make sure that the bracket is level, then mark the four screw hole locations with a pencil. Remove the bracket and drill pilot holes at the marked locations. Finally, screw the bracket into place using a screwdriver or drill. Repeat this process for each bracket that is required for your window treatments.
Installing the blinds
Installing the blinds can be a simple process, but there are a few things you need to keep in mind. First, make sure that the brackets are level before attaching them to the window frame. Next, insert the blinds into the brackets and secure them in place. Finally, adjust the slats to control the amount of light that enters the room. With a little bit of effort, you can easily install the blinds and enjoy the increased privacy and light control they provide.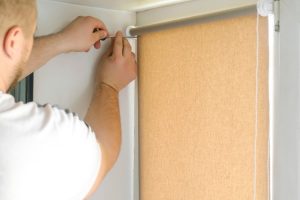 If you follow these simple steps, you'll be able to install window blinds like a pro. Measuring your windows, choosing the right type of blinds, and installing the blinds are all important steps in the process. By taking your time and doing it right, you'll be able to enjoy your new window treatments for years to come.
Testing your new window treatments
Once all of the treatments are installed, take a few minutes to test them out and make sure they're working correctly. Open and close the treatments to make sure they move smoothly. Adjust the slats or blades to ensure that they can be positioned as desired. And finally, check to make sure that the treatments are securely attached to the brackets.
Maintaining your blinds
Maintaining your zebra blinds is important to prolonging their life and keeping them looking good. Here are some tips on how to maintain your blinds:
– Vacuum regularly with the soft brush attachment to remove dust and dirt.
– Wipe down with a damp cloth or sponge monthly.
– If they start to look dull, you can wash them with mild soap and water.
– Every few months, check for loose screws and tighten as needed.
– If you have any questions about maintaining your blinds, be sure to contact the manufacturer or retailer. By following these simple tips, you can keep your blinds looking new for years to come.
Conclusion
Installing window blinds is a great way to add style and function to your home. With a little bit of planning and effort, you can easily install window blinds yourself. Just be sure to measure your windows accurately, choose the right type of blinds for your needs, and follow the instructions carefully. With proper installation and care, your window blinds will last for years to come.